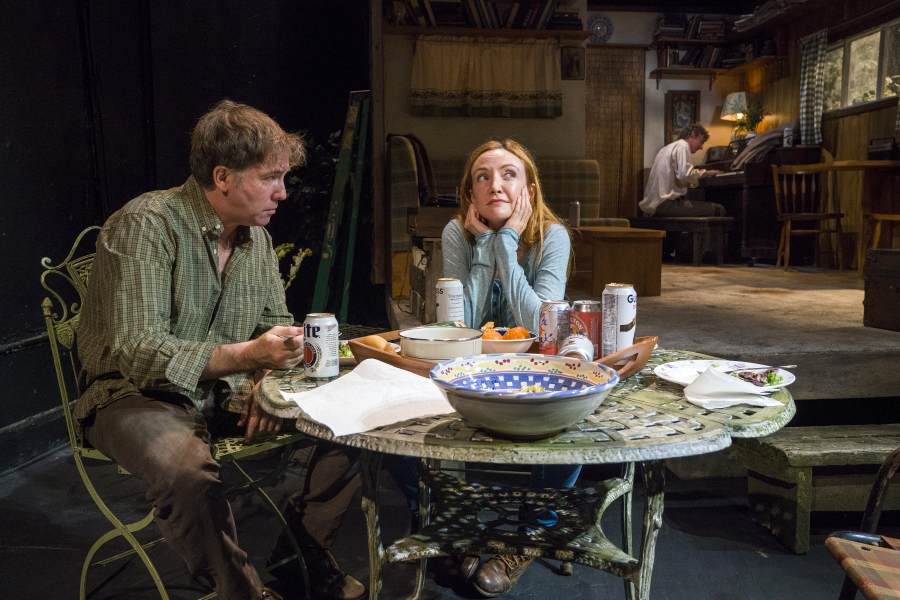 When Francis and Billy Sloane talk about moving into the house up on the hill—once they've fixed it up, of course—their words carry a sense of futility. These characters will never move into the house on the hill. They'll live pathetically in their cheap mobile home until the day they die full of disillusionment, just like scores of previous Irish characters in the plays of Brian Friel and Sean O'Casey.
But no, wait, The Naturalists isn't that kind of play.
Instead, Irish playwright Jaki McCarrick has crafted a drama full of tragic implications but actually brimming with a kind of quiet happiness. This world premiere by The Pond Theatre Company, staged at Walkerspace, provides something like emotional solace. In that way, it's much like the property at the heart of the piece: a land of natural woods and lakes where three people find escape from the violence and chaos of the larger world.
Francis and Billy Sloane, played by John Keating and Tim Ruddy, respectively, are the sole human inhabitants of this wooded haven—two societal outcasts with a troubled past they're not eager to reveal all the details of. When Francis enlists Josie Larmer (a wonderfully poised Sarah Street) for what he calls "light housekeeping," his brother Billy is first annoyed, then complacent, and finally adoring.
Sarah turns the place on its head, bringing order and calm to the brothers' lives, but there's trouble still to come. A mysterious visitor from the brothers' past (played with perfectly balanced comedy and hysteria by Michael Mellamphy) threatens the very existence of all three inhabitants of the Sloane mobile home, and at his insistence, the truth will finally out.
Though the cast, co-directed by Colleen Clinton and Lily Dorment, still has a bit of settling in to do, they're beautifully attuned to both their characters and Chika Shimizu's deliciously atmospheric set. McCarrick's dialogue is understated but bursting with hidden meaning—a statement that's also true of the human relationships featured in the play.
Perhaps that's what this piece hinges on: the things that bind people together. As a study in human nature and relationships, The Naturalists is endlessly fascinating, increasingly so the deeper it descends. While the scenes sometimes feel a bit fragmented due to frequent fade outs, it dawned on me mid-play not to brush these lapses aside. The moments in which the characters don't speak may be more important than the ones in which they do, and what is said may be less important than what isn't. In fact, all of the play's most dramatic moments happen offstage.
That's not to say all the onstage action is dull--quite the reverse. But it's a more subtle, thoughtful kind of drama, full of pauses, guesswork, and things left unsaid. For those willing to dig a little deeper, The Naturalists yields plenty of fertile ground, and plenty of beauty.