Review: Why did Shakespeare leave his wife his 'second best bed'? 'Shakespeare's Will' offers one hypothesis.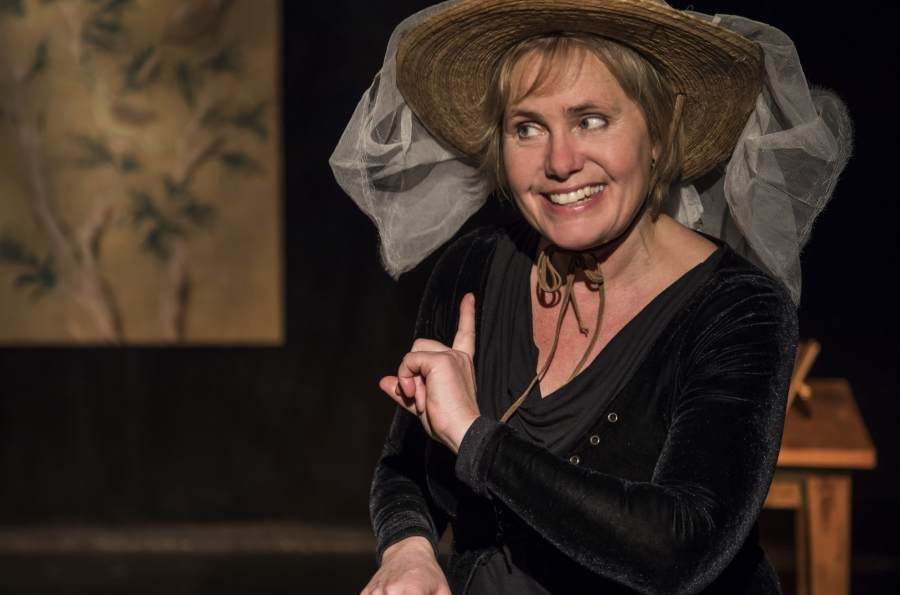 Apparently, being William Shakespeare's wife was a pretty thankless task. At least, that's what Anne Hathaway leads us to believe in Vern Thiessen's show Shakespeare's Will (directed by Mimi McGurl at HERE). And I, for one, don't doubt it.
The scene is April 23, 1616, Stratford-upon-Avon. After her husband's funeral, Anne Hathaway (played by Tannis Kowalchuk) reminisces about her life with (maybe "without" would be more accurate) the Bard of Avon. A shy, intelligent young man, William Shakespeare draws the attention of Anne at a fair, and after a tumble in the barn, the two decide they'd better get married. Despite the age gap (Anne is eight years older than Will), they spend a few years being very happy together.
Soon, though, her husband feels the call of the city, and Anne, true to the vow the couple made each other on their wedding night, allows him to go to London. That's more or less the end of the relationship.
At first, her husband comes to visit every so often for holidays and his children's birthdays. But as time passes, he stays away longer and longer, and soon all Anne receives are brief notes accompanied by money. The family is well supported, and Anne revels in their new house, the two servants she can afford now, and the bees she keeps in the yard. But is it worth the cost?
That's the unspoken question behind this vibrant solo piece, performed with flair, sensitivity, and heart by Tannis Kowalchuk. She presents the traditionally ambiguous character of Anne Hathaway as a strong woman brimming with passion, intelligence, and mirth. She's a woman who's tasted disappointment and felt grief many times, but for all of that, she's unbowed. Like the sea she alludes to throughout the piece, Anne's character is deep, forceful, and resilient.
As a strong-willed widow wryly talking to her husband's portrait, Kowalchuk comes across as amiable and entertaining. As a frightened young mother trying to comfort her frantic first child, she's empathetic and human. And as the daughter, wife, mother, and widow who looks to the sea for salvation and moves on with the conviction that she can take whatever life throws at her, she's winning.
Incorporating music with a Renaissance England feel, and making full use of the space and props, Shakespeare's Will is imaginative, tender, and rather mesmerizing. It also offers one possible answer to the much debated question of Anne Hathaway's mention in Shakespeare's will: why did he leave his wife the "second best bed" and nothing else?
We'll probably never know much about Anne Hathaway, or the reasoning behind that cryptic line in Shakespeare's will. But it's fun to think of the Bard's wife as a woman that, in passion, strength, and wisdom, was more than a match for the great William Shakespeare. And in Shakespeare's Will, that's what Thiessen and Kowalchuk give us.