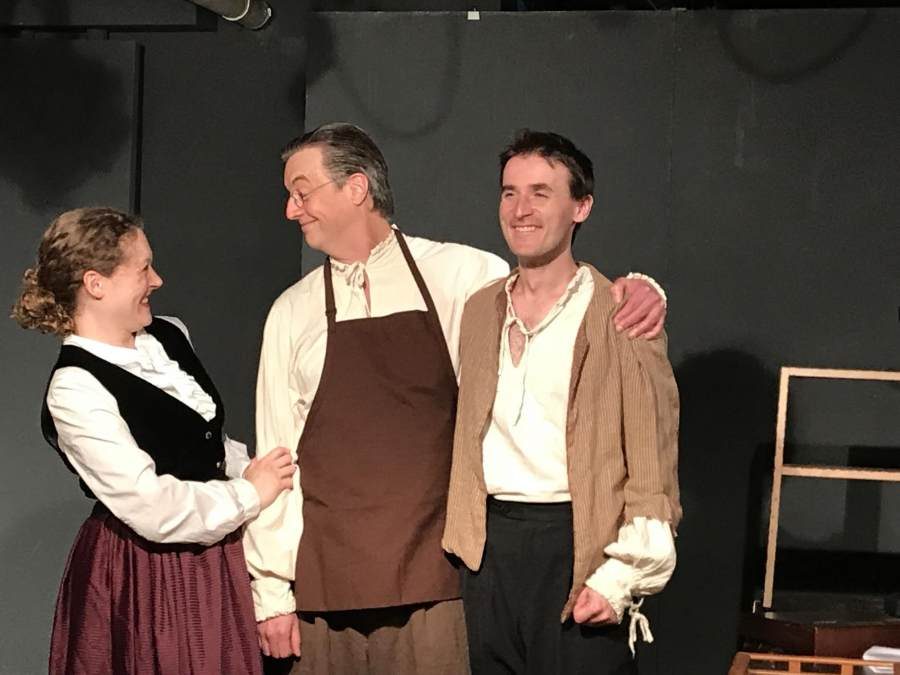 Exhibit A: William Shakespeare. Arguably the greatest playwright who ever lived, he gave us masterpieces of English literature like Romeo and Juliet, Hamlet, and Julius Caesar...or did he?
Exhibit B: Christopher Marlowe. Shakespeare's literary rival, a fine poet and playwright, he died in a tavern brawl in 1593...or did he?
The question: "But what if he didn't?" is the premise of Marlowe's Fate, a thoughtful, well-crafted drama arguing that Marlowe did not in fact die in 1593, but faked his murder and went abroad to escape political foes. 
Marlowe, though exiled from England forever, continues to write, sending his sonnets and plays to England for publication. As Marlowe is presumed dead, these works cannot possibly be published under his name. Happily, Marlowe's friends find a poor, unemployed country boy named Will Shaxper who isn't above taking money in exchange for the use of his name (though he can barely spell it). Marlowe's published works are attributed to Shaxper, and 400 years later, everyone is still fooled.
Whether you find this story plausible or not, it works very well within the world of the play. Others can debate whether Marlowe really died in 1593 and whether Shakespeare - the son of a glove-maker - really could have written all that poetry. I'm just here for the theatre.
Written and directed by Peter B. Hodges, Marlowe's Fate (presented at Theatre Row by the Caravan Theatre Company) is somewhat reminiscent of Shakespeare in Love, and not only because it features two of the same characters. This isn't a casual comedy. You've got to pay attention. It's theatre that forces you to listen and think.
The true test of the play comes in the form of a mid-show puppet boxing match during which Marlowe and Shaxper (both in puppet form) contend for the title of Shakespearean Author. Ridiculous as it sounds, it somehow works - and works beautifully. Any playwright who can throw that down in the middle of his play and still manage to create a cohesive, thought-provoking narrative probably deserves - well, maybe not the title of Shakespearean Author, but at least some praise for good writing.
Of course, he's got to have a good cast to pull it off, and he does. The actors are wonderfully versatile, playing straight-laced English lords, country bumpkins, and puppet boxing match commentators with equal charm. Tim Dowd doubles as Marlowe and Young Shaxper, in a slyly planned casting choice. And Len Rella moves from rough commoner to Stratford printer to Ben Jonson, turning out a solid performance in each role. Brady Adair and Sarah Kiefer are also delightful in various roles - Kiefer especially as Shaxper's daughter with a chip on her shoulder, Judith. And Thomas Grube is forcefully blustering as Old Shaxper on the last night of his life.
Whether you take it as fact or fiction, Marlowe's Fate is an intriguing, surprisingly enjoyable exploration. And if you're not careful, you may just find yourself questioning everything you thought you knew about Will Shakespeare.