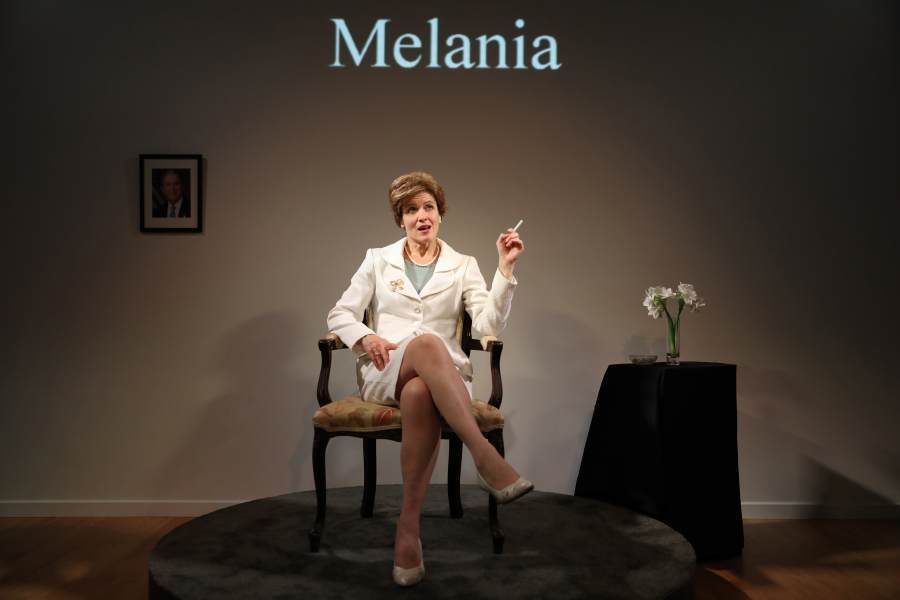 "Tell the truth, if you could have us back -- well, wouldn't you?"
So asks Laura Bush (winningly played by Lisa Hodsoll) to the audience as she takes them through a series of vignettes of her life from two days after her 17th birthday, when she killed a high school classmate, to the state of present-day politics.
Playing in downtown Manhattan at the Flea Theatre, Laura Bush Killed a Guy is a fascinating show, with minimalist materials other than the subject's life story.
With nothing more than an elegant armchair and a photo of her husband on the wall (a simple yet effective set by Kim Deane), Laura Bush engages her audience with her smile and words. Lighting by David C. Ghutan and sound by Lucas Zarwell help guide the story and loop it back to the titular vignette, in which Laura adds more details to tell everyone of this event that shaped her life.
Ian Allen's opus Laura Bush Killed a Guy takes its title from a 2008 episode of Seth McFarland's Family Guy, which is when I personally learned of this tragedy. Mrs. Bush in the play specifically references this episode and how it regularly changes the Google searches of her name. She also mentions that her husband, George W. Bush, loves Family Guy.
Directed by John Vreeke, this 85-minute one-woman show reveals sides to Mrs Bush that were rarely glimpsed in the media. She is charming yet snarky, likening circa-1993 Hilary Clinton to Benjamin Franklin, admitting to her love of smoking and that, in Texas, at age 31, she was considered the town spinster when she wed George W. Bush. She reveals she met him after she went to his neighboring house to tell him to keep the noise down and he was carousing with a girl in a bed sheet.
Whatever your politics, you will learn a lot about our former FLOTUS, and the hardships and triumphs she has faced.