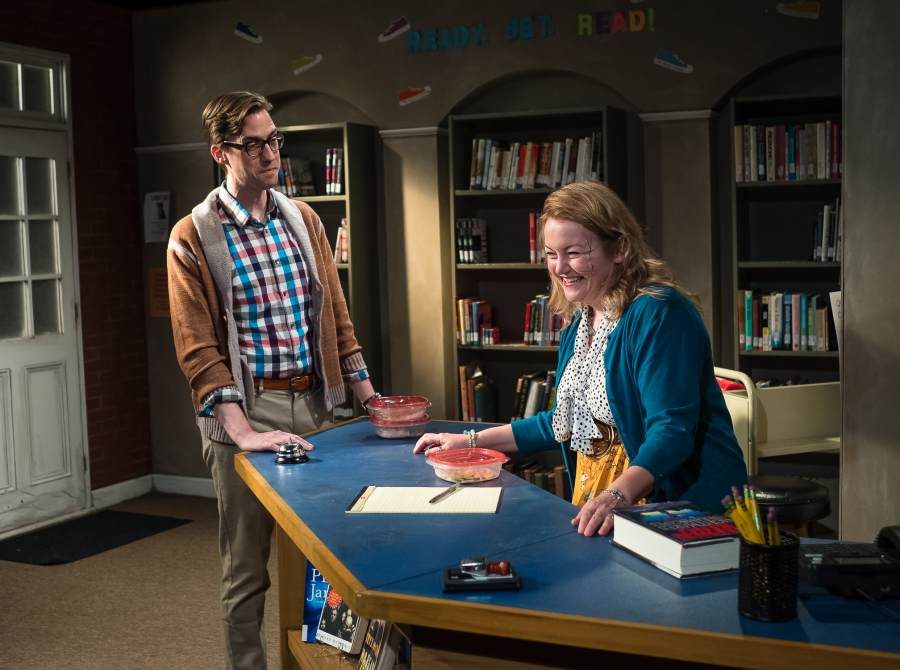 Directed by Jordana Williams, Vince Gatton's play Alexandria, set in a public library in the deep South, shows basically good people who will not listen to each other, even as life as they know it is coming to an end right in front of them.
Brenda (Kristen Vaughan) and Ray (Stephen Heskett) are friends and coworkers at the library. They acknowledge each other's differences, mainly because Brenda does not read the religious Ray's blog. However, Brenda's fiancee Pam (Shauna Wills) does read it, and she does not like Ray as a result. In fact, Pam hates anything outside of her limited sphere, and can barely bring herself to even taste Vietnamese food, as it is so different from Hardee's (bless her heart). And then there's Ol' Mo (James Foster, Jr.), a taciturn library regular who doesn't seem to really like anyone.
The adults are so wrapped up in their own narratives and their refusal to even try to accept one another that they barely notice that unseen forces are coming to take their world away. Everything dependent on WiFi (i.e. everything) is crashing around them and no one knows why, even as strange messages in Aramaic appear on the computer monitors.
The only one with any common sense to see this is serious is Monté (Jonathan Melo), the 16-year-old taken under Pam's wing after getting beaten for being gay in his neighborhood.
Melo as 16-year-old Monté takes his character through the full range of emotions that any teenager, but particularly a bullied displaced youth, goes through. He is flawless in the realness of his portrayal.
Heskett also shows versatility in his portrayal of Ray. At first coming off as a latter-day Ward Cleaver, he brings out the depth of the character's myriad emotions, and eloquently challenges the popular idea that all Christians must be bigoted (an idea that is in itself bigoted). Ray's character arc is mesmerizing and well-executed.
Foster as Ol' Mo is notable in his portrayal. Ol' Mo does not share of himself, just shows up refined in his dress and posture. To withhold emotion necessary to a character takes tremendous talent, and Foster delivers.
Vaughan is phenomenal, completely credible as Brenda. Her delivery of lines and movements just flow from her, and, inside the detailed set and lighting by Tyler M. Perry, she seems every inch the town librarian who loves her life.
Wills as the pigheaded Pam is well-played, though her character rarely expresses herself with anything but anger. Wills is very expressive both verbally and physically, and it would have been interesting to see her display more range for her character. Pam is engaged to Brenda, but there seems to be no true emotion from either actress depicting their love. It was difficult to see why Brenda would want to marry her. The two women almost never showed any real affection to each other. They both seemed closer to Ol' Mo than to each other.
Alexandria was selected from over 400 submissions to Sanguine Theatre Company's Project Playwright, which grants a production to the play that wins the most audience votes from a staged reading of the finalists.