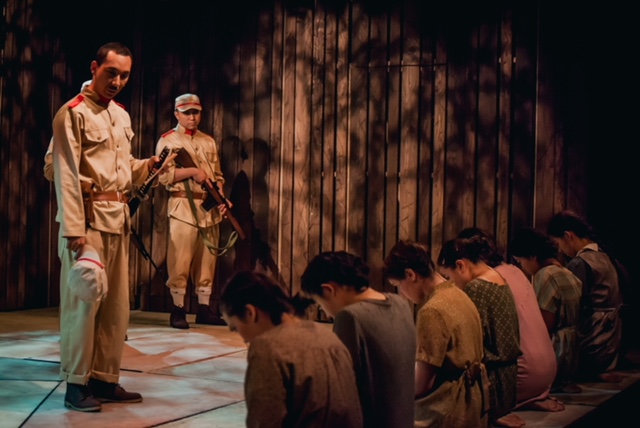 Comfort Women: A Musical is poised to take its place in musical theatre history besides iconic shows like Miss Saigon and Les Miserables. All these shows tell the story of people who have fallen (or, more accurately, have been pushed down) by the wayside of war but are nevertheless important and deserve to be heard.
Written and directed by Executive Producer Dimo Hyun Jun Kim, Comfort Women begins with a scene in a village in early 1940s Korea, where Goeun Kim (played by understudy Roni Shelley Perez during the performance I attended) is among several young women promised jobs in factories in Japan by two charming young men (Jake Vielbig and Sam Hamashima) who are offering work permits and paid transportation.
Excited by the idea of independence and adventure, the women eagerly sign up and bond on the journey to their new life, only to be completely blindsided by arriving in Indonesia to a life of brutality as sex slaves for the Imperial Japanese army.
The camaraderie and synchronization among the female characters stands out in this strong cast portraying a dire situation. Leana Rae Concepcion, Sara States, Emily Su, Michelle Lim, Shuyan Yang, Stephanie Gong, Genevieve Shi, Michelle Tsai, Yoomi Kim, and Chloe Rice seamlessly and believably take their characters from girlish innocence to the primal need to survive.
The male characters are powerfully played by Hamashima, Vielbig, Ben Wang, Kenny Mai, John Bernos, Tenzin Yeshi, and Dan Chen. All take on their roles well, especially as they are playing real-life villains with no care for women as people. General Hiroshi (played menacingly by Matthew Ting) has approved this enslavement of the women, and he sees crimes against men as the only crimes. Minsik Lee (played by understudy Andrew Lee in the performance I saw) is the only man who shows any compassion but the women have no reason to depend on anyone in uniform.
Within all this bleakness of the atrocities of war, Nani (played winningly by Matthew Bautista) provides a glimpse into optimism, as he retells his family's history of keeping a laundry going among decades of wars, and he is sure that he will keep it going no matter what happens next.
The show moves beautifully through the space at the Peter Jay Sharp Theatre. The scenic design by Stella Hyun Joo Oh is impressive, as is the lighting and sound by Byung Chul Lee and Tae Jong Park, respectively. All tie the story together visually, with original music and lyrics by Bryan Michaels and Taeho Park.
The choreography is imaginative and fantastic, with actors using props in their dismal prison to transform into something else altogether, such as when the ladies sing "Butterfly in Moonlight" after bed checks (still called that though they sleep on the floor of their prison).
This is the second run of Comfort Women, which premiered in 2015 as the first all-Asian Off-Broadway cast, with an East Asian director. Highly recommended.