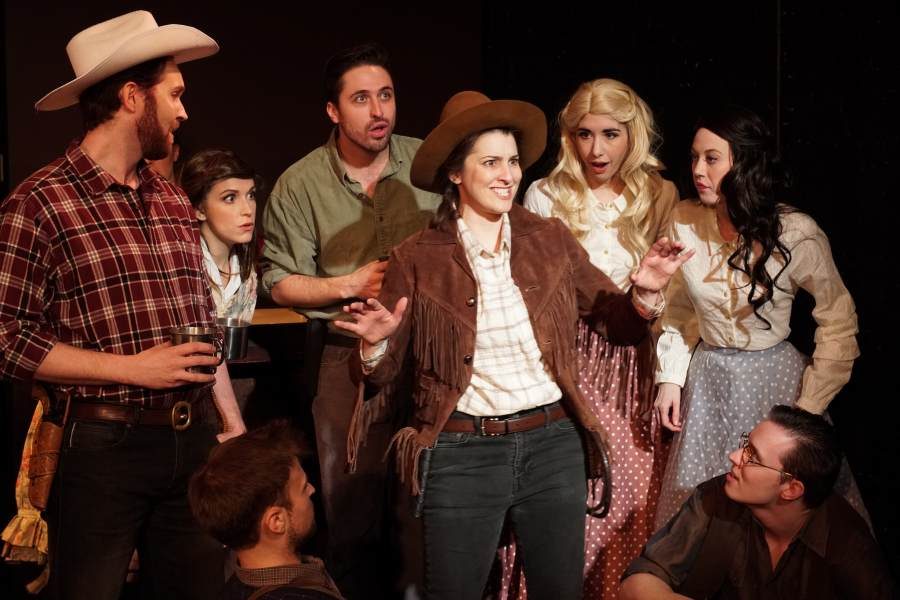 March is Women's History Month. What better way to spend a few hours than with Calamity Jane, a real life frontierswoman and professional scout?  Presented by Musicals Tonight!, the musical Calamity Jane has a short run from March 13-25 at the Lion Theater.
Born Martha Jane Cannary, Calamity Jane dressed in men's clothes and brandished a gun. Her reputation outlived her, spawning several movies and shows. The 1953 movie musical Calamity Jane starred Doris Day and later inspired a stage musical in 1961. Both works focus on a fictional romance between Calamity Jane and Wild Bill Hickok.
The stage musical takes liberties with real history and is formulaic: girl and boy have contentious relationship but, by the end, realize their true feelings for one another. In a typical old-fashioned ending, Calamity Jane ends with not one but three weddings. The dialogue is hokey but one must recall the time period in which it was written. Some of the songs, with music by Sammy Fain and lyrics by Paul Francis Webster are lovely (such as the award-winning "Secret Love") while others like "I Can Do Without You" and "Men!" are quite clever.
The Lion Theatre is small, making the cast of 16 seem overcrowded.  However, the production is ambitious, especially the dance numbers with choreography by Devin Vogel, who is also the director.  The show features a group of talented performers, notably Kristin Wetherington (Calamity) and Rosalie Burke (Katie Brown). The costumes are simple, as is the staging. The play and the cast get stronger in Act 2.
Calamity Jane has basically been consigned to repertory companies and local theater groups.  Throughout it all, one needs to remember the premise of Musicals Tonight! In keeping with his mission, Mel Miller, founder of the Obie-winning company, has sought to introduce new audiences and remind older audiences of virtually forgotten musicals.  One of Miller's other goals, he announced in the lobby, was to give talented performers a chance to get onstage.
After 20 years and 100 shows, Miller announced that Calamity Jane would be the final production.  So he attended the performance I attended to answer questions. He opened the show by presenting historical events, specifically what was happening when the show first opened, and spoke with people during the intermission.
Rather than viewing Calamity Jane for what it lacked, I envisioned it as it might have been in a large theater and a big budget. More importantly, we have to acknowledge Miller for his success. Many in the audience had never seen a musical stage version of Calamity Jane; some undoubtedly had never heard of it.  We came, we saw, we appreciated.  Thanks for the memories.