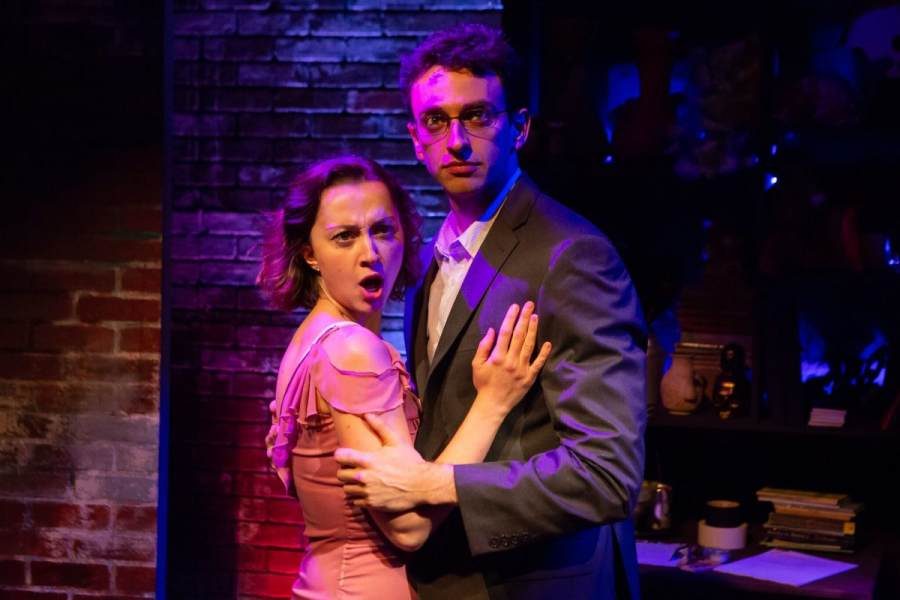 Stand-up comic Gianmarco Soresi's original unromantic comedy Less Than 50%, directed by Jen Wineman, is a play within a play (and perhaps within another play) about rehearsing a play with a scene partner who is also an ex.
Less Than 50% (referring to the success rate of new first marriages in modern times) shows Soresi, starring as a version of himself with his real name, rehearsing with his scene partner Laura Catalano (played by Hannah Hale) in his college dorm. Soon art mirrors life as they hook up, date, break up, and stay friends in the way those who have hooked up are never actually friends.
Soresi decides to write a play about all of this for the New York Fringe Festival and believes Laura can star as herself in it with absolutely no problem at all.
This is a completely relatable situation in modern-day New York, and Soresi infuses a familiar tale with his unique humor and plot twists so it stays interesting. He is self-aware about getting reviewed "by a lot of publications that end with dot-com" while acknowledging that he needs those reviews.
Also prevalent is his and Laura's fascination with Chris and Maddy (college friends we never see but whose romance took a more successful route than theirs); they seem to hate them while using them as a litmus test for their own relationship.
Soresi's writing and acting are excellent. He does a good job keeping the audience guessing whether or not he believes his own narrative about his relationship with Laura. His comedy is insightful and well-delivered, and he is unafraid to show who he is when not performing stand-up.
Hannah Hale as Laura Catalano is a great actress playing an annoying actress. Her snorting laughter and loud voice is typical of a theatre kid who never knows when to turn it off, even in a one-on-one interaction with a guy she likes. This is a stroke of brilliance on the part of both Soresi and Hale.
The set and prop design by Ashleigh Poteat and Leila Ben-Abdallah, respectively, is inspired and efficient: what looks the standard junky bookshelf of kitsch in a college dorm serves as a prop table for the entire show. (An especially nice and perhaps most authentic touch is the Starbucks cup with "John Marcis" written in Magic Marker.)
It is a fast-paced 90-minute display of emotion, comedy and theatrics, enjoyed by adults of all ages.