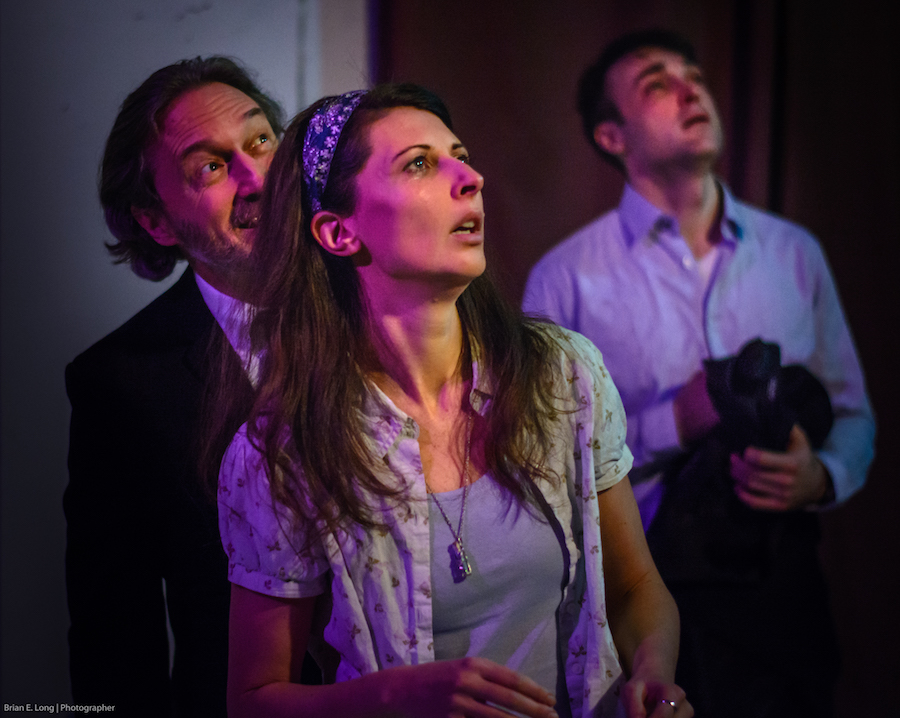 Directed by Lori Petty in her New York debut, Trial opens with a young woman in a stark white room, who is overly enthusiastic when another woman briefly joins her before being whisked away to meet with some unseen "management". It turns out the white room is the waiting area in the afterlife for souls to await trial, and the young woman, named Arcadia (played by award-winning playwright Ashley Griffin), has been there for 12 years, ever since she died at age 15.
An otherworldly lawyer named Valentine (Ryan Clardy) enters the room and tells Arcadia that, while her case is not yet up for review, there has been an unusual occurrence which requires her attention: she has the opportunity to be the judge and jury for the man directly responsible for her death.
"Indirectly," corrects Arcadia.
And, with that word, she releases an iota of blame from the man, who is her father Richard (Malcolm Stephenson), who physically and sexually abused her from a very young age in circumstances that led to her untimely demise.
Ashley Griffin's Trial shows how trapped a young person can feel when her father is repeatedly harming her and the grown-ups that all children are urged to tell do nothing to help her. The titular trial revolves around Arcadia wavering between blame, justice and mercy in an effort to release herself from the hell that always dogged her while deciding whether or not to send her father to the same place. As the trial progresses with its council (Clardy, Gisela Adisa and George Drance, all of whom skillfully take on additional roles playing out Arcadia's memories), the audience sees incidences in Arcadia's life that were marred by her father's abuse leading her to believe she was too damaged for her high school crush Tommy to love her back or for her idolized teacher Mr. Lewis to truly like her writing and, therefore, herself.
Her mother Margaret (Jennifer Bareilles, who also plays other roles) loses Arcadia on a technicality in her custody battle, leaving Arcadia unprotected in her father's home and unbelieved by the adults she tells in an attempt to save herself. Arcadia, who spent her entire short life believing she did not matter enough to be protected, is shown how her death did matter to others, especially to Tommy.
The play is skillfully staged in a theatre-in-the-round style, so the audience is on either side, much like a jury box in a courthouse on this side of the Great Beyond. Jennifer-Elizabeth Cooper's lighting takes Arcadia from the present to the past without missing a beat.