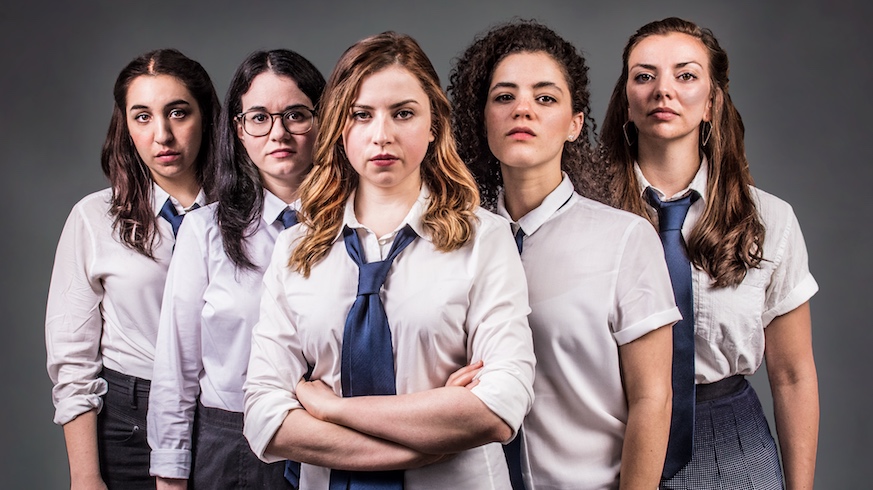 Shakespeare's Julius Caesar seems to be a popular (or should we say unpopular?) play lately. Multiple NYC companies have included it in their summer repertoire, including the Public. But you're going to be hard-pressed to find a more unique, inventive staging of Shakespeare's political drama than that taking place at the Access Theater under the direction of Katie Young. Conceived by Alyssa May Gold (who also plays Brutus), this production uproots the classic drama and plants it down in the middle of an all-girls high school - complete with skorts, friendship bracelets, and sidewalk chalk.
The action takes place in a large space in the middle of the room, with the audience seated all around. There's an element of immersive theatre, as actors occasionally interact with the cast or sit beside them (I got high-fived by Mark Antony). And waiting on your seat for you is a friendship bracelet from Julius Caesar herself, in celebration of her defeat of Pompey. To complete the effect, your playbill is disguised as a standard examination Blue Book, which sent me into a brief moment of panic (guess I've taken too many college finals).
In a play that traditionally includes very few (and very limited) female parts, and was originally performed by an all-male ensemble, an all-female cast feels like a breath of fresh air. Every time the word "man" appears in the original text, it's been replaced by the word "girl" and words like "wife" and "husband" have been changed to "friend," to fit in better with the context. The effect of this change is striking. Suddenly, we're not watching a high political drama acted out by Roman citizens - we're watching a power struggle between adolescent girls. You might expect that to change the meaning a bit, and you're probably right. But anyone who thinks such a staging would detract from Shakespeare's original is just plain wrong. Julius Caesar has never been so potent, so moving, or so riveting.
A cast as versatile and inventive as is this new staging certainly helps. Madeline Wolf's Cassius has a "lean and hungry" look like never before: a fire-brand of a girl who practically sparks. Violeta Picayo is a strong Mark Antony, and Dea Julien is at once admirable, loathsome, and pitiable as Julius Caesar. Meanwhile, Miranda Cornell and Amie Tedesco shine as Casca and Lucius, respectively, and Tedesco's soothsayer with her origami fortune-teller is a stroke of genius. (It's worth noting that each cast member successfully balances a number of different roles.) The true heart of the piece, though, is Alyssa May Gold's Brutus, whose emotional honesty and calm strength render her final plight truly moving.
Such is the flawlessness and immediacy of this production that, halfway through, I forgot I was watching Shakespeare. When a production is so riveting that I have to remind myself it was written in 1599, that's what I call good theatre. Some of that is the Bard himself, but a good deal of credit also belongs to this brilliantly conceived production.