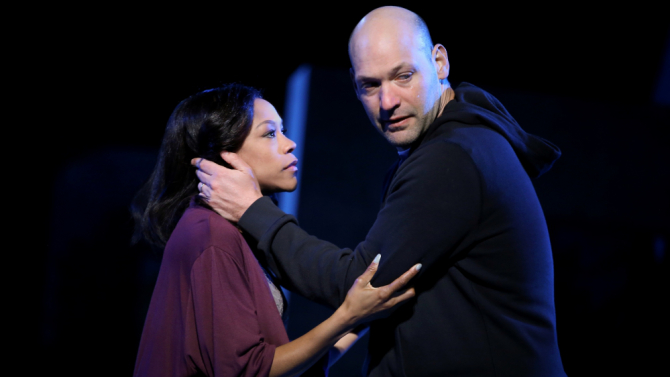 The thing with great plays, and Shakespeare in particular, is that they seem to have been written about the time when they're being produced, and sometimes eerily, about the people witnessing said productions. Romeo and Juliet never aches more than when we are experiencing forbidden love of our own, King Lear strikes us as intrusive when we see a loved one close to death, and there is nary a person who hasn't at one point felt like the existential prince of Hamlet. So it makes sense that a production of Julius Caesar would strike as more relevant than ever when America is on the brink of totalitarianism under the hands of the Republican tyrant currently in office. And yet, the beauty of Shakespeare is that we are reminded that we are always on the brink of totalitarianism, even under the most peaceful and progressive of regimes.
Power corrupts, it can't help but seduce those weak enough to surrender to its promise of endless bliss, and the threat of walking into the figurative dark side remains for as long as temptation exists. Perhaps dressing Gregg Henry's title dictator in a navy suit, overlong red tie and giving him a cereal blond hairdo wasn't the most subtle of moves in Oskar Eustis' production at the Delacorte Theater. The mind instantly goes to the loud ignoramus praised by the sycophants at Fox News (an escapist night at the theater this ain't). Did Shakespeare conceive the ultimate tyrant or have we adapted our views of a tyrant to fit the ideas in Julius Caesar? But there is something strangely surreal about the moment when his own senators plot to assassinate him. We find ourselves disturbed by the idea of destroying fire with fire.
Opposite to what the right wing media has suggested, this Julius Caesar isn't a celebration of this tyrant's demise, but an open wound from which bleeds one question: is tyranny really dead if it comes at the hands of violence? Eustis' interpretation of the play might just be the most effective Shakespearean production this decade as it links past and future forcing us to engage with ideas that have never hit closer to home. This is never more effective than when we learn that we have been sitting next to actors playing the Roman mob. At first it takes a moment to adjust ourselves when the man in front of us, or the woman behind us leap from their seats to join the chants against the dictator (or when they betray this and ask for Brutus' head), it's safe to assume lay-people might've wondered if they too should join the chants. By having the loudest voices erupt from the audience's perspective, Eustis is giving power back to the public, reclaiming the theatre as the ultimate forum.
It's significant that as the play begins we see a wall with thoughts and notes aligned under two columns: I Mourn For/I Hope For. That message in David Rockwell's clever set design sets the mood for what turns out to be an introspective production in which we are reminded that indeed the fault is in ourselves, the stars shining over Central Park remain innocent and impotent shining their light on how we exercise our wisdom, or our lack thereof.
For more information on Julius Caesar click here.