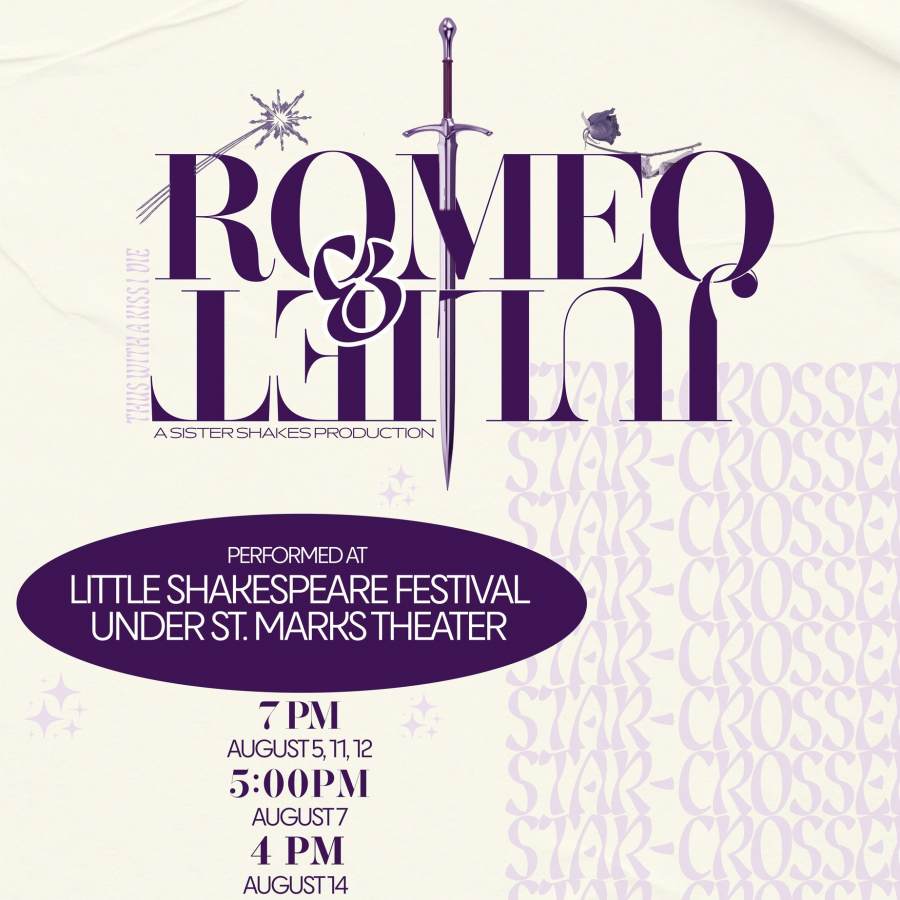 What makes a play queer? Is it simply a queer cast? A queer aesthetic? Or something more?
Billed as a queer and gender-blind, abridged and I quote "hilarious version of this beloved classic," Sister Shakes Productions' Romeo & Juliet (presented by FRIGID New York at UNDER St. Marks as part of the Little Shakespeare Festival) piqued my interest. Even if I thought no new perspectives could be gleaned from yet another rehashing of the tale of star-crossed lovers, I was nevertheless curious to see a "hilarious version" of this bonafide tragedy, and one that promised to challenge concepts of masculinity and femininity, no less.
Had the show not made these promises, I wouldn't have expected them to be fulfilled, and thus would have been far more satisfied with the end result. Because as far as productions of Romeo and Juliet go, this one is very good. But as far as hilarious, gender-bending versions of Romeo and Juliet go, it's a little disappointing.
One adjustment I did appreciate is that the play (directed by Sam Stone) has been cut to a run time of 90 minutes. I'm usually a traditionalist when it comes to these matters, but at this point a Romeo and Juliet that does not drag on for three hours is a balm to my soul. The now tightened text concentrates on moving the plot forward for our hero and heroine, no longer impeded by any thumb biting or long speeches about Queen Mab. This is nice.
The cast has also been stripped down to five members, who likewise play a significantly smaller cast of characters (though many still juggle parts). The stage is bare except for some black boxes and a single table, and the mostly modern-day costumes remain more or less the same from start to finish. We see the story play out fast and close, with nothing to distract from the dynamic events unfolding directly before our eyes. This is also nice.
The cast is wonderful. Romeo (Annella Kaine) is incredibly sexy--particularly when he interrupts Juliet, reading To the Lighthouse instead of dancing at the ball, to place a hand on her thigh. Juliet (Shelby Capone) is bold but easily flustered, and altogether adorable. The rest of the cast all deliver fine performances as well, and it's clear that several are consummate masters of Shakespearean acting. This is very nice.
The truth is that Romeo and Juliet, if done well, is already hilarious. And it can easily be gender-blind, as in fact I've seen it done before. The only problem with this particular version is that it isn't really doing anything new. But perhaps I'm finding fault where I should be singing praises. Produced, directed, and performed by female-identifying and non-binary artists--which is very very nice--it is in fact a first-rate show, and if you want to see a stunning, sexy, fast-paced Romeo and Juliet, I'll be the first to point you in the direction of UNDER St. Marks.