Calamity Jane rides again in this riotous exploration of history, myth, and legend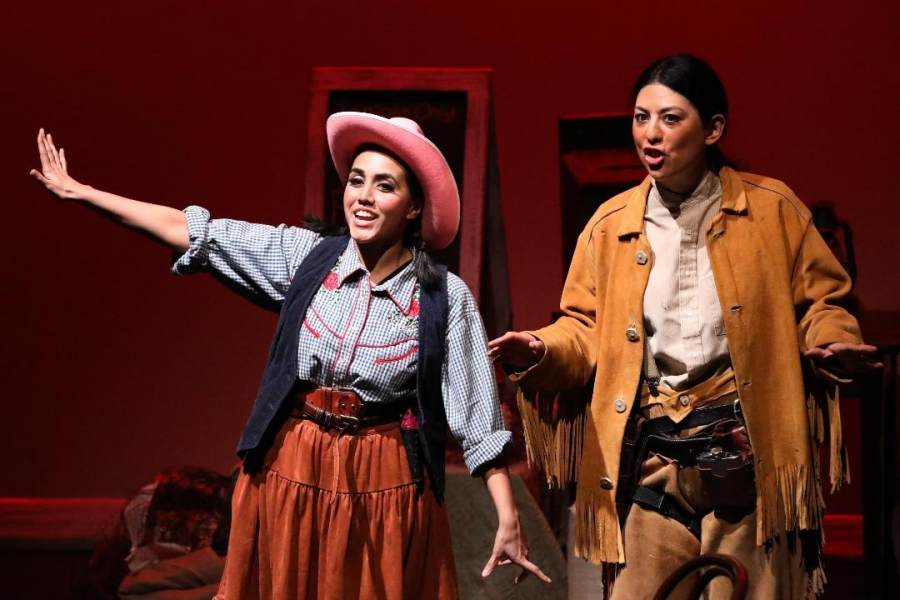 "You have no control who lives, who dies, who tells your story." If Calamity Jane was a character in Hamilton, I have to think she'd agree with General Washington—probably very vocally, uttering a curse and slamming a bottle of whisky on the table as a punctuation mark. The infamous cowgirl about whom hundreds of conflicting stories exist is the subject of Rising Sun Performance Company's Untitled Calamity Jane Play, currently playing at the 14Y Theater. Written by Kati Frazier (Akia Squitieri directs), it's not so much a serious look at the actual Calamity Jane as a playful meditation on the way myths have grown up around her—fencing the true Jane off from everyone: herself most of all.
The action takes place in a bar in Deadwood: the frontier town Jane calls home. While a group of pioneers discuss how to properly bury the notorious Calamity Jane (and whether they should), the now dead Jane recounts her life, often through a haze of confusion. Various characters from her stories come and go—Wild Bill Hickok, her erstwhile lover and possible husband (if indeed she ever met him); Charles, a childhood friend she nursed through the winter (if she was actually a nurse); a daughter she wrote letters to (if she even had a daughter); William Steers, her abusive husband detained overnight for attacking her (this one seems real at least); and countless others. As she recounts her stories, interruptions come from her barkeeper friend Madame Moustache and a pesky 1950s historian, both of whom insist on pointing out the discrepancies in Jane's account.
Then there are the interruptions from Jane herself, who's been split into two characters. One is a rough and tumble figure in a buckskin suit (Maya Jasmin Kurokouchi in a compelling performance); the other a cutesy cowgirl in hot pink boots and hat (a delightfully innocent Ayesha Saleh). They represent two opposing images of the legend: was she a gender-nonconforming troublemaker or a feminine icon of the Wild West? The play leans in favor of the former, but keeps the question open.
A play like this could easily devolve into a modern rant about the biases of the Old West and the fallacy of American gender and racial politics. Happily, it mainly avoids taking itself too seriously. As a result, its well-aimed points hit without feeling laborious. Historical misnomers are a source of injustice but also humor. No, the pioneers admit, we can't call ourselves pioneers because we didn't really discover anything, and yes, Jane may look like a girl but don't go assuming things about people. Its treatment of the subject matter is clever, thoughtful, and raucously entertaining. The humor is smart and sassy, poking fun at history itself as it finds a million holes, inaccuracies, and problems in the record of Calamity Jane's life.
In a nice touch at the end, the actors' voices layer over one another as they each recount a different version of that story—she raised her siblings, she abandoned her siblings, she was an only child—she was Bill Hickok's lover, she was his wife, she never married anyone because she was gay as heck. Stories spawn more stories, obscuring the facts until the facts themselves become irrelevant. "Being a legend don't make me a hero," says Jane. She can't live up to the stories, but she doesn't have to. When she finally accepts her death and lets the stage lights dim, it may be the end of the historical Calamity Jane: but it's only the beginning of the legendary one.