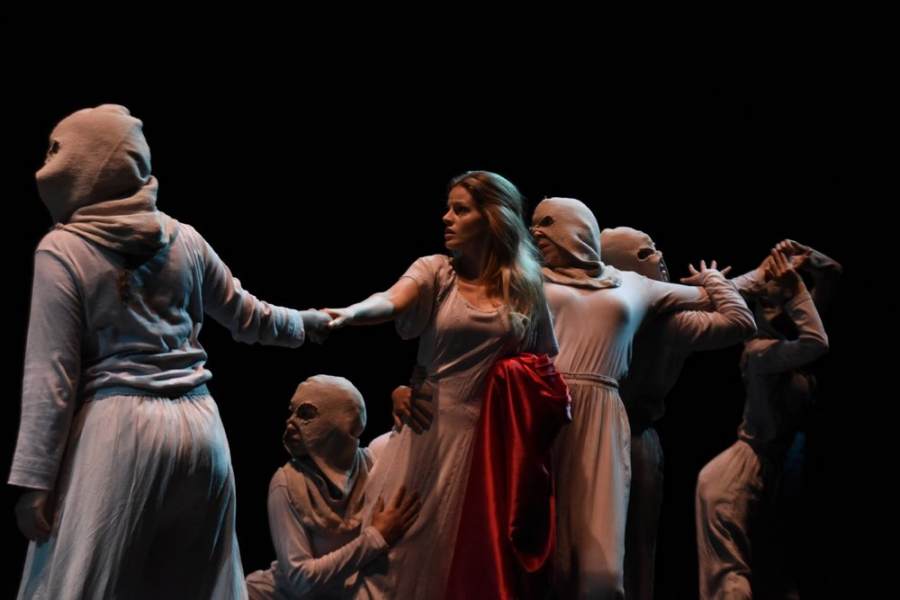 If you run quickly through a list of Shakespeare's tragedies you may notice something: Hamlet, Julius Caesar, King Lear - the title characters are all men. Of course, there's also Romeo and Juliet and Antony and Cleopatra - but no woman stands alone as the main character of a Shakespeare tragedy. Some theatre companies have compromised by casting women in traditionally male roles. But Real Live Theatre (at Theatre for the New City) is taking a bolder approach.
Queen Margaret of Anjou appears in four of Shakespeare's plays (more than any other Shakespearean character): Henry VI Parts I-III and Richard III. The Life and Death of Queen Margaret (directed by Toby Vera Bercovici) combines Margaret's four appearances into one play, and adds details on which Shakespeare is silent, such as Margaret's early life in France before her coming to England. As a result of Bercovici's and Dan Morbyrne's tight script (woven from Shakespeare but "funneled and augmented") and Myka Plunkett's beautiful acting, Margaret of Anjou becomes decidedly whole and decidedly human. She also becomes a force to be reckoned with - by both her political opponents and the audience watching her story unfold, grappling with Margaret as a complete and compelling character.
Julia Vincenza Whalen's wonderfully understated costumes and Annelise Nielsen's deftly envisioned choreography add to the value and freshness of this production. And the choice to cast an all-female ensemble, in a reversal of the Shakespearean norm, is a perfect touch. Music, lighting, dance, and inventive staging combine with a wise script, a unique aesthetic, and powerful acting to create the ultimate "total work of art."
Margaret's story begins in France, where her father is the king in title only and where a loving nurse serves as the ambitious girl's main companion. From there, Margaret crosses the sea to become the wife of English King Henry VI, dropping straight into a nest of political intrigue. From then on, Margaret strives to hold her own in the English court, protect her family's claim to the throne, and subdue all who stand in her way.
As Margaret of Anjou, Myka Plunkett is marvelous. She passes from innocent French girl to bloodthirsty military leader without losing any of her spark, and somehow manages to enlist empathy even after cruelly disposing of her enemies. Each other cast member plays a number of characters with an equal amount of expertise and depth in each role. Especially wonderful is Linda Tardif's deliciously chilling Richard, but every cast member is noteworthy.
But now to the real question: does Margaret hold her own against other tragic Shakespearean characters? She may not be as intellectual as Hamlet, but she's certainly more decisive than the Danish Prince, more clear-sighted than Lear, and every bit as ambitious as Caesar. She has her moments of tragic weakness (though not through any quailing on her part) and enough strengths for several of Shakespeare's male characters. Perhaps only time will tell, but for what it's worth, my money's on Queen Margaret: "she-wolf of France."