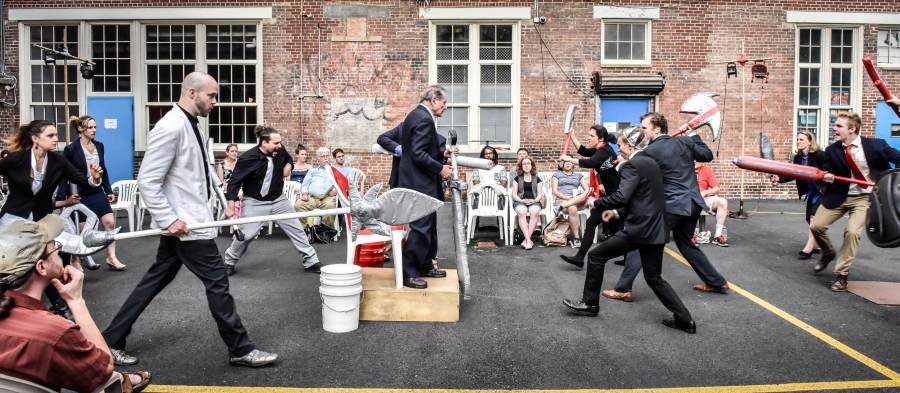 It's a happy chance that for their second Shakespeare in the Parking Lot production this year, The Drilling Company chose not to stage Julius Caesar - though they considered it - but Henry VI Part 3: one of Shakespeare's most seldom performed history plays. Caesar has played often enough this summer (if indeed it can ever be performed "enough"), and Henry VI yields an even more apt perspective on the current political climate: in which endless bickering between two parties makes any progress impossible.
In Henry VI, at least, those two parties are the House of Lancaster - upholding Henry VI as rightful king of England - and the House of York - upholding York as king. With Lancaster in red and York in white, the stage is set for an especially bloody chapter in the War of the Roses.
Director Hamilton Clancy sets his production in the USA, in a time - as the program states cryptically - "maybe soon." Accordingly, the actors dress in business suits, mainly black, with red or white accents depending on their house (Lancaster or York). Props are minimal and simple: a tinfoil crown for King Henry and weapons forged from duct tape and foam. A resin patio chair - painted half red and half white - serves as the symbolic center of the play, emblematic of the constant power struggle between the two houses.
Doubling and sometimes tripling up on several parts, the actors of this production prove that even Shakespeare in a parking lot (La Plaza @ The Clemente Parking Lot) can be a transcendent experience. As the vengeful Clifford, determined to wreak destruction on the entire family of his father's murderer, Brad Frost is wonderfully bloodthirsty. But his foil character Richard rivals even Clifford for bloodlust, and Alessandro Colla turns out a compelling performance as the deformed power-seeker. Especially well played is Richard's Act III soliloquy, which Colla delivers with equal parts ease and depth, interacting briefly with the audience and extemporizing a bit as occasion warrants.
Likewise, the wistful soliloquy in which Henry VI (Skyler Gallun) wishes for the carefree life of a shepherd yields a moment of humanity (as only Shakespeare can write it) that's a welcome refresher in the midst of a politically turbulent play. Another refresher is the exchange between Edward (momentary king of England) and Lady Grey (a widow begging the return of her late husband's lands), in which Kendra Oberhauser (Grey) gives a weighty performance, and Lee Seymour (Edward) comes off as charming.
Meanwhile, as Henry's "son" (also named Edward), Erin Noll gives a highly enjoyable performance despite regrettably few lines of dialogue. When she does speak, she outshines all around her (as a prince should); and when she remains silent, her facial expressions speak volumes.
It's difficult not to think of recent politics when the House of York criticizes Margaret, Henry's wife, for leading the Lancastrian troops into battle - a most unladylike occupation for an English queen. And when the two houses quibble while facing each other across a gap, it also feels uncannily familiar. However, there is one important difference between 1400s England and 2017 America: democracy. That may be our saving grace, but it doesn't mean we have nothing to learn from Henry VI Part 3, especially as presented in this very timely production.