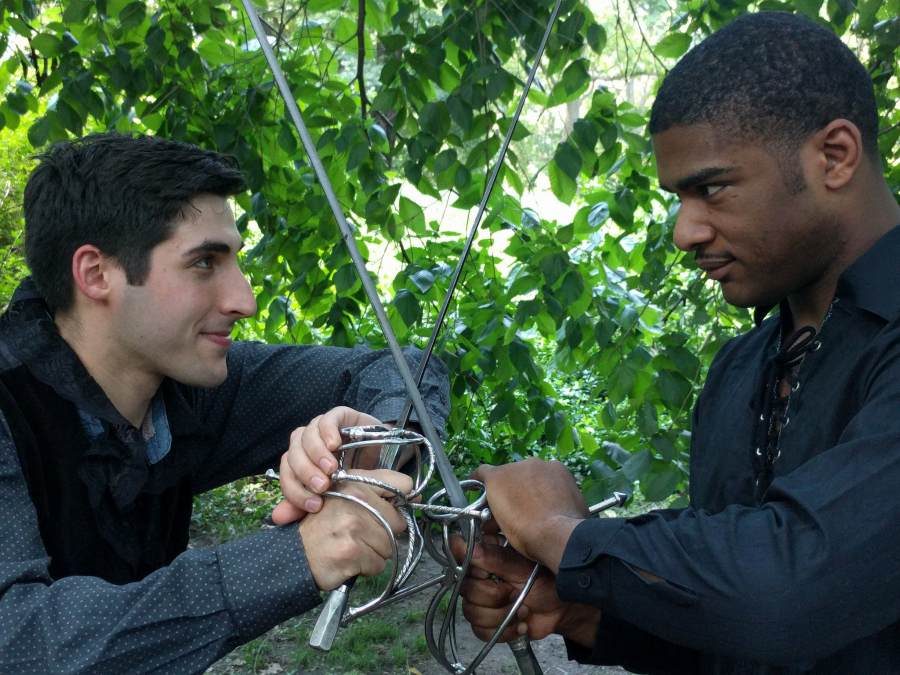 Shakespeare's comedy The Two Gentlemen of Verona lends itself well to piracy, and director Ariel Leigh picks up on the hint in her swashbuckling production at The Brick. For my tastes, the play could have used even more piracy, but as it is, I'll take it.
Dylan J. Sampson and Daniel Pascale feature as the two gentlemen of the title: Valentine and Proteus, respectively. Beth Devlin plays Silvia, and Vanessa Wendt, Julia: the two women who love and/or are loved by Valentine and Proteus.
It's a classic Shakespearean story of star-crossed lovers, blood brothers turned to mortal foes, women disguised as men, and an eventual happy ending for everyone. Add to that a healthy dose of witty repartee, a few outlaws, and plenty of swordplay - and you've got the gist of it.
Proteus loves Julia, but their parents will never consent to a match, and Proteus' father sends him to join Valentine, Proteus' best friend, in Milan. Meanwhile, in Milan, Valentine plans to elope with the lovely Silvia. But when Proteus arrives, he falls head over heels for Silvia, swears off his love for Julia, and stabs his best friend in the back (metaphorically, this isn't Caesar). After a tip from Proteus, Silvia's father banishes Valentine, unwittingly leaving the way open for Proteus - though Silvia is having none of him. Back in Verona, Julia decides to travel to meet Proteus in Milan - only she'll go disguised as a man, because it's Shakespeare and why not? When she reaches Milan, she learns all too quickly of her lover's fickleness. After some battles of wit and a romp through the forest with a gang of outlaws, everything comes to light, everyone makes up, and everyone lives happily ever after.
Or so we're led to believe, and it does take a little believing. Should Proteus really be forgiven that easily? And what makes Julia so sure her lover won't have another sudden change of heart?
But any plot holes are by no means the fault of the cast-members, who brandish both words and swords with equal exuberance. Valentine is well cast as Sampson: who convincingly swings between teasing friend, forlorn lover, and leader of a band of outlaws - rendering a genuine performance throughout. Wendt is charmingly lovable as Julia. And Erin Miller and Issac Allen Miller inspire well-deserved laughter as the humorous servants of Valentine and Proteus. Michael J. Whitten is also delightful as Silvia's unwelcome suitor, and his flamboyant mustache may merit its own credit on the playbill.
The music and costumes (corsets, billowy shirts) add a hint of piracy, and numerous whimsically staged sword fights (by Michael Hagins) add to the effect. But I think the pirate element could have been carried a bit farther for an even more imaginatively engaging production: perhaps with more textual changes, some character acting, or more explicitly piratical costumes. Nevertheless, there's a lot to love in Leigh's staging, and this intimate production succeeds in being witty, articulate, and - best of all - pure Shakespearean fun.