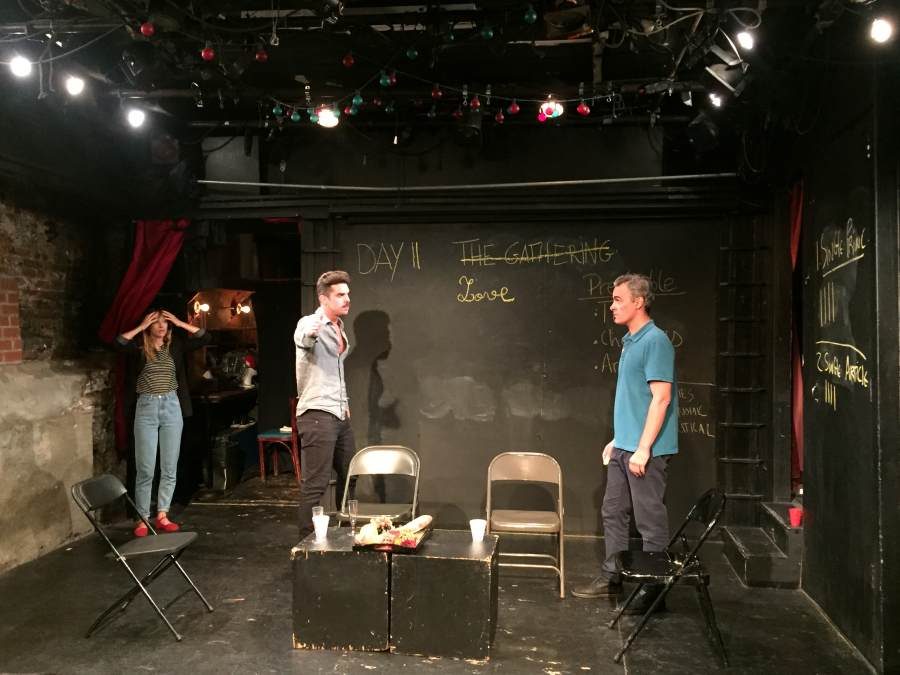 How do you write the perfect constitution for a new government? That's merely one of the questions Mickaël de Oliveira's play The Constitution asks. Perhaps even more central than the question of the constitution is the idea of love: what it means to love someone, and whether or not love can mean different things to different people. And if the answer to the latter is yes, then can a government based on love succeed?
Directed by Jill DeArmon at UNDER St. Marks, The Constitution depicts four actors who have been asked to draft a constitution for the new Portuguese government. None of them know why they were chosen, and most don't want to be there. But they have a mission to fulfill, and only six days to do it in. While trying to create a new system of government, each character finds the mission complicated by his or her past. Diogo (Diogo Martins) is a former Communist. Pedro (Pedro Carmo) worries about his children. Both Diogo and Pedro used to perform unsavory duties for the government. Meanwhile, Maria (Maria Leite) and Filipe (Filipe Valle Costa) were previously in a relationship, and their troubled romance threatens to upend the whole mission.
As the four different players in this emotionally-charged drama, each cast member performs with a high degree of realism and immediacy. As a result, all four characters come across as distinct personalities, alternately giving and taking in the debate they find themselves involved in. Especially forceful are Leite's and Valle Costa's performances, to which Martins' and Carmo's sometimes take backseats. But that's not because the latter two are lesser actors; it's simply because the script turns the focus increasingly onto Maria and Filipe as the play nears its end.
A thoughtful staging, together with the immediacy of the venue (a small theatre in which actors use all the available space), further the production's sense of realism and relevancy. But perhaps the biggest contributor to The Constitution's success is de Oliveira's sharp and thought-provoking script (translated by Maria Inês Marques), which cuts right to the heart of the issues while avoiding blatancy. Rather than forcing an agenda, the script leads viewers along subtly, gradually preparing them for the play's climactic thunderbolt. When that climax comes, it seems both staggering and intuitive -- which is a mark not only of how well each actor has played his or her part, but of how well de Oliveira's script has succeeded.