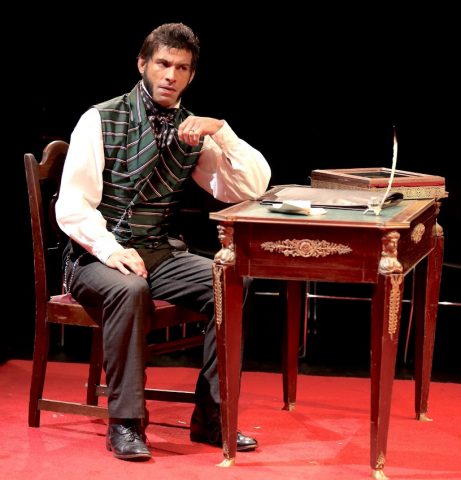 THE BOTTOM LINE:
The American Vicarious colorful production of Pushkin captures the imagination and leaves you yearning for freedom. Those who thrive on court intrigues, political riddles and affairs of pistols will appreciate Jonathan Leaf's dramatic rendition of Pushkin's life.
WHAT IT'S ABOUT:
Set in St. Petersburg, Pushkin dramatizes the liberal thoughts and life of a poet who struggles to remain loyal to the Czar while wrestling with his own efforts to be free. He is challenged. "Prove on your birthday that you are free." And he does. By the end of the play, even if he is not granted permission to leave Tsar Nicholas' court, he has become the freedom voice for the Serves, and that is indeed a proof of freedom.
He remains as the Tsar's court poet, his personal "project" and "hope" as he calls him, yet Pushkin feels like "a kingdom's clown" as he also struggles with freedom on the domestic front due to a love affair with no less than his wife's intellectual sister, Alexandra for whom he writes: "In the moon light passing low I will keep you free in my arms."
CAST & CREW:
Jonathan Leaf (Playwright)...
Perhaps the strongest asset of the play is Leaf's ability to present Pushkin as a literary hero in language accessible to our contemporary audiences. Contrary to what the public may expect, as Leaf himself acknowledges, "nearly all of the verse in this play attributed to Pushkin was not written by him." Leaf, however, did quote some of Pushkin's most powerful lines from his original verses, and not surprisingly those attacking the monarchy.
Christopher McElroen (Director)...
With the pistols established within 10 seconds of the play's opening, the element of a surprise duel somewhat vanished, yet the thread he established carried very effectively the duel theme until that fatal shot that claimed Pushkin's life.
THE CRITICAL EYE:
Though I thoroughly enjoyed the show, I got distracted by the detailed furniture arrangements during numerous scene changes which may have lengthen the play unnecessarily (two hours and 10 minutes with intermission.) But I must add, with all things considered, that I did enjoy watching the journey Pushkin's desk made during the two acts, as for me, it gradually seemed to become an additional character to the play. Perhaps a directorial choice? If so, a very asserted one.
THINGS THAT STOOD OUT:
The themes of freedom and exile, fame and death carry the play, as well as that strong touch of romance that keep the audience hooked until the end. Played on a powerful yet simple set, truly simplicity at its best, the production highlights not only a movable set in the snow landscaped epilogue, but all the rest as well, from the brilliant costumes to the craftsmanship of every artist on the set.