Review: Talking Band's Risk-Taking Music-Theater Piece 'Fusiform Gyrus' Is a Master Class in Imaginative Directing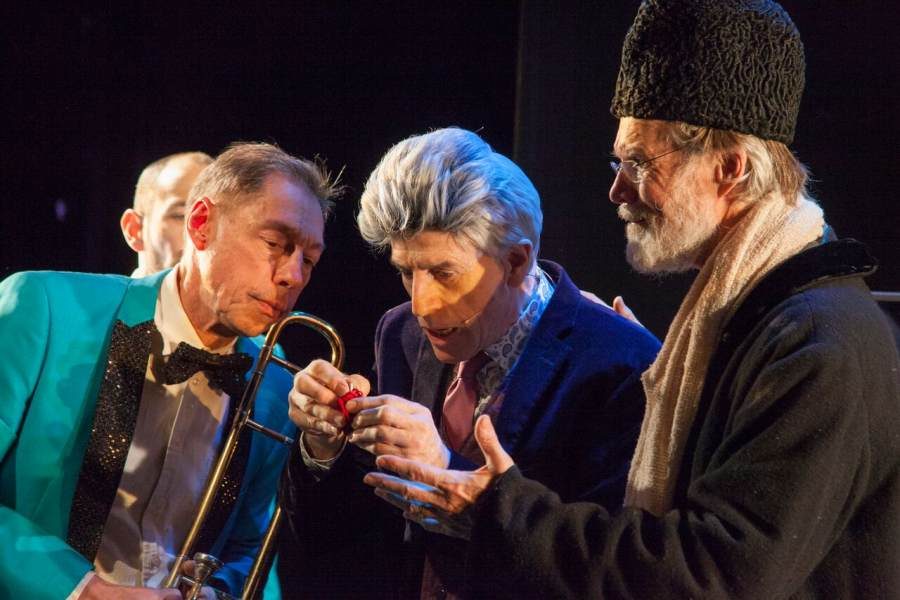 What it's about: Two old, eccentric scientists discuss philosophical ideas while reminiscing about the tenure of their personal and professional relationship. Accompanied by a five-piece band, Fusiform Gyrus is a "music-theatre" work, which explores a plethora of themes and ideas through a non-linear narrative and music.
Why you should see it: Ellie Heyman. The Drama Desk-nominated director of Beardo defies the limitations of the Here Arts Center's downstairs space with a production that is imaginatively staged. The threadbare plot maybe hard to follow but the continuous surprises in the set and video design by Anna Kiraly and the magical lighting design by Mary Ellen Stebbins provide for a visual treat.
Performances by Tom Nelis and Paul Zimet are proof that veterans of the form can make a meal out of even thinly drawn characters, introducing the audience to worlds that are not on the page. The musicians are all uniformly excellent and used brilliantly by Heyman.
Fusiform Gyrus is a challenging play in form and convention and Heyman has now over and over demonstrated that she is the director of choice for plays and musicals one may consider "non-traditional."
What could be better: This is a question of taste rather than craft and for some, Fusiform Gyrus may prove a bit too meandering. For an intimate space, the big band sound is a little too big.
The Last Word: Ellen Maddow has constructed a risky work, exemplary of the history and mission of The Talking Band. Luckily, she has a director like Heyman at her side who handles the challenge with remarkable skill and innovation.