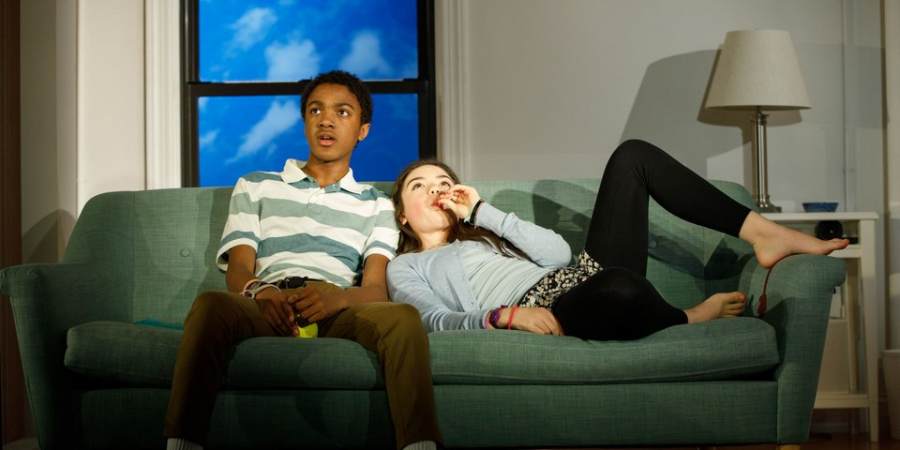 Lindsey Ferrentino is one of the busiest playwrights in New York. She currently has not one but two plays running in the city – This Flat Earth at Playwrights Horizons and Amy and the Orphans at Roundabout Theatre. Both couldn't be more different. I caught the Edward Albee Playwriting Fellowship winner between rehearsals to ask her questions about This Flat Earth and its resonance in America, right now.
When did you become interested theatre and in writing plays?
I think I've always written plays, short stories, going back to when I was a kid. My dad is comic magician and I grew up in the back of comedy clubs and theatres watching him perform and I got really interested in audience's relationship with the performances. The performances would change every night depending on the audiences and the audience would change every night depending on the performances and seeing that relationship play out. I think that's what hooked me. I went to school for acting and saw a short play of mine produced when I was about to graduate high school and that was the 'aha' moment that I wanted to be a writer.
What was the first impulse or the origin of This Flat Earth?
I started writing this play about three years ago when I came across this journal of mine when I was a middle school student and the journal was from 2001. The entry was from September 10, 2001 and we were supposed to list the things we were most grateful for. One of the things I listed was that I was grateful that I didn't grow up in a time of war and then of course, the next day, September 11th happened. I never said it out loud, but I as a young person, superstitiously believed that I jinxed this into motion. It's probably not something I believed on an actual, logical level, but, you know, at a deep, superstitious, not really understanding the big event that just occurred level. I was trying to put some sort of meaning onto what felt like chaos. That journal entry triggered the memory of a bad time and how confusing that was. My friends and I were sort of aware of these national events, but weren't really processing them. The play grew from there into a coming of age story amidst a national event and what does that mean – how do you find your role inside of these big national narratives?
So the journal entry was the genesis of what is so fascinating in the play, which is telling this story from the children's point of view and how they are able and not able to grapple with these big questions--
And I was certainly thinking about Sandy Hook, but I started writing the play a few years after Sandy Hook, so I felt like at least we weren't living the immediacy of the event anymore, so I could look at it with some sort of critical distance. Of course, I didn't realize then that this would just keep happening and keep happening and keep happening throughout the development of the play. I felt like the stories surrounding events like Sandy Hook were always about the victims and the victims' families and I was thinking about the story of the kid who was at the school but wasn't affected in the same way. News headlines would call this kid a 'survivor' even though this kid would never call himself or herself that. How would someone process the event if he or she were in the proximity of the event but were not close enough to experience the same emotional devastation of losing a loved one.
How has the development process been? What has surprised you or challenged you the most?
Doing the play at Playwrights Horizons was the first time I was able to hear young people in the play. I'd heard a few readings and they were always cast with people in their 20s playing 12 year olds, which is just not the same. It doesn't have the same simplicity and you don't believe it in the same way as when you actually have young people playing young people. So much of the play is about youth and the juxtaposition to older generations so without that difference, I felt like I couldn't quite hear the play until I got to Playwrights Horizons. In the rehearsal process, we came in on day one, and we were talking about Sandy Hook and on day three of rehearsal is when the shooting in Florida happened and I think that changed the play for us in a much more immediate way and I had to look at the play in a different light because of how the aftermath of that played out. There was also another shooting on the third night of our preview, which made the play more pressing for us and also more complicated. Now I don't have that critical distance from the event that I thought I would have when I started writing it.
How has working with Rebecca Taichman been?
She's wonderfully collaborative. I think she has a great understanding of the poetry and reality of every moment and finding both. I think that's a very rare gift.
How was the casting process, especially for the two children?
The casting department at Playwrights Horizons is just incredible because they left no stone unturned. Rebecca and I were very clear from the beginning that we wanted appropriately aged actors that didn't feel polished and trained. They didn't feel like they'd done a million productions. We really wanted the to look and feel like real kids. That's a very difficult balance to find. It really is all credit to Playwrights Horizons. They went the extra mile to find kids that didn't necessarily have the longest resumes but felt emotionally right for the role.
Did you have conversations with the cast of the play about the current political climate and how the play is talking back to a world in which kids are taking action and organizing?
I think you think about that when you're writing it and you think about at the beginning of rehearsals. You do your research and you make sure you know as much about the subject as you can. At some point, you have to put the research aside and stick to the characters and what they want. You build the world of the play and you make the play yours. I think it's about finding the balance of wanting to stay true to the topicality of it but also not wanting to feel the play feel laden with the pressures of what that is, so that the play can have a life of its own.
The use of music in the play was very interesting. What was the impulse behind that?
I always imagined the world of the play set in this apartment from a girl's point of view who is looking for understanding and meaning post this trauma and event. I always had the idea of music coming from above, which could feel like something people didn't understand but also could understand. The question of 'why is it coming now' is where I began and then worked from there, thinking about what the instrument could be. The cello just felt emotionally large enough to address this material. It always felt emotionally right. It didn't need to work logically.
You currently have two plays running in New York! How has that been?
It's been very tiring but also very thrilling. The plays couldn't tonally be more different. I think there's certainly similarities. I'm interested in writing about families and female narratives, subjects you don't normally see on stage. This Flat Earth is a much more quiet and delicate play and Amy and the Orphans is much bigger, brighter and louder.