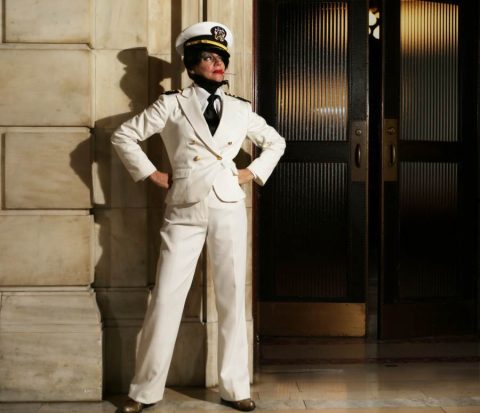 What is it about: A solo show (that's not quite a solo show) that tells the story of gay rights pioneer Joe Carstairs, this production is part cabaret, part farce, and all tons of fun. Phoebe Legere essays several characters including Tallulah Bankhead, Marlene Deitrich and Billie Holliday in what is billed as a "trans-disciplinary play that uses wearable sculpture, dance, theatre, and nude lesbian films." The show has now closed at Dixon Place.
Why you should see it: Well, you can't see it anymore, and I'm not certain what you've missed. It is a difficult production to describe and while it encompasses all the elements described above, the elements don't quite come together to make a whole. Sloppy technical design and staging create long pauses. There are blow up dolls, a very odd boat as well as numerous costume changes. Randomly, stage hands walk through the stage adjusting the difficult piano and often Legere acknowledges the faux pas in the show with a curse word, or two. And yes, these are all reasons to see it, because the entire cast and creative team perform the show every night with remarkable élan.
What could have been better: A production like Speed Queen makes one appreciate the presence of a director. The direction by Lissa Moira leaves much to be desired as Legere is left to perform a show that is impossible to execute. The talent on stage deserved much better.
The Last word(s): The mistakes of the show take on a farcical quality that I am not sure was intentional. Is the audience laughing with or at the production? I wish you could go find out.