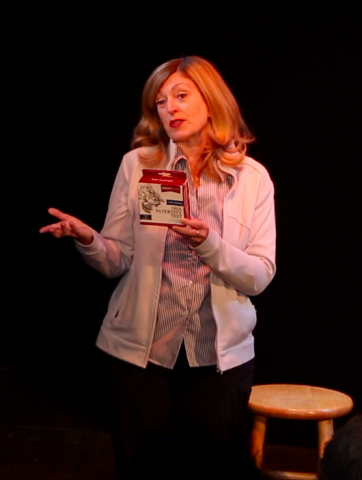 Starting off her sprightly one woman show A Good Girl Doesn't by pulling a drugstore paternity test out of a plastic bag, writer and performer Abby Stokes sets up the journey she'll take her audience on with this question: "Who is my biological father?" Part of The ONE Festival at the Clemente theater on the Lower East Side, A Good Girl Doesn't is a rollercoaster ride through the 1960s and '70s. Ms. Stokes was the youngest child of swinging parents who earnestly partook in the sexual revolution: swapping partners, imbibing lots of booze and having key parties. (For those of you who don't know, a key party is when guests put their keys in a bowl and then randomly draw keys at the end of the evening to see who they'll go home with after the party.) Deftly directed by Gretchen Cryer, the doyenne of solo shows like I'm Getting My Act Together and Taking It on the Road, Ms. Stokes developed A Good Girl Doesn't in Ms. Cryer's "Writing for Solo Performance" class. Well-shaped and written with some great twists and turns to her story, including a powerful explosive confrontation near the end, Ms. Stokes has obviously benefitted from having Ms. Cryer so involved in the creation and rehearsal process of her piece.
With an appealing wide-eyed presence and sweeping blonde hair, Ms. Stokes, who grew up in Connecticut, relates tales of being the scapegoat for her father's rage and vulgarity. Taunting her with the name Blondie (all of Ms. Stokes' family have dark hair and eyes), her siblings poke fun at the fact that her name begins with an "a" and so does adopted, setting up the paternity question early on. Ms. Stokes continually presses her mother, even on her deathbed, for the answer to who her father might be. Fascinatingly enigmatic, her mother appears to be helpless at protecting her child and reminisces about what seems to be the highlight of her entire life: being a well-coiffed greeter at Bergdorf Goodman's department store in the 1950s. Her father was an ad man on Madison Avenue. He and all of Ms. Stokes' other characters are clearly delineated with gesture and vocal shifts.
There are some fun visual aids in A Good Girl Doesn't, including a 1960s mod paper dress her mother wore and an easel where large poster board illustrations help to make points about gene biology and her father's design of a brightly colored penis, which he wants to make into the Stokes family crest. Since Ms. Stokes is already using a few well-chosen props pulled from a large suitcase, it would have been great if instead of miming her phone calls she'd utilized a real phone -- a fun pink Princess phone perhaps.
Everything her father says seems to be steeped in crass sexual innuendo and although we get glimpses of what that did to Ms. Stokes as a child, digging deeper would have added another layer to A Good Girl Doesn't. The good news is that all that abuse has not prevented Ms. Stokes from living her life; she is a best-selling author of Is This Thing On? - A Friendly Guide to Everything Digital for Newbies, Technophobes, and the Kicking & Screaming and tours the country as a public speaker. A Good Girl Doesn't not only offers us a peek into the past but keeps us rooting for the honest sweet spirit of a girl who rolled with the punches and came out on top. And that is even better than finding out the answer to "Who is my Father?"