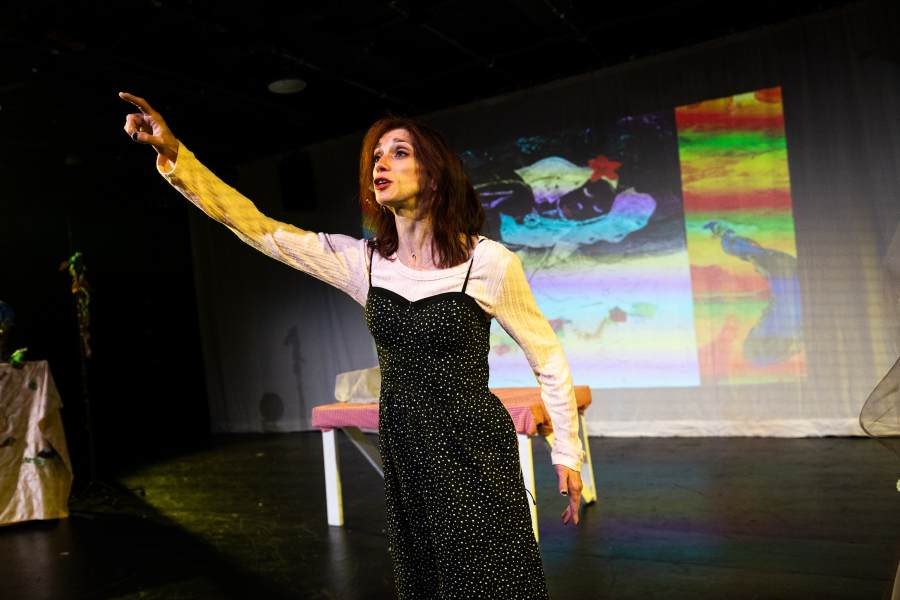 Certainly Passageways: Songs of Connection, Abnormal & Sublime, a theater piece of original songs, mixed media art, dance and storytelling created, written and performed by Amy Oestreicher echoes 20th century French painter Georges Braque's statement, "Art is a wound turned into light.". Passageways (part of HERE's Sublet Series which provides artists with subsidized space and equipment and technical support) tells Ms. Oestreicher's harrowing autobiographical journey from the trauma of sexual abuse as a teenager through a decade of medical calamities starting with a gastrectomy, a coma, organ failure, 28 reconstructive surgeries and coping for six years without eating or drinking anything, because she didn't have a digestive system; a story she deeply explored in her earlier play Gutless and Grateful. Passageways is more interior, a fantastical journey at times inside Amy's mind as her life takes a radical spin into devastating emotional and physical pain. Many of the lyrics to the numerous songs in Passageways (the piece is practically sung through) embody a private mythology that Ms. Oestreicher earnestly shares with the audience. Trees and nature are important symbols, reflecting the peace and stability she had talking to the maple trees when younger and her longing to find that again. At times in both the poetical lyrics and much of her artwork, mostly displayed via projections on the back scrim, there is a certain simpatico with William Blake.
The gamine Ms. Oestreicher possesses a piping soprano, that serves her well when telling her story from her younger self's point of view. Vocally she drops down into her chest voice to convincingly express rage in "How Dare You". Other standout songs with strong emotional cores include "Running, Running" and "Keep Moving". A few musical numbers are repetitive and could use some pruning, in order to keep the story moving forward. And sometimes the abstract nature of the storytelling is confusing. There are several places throughout Passageways where more context is needed in order to anchor the events. However, there are also dramatic moments that are crystal clear like "The Sky is Blue" where Amy tells her mother about the abuse, her mother becomes hysterical and Amy instead of being comforted, ends up taking on a caretaker role and begging for a positive true statement, such as the sky is blue. It is heart wrenching to witness and a beautiful use of symbolism.
Pianist, musical director and arranger Bob Goldstone is an essential part of Passageways, enhancing the storytelling with tension filled rhythmic patterns and poignant flourishes in all the right places. His musical partnership adds non-verbal depth and dimension to the story, as does the visual art. In fact, Ms. Oestreicher's artwork is so stunning, that at times it upstaged her storytelling. Depicting horror and hope using color, fabric, objects, paint and text, her art has a childlike whimsy that doesn't shrink from telling the truth. It's a fascinating theatrical backdrop to her story.
Shellen Lubin's direction uses the wide space at HERE to advantage; the staging with the IV pole as Ms. Oestreicher escapes from the hospital to roam the aisles of a store is excellent example.
Ms. Oestreicher's Passageways: Songs of Connection, Abnormal & Sublime, like Gutless and Grateful, is a tribute to surviving and thriving despite horrific obstacles. It is a testament to acceptance and courage on life's journey.