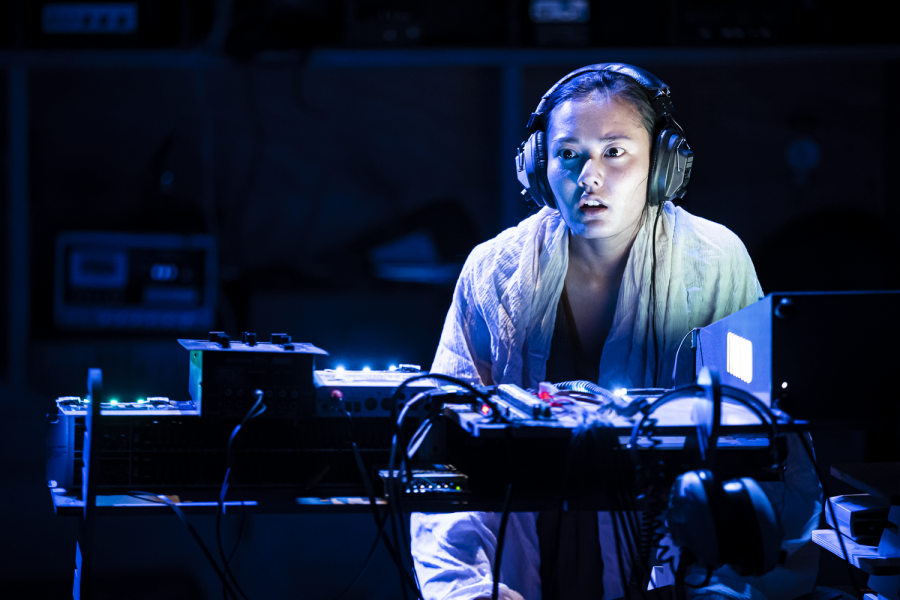 Full transparency: I wasn't sure what to expect from The Listening Room at the New Ohio Theatre. But here's what I got: a high stakes, edge-of-my-seat, thrilling yet somehow poetic dystopian drama.
Inhabiting a space somewhere between The Giver and the works of Samuel Beckett, The Listening Room takes us to a post-apocalyptic future in which a small group of people listen to and record transmissions from a prior world now lost forever. Known as the Listeners, they exist in subjugation and opposition to the government: feared by those in power, yet serving an important--and toll-taking--role.
As one of the Listeners prepares to face disciplinary action for "treason," a blind girl named Isobel walks seven miles through desert plains to reach the Listening Room. Convinced she's equal to the task, she wants to become a Listener. She may end up getting more than she bargained for.
Directed by Ivette Dumeng and Lori Kee, Michaela Jeffrey's script is cleverly staged by Nylon Fusion Theatre Company. One isolated, bunker-like room contains the whole of the action, chillingly suggesting the futility and claustrophobia the Listeners face in a society that's both trapped and alienated them.
Inhabiting that room is a cast of five distinct characters who seem to come fresh off the pages of a masterfully written YA dystopian novel, played by a phenomenal troupe of young actors.
First to appear is the tenacious yet naive Isobel (played beautifully by Sara Rahman), a girl who's tired of being treated like a problem and won't take no for an answer. Then there's Fayette (Matthew Carrasco), the ostensible leader and peacekeeper of the group, tenderhearted enough--or perhaps strong enough--to weep over a dead mouse. Lanolin (Alex Chernin), Rouke (Taylor Petracek), and Marcus (Tim Palmer) form a tense love triangle, while Marcus' subversive antics threaten to destroy more than just relationships.
Carrasco, Chernin, and Petracek give intriguing performances as they convey the depth and complexity of their characters: stubborn and fearless, yet also incredibly sensitive. Less subtle but every bit as powerful is Palmer's performance as the explosive, rebellious Marcus, whose very presence is like a lit fuse on a stick of dynamite.
This is the part of the review where I note the play's timeliness, bring up current issues like fake news and impeachment, and maybe drop a few names, all with a not-so-subtle wink at my readers. But that feels rather cliche. There's no doubt The Listening Room is timely. Rather than project my own meaning onto a work that deserves to be taken at face-value first, I'll let you unravel the specifics yourself.
For what it's worth, I found myself too invested in the drama as it unfolded to think about real-world implications at the time. After the drama's shattering conclusion--once the tension settled and I returned to the present day--only then did I find myself listening to the voices that emerged from the silence of my own thoughts.