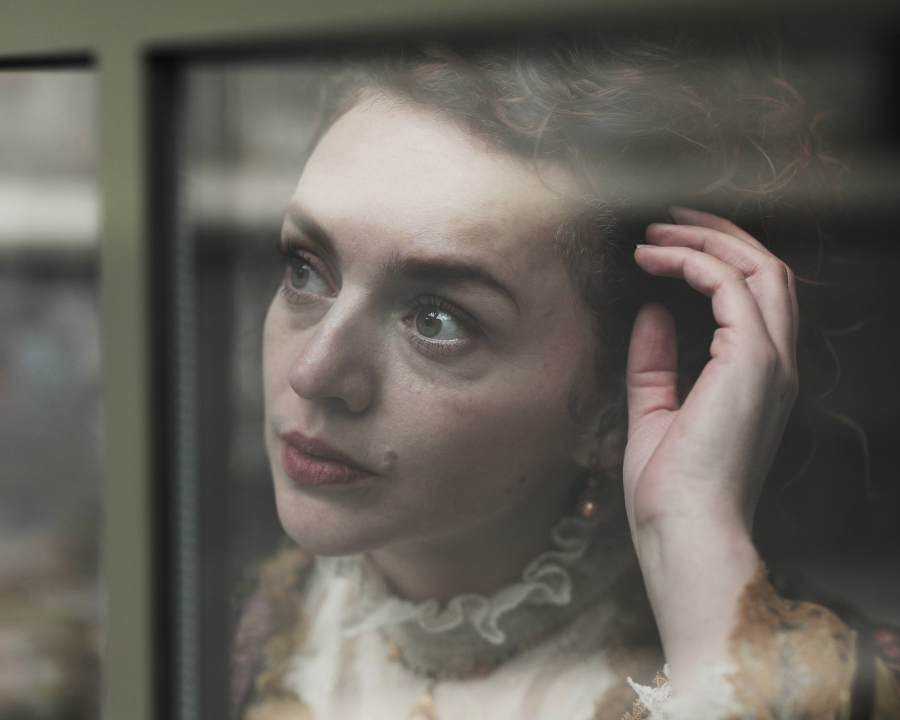 I'll admit I came in predisposed to like Randy Sharp's production of Washington Square. Henry James is one of my favorite authors, and I read the story of Catherine's ill-fated hopes earlier this year. The Axis Theatre Company did not disappoint, creating a story that felt true and compelling. It took no easy routes to impact, but relied on execution to create a situation that demanded attention. 
It was a challenging set-up, with a sparse set focusing our attention entirely on the actors. But each provided an astonishingly good showing. The sheer quality of the acting was remarkable. At no point did it feel like they were even reciting lines--they each fit the portrayal of a nuanced, complete character perfectly. Britt Genelin as Catherine was believably simply, but with an inner light that made you doubt every criticism of her. Jon McCormick could have easily played a one-dimensional slimeball as Morris Townsend, but instead he gave us a man who was simply tired and wanted a simple solution to his problems…and who could have been genuinely fond of Catherine. George Demas also refused to be mapped into a villainous father role as the Doctor. Instead, his love for Catherine's mother made his disappointment in Catherine something layered, and even though he was cruel, his desire to protect Catherine was a plausible extension of the Doctor's commitment to fathering as he believed was best. Could he love his daughter? Perhaps not, but he was determined to fulfil his obligations to her. Dee Pelletier's Aunt Penniman was achingly relatable, and yet I found myself blaming her the most. Everyone else was reacting to reality, while she was hurting others through invented fairytales that felt so selfish.
The attention to character made me notice one of my favorite details about the simple set: when Catherine and her aunt are sewing, the needlework pieces change as time progresses. The one Aunt Penniman brings out halfway through the play is a nearly completed version of the one she was starting at the beginning. The end, years after the main body of the play, is a completely different piece of needlework. Tiny details like these give the viewer a sense of satisfaction with a production.
The writing--by Randy Sharp, as is the direction--relied on repetition and short statements of clarity, making it a far cry from James' infamously labyrinthine sentences. It still allows you room to wonder as you listen. Is Catherine really that simple? And if not, can we truly trust Morris as she wants to? What does it mean to trust someone in a marriage that you can accept is about money? Is there room for friendship and sheer contentment when the possibility is that your partner will drain you dry and leave you empty? When both realities are possible, what makes a decision in either direction valid? Paul Carbonara's original music is a perfect accompaniment to this production, adding depth to its scenes without taking over.
I realized walking home from Greenwich Village that I miss plays that try to make something excellent and leave a question behind, instead of starting with an answer and deciding how to force it out of the story. Washington Square created a beautiful hour and a half based entirely on excellent fundamentals: focused writing, excellent acting, and a compelling story about compelling characters. It left me happy--the final moment of the play felt like a flash of light.