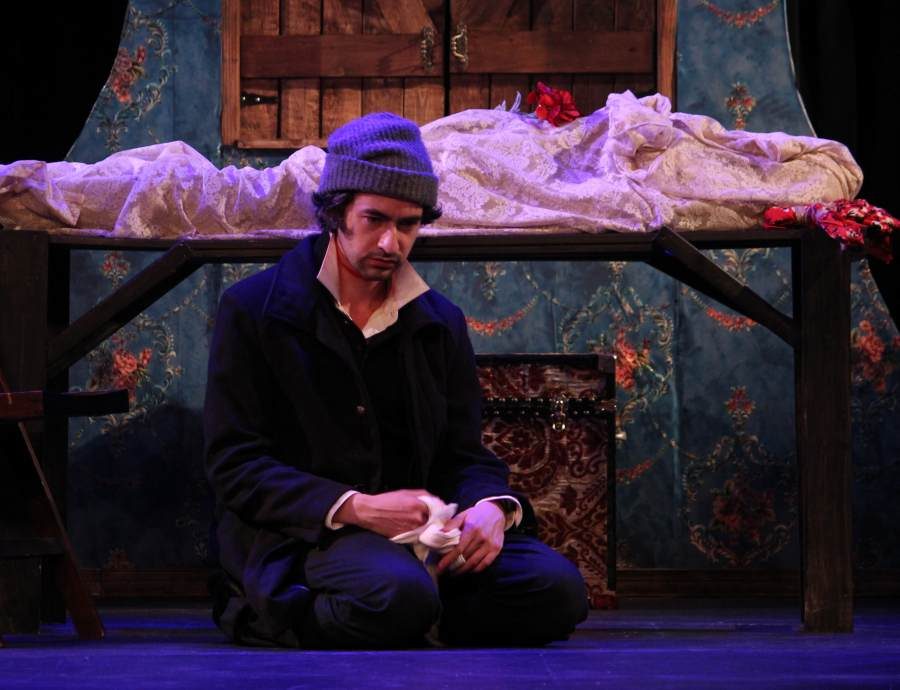 Sara Fellini's The Wake of Dorcas Kelly, presented by spit&vigor in the offbeat, historic Players Theatre in Greenwich Village, is a spirited production of a darkly humorous story. If it doesn't always hit the mark, it's full of enough wicked humor and laugh-out-loud moments to be thoroughly fun.
In 1700s Dublin, three women hold a wake for Dorcas Kelly, the infamous madam of The Maiden Tower brothel. With rioters on the street, tensions and emotions are running high both inside and outside the brothel, but it's only the inside that we're privy to. Friends and well-wishers stop by: a former brothel worker who married up, a pub owner who's a regular visitor, an opium-addicted priest, and a sailor who's supposed to be guarding the brothel but keeps getting distracted by his vices. Led by three women with powerful personalities, it's an engaging cast of characters who mix with delightful results.
Hanged and burned for shooting a man in the street, Dorcas Kelly already has a violent, macabre reputation. But as the night goes on, her friends accidentally uncover the brothel madam's darkest secret of all. I'll give you a hint: it involves a lot of bodies.
While there are a number of strong performances in the show, Peter Oliver is easily the most hilarious as the young man Dorcas Kelly failed to murder. Morbidly obsessed with the woman who tried to slit his throat, he's come to pay his respects, and is all but destroyed when he learns he was not Dorcas Kelly's only victim. His deadpan delivery and casual cluelessness are macabre comedy at its finest, and contribute to what is perhaps the show's strongest moment. As the perverse, fiery Myra Caelleigh, Florence Scagliarini also gives a standout performance; and Adam Belvo is delightful as an opium-addicted priest who's been "kidnapped" to perform Dorcas Kelly's last rites.
While it's cleverly written and plenty of fun, The Wake of Dorcas Kelly isn't without problems. Possibly it could use a little more revising in both script and performance. But this show isn't trying to be a masterpiece of American theatre. It's simply an entertaining romp about, as Dorcas Kelly would say, "sex and death." Having said that, it's actually rather tame (in a good way) for a play that takes place in a brothel. While much is hinted at, little is shown.
On a more personal note, this was my first live, indoor, in-person production since the start of COVID. And how I needed it. In a city starved for live theatre, The Wake of Dorcas Kelly delivers laughs, shocks, and high spirits (metaphorically but also literally: you can purchase a cocktail inside the theatre from Misguided Spirits). It's a welcome reminder that, while virtual theatre is great, it simply can't replace a live, in-person production.