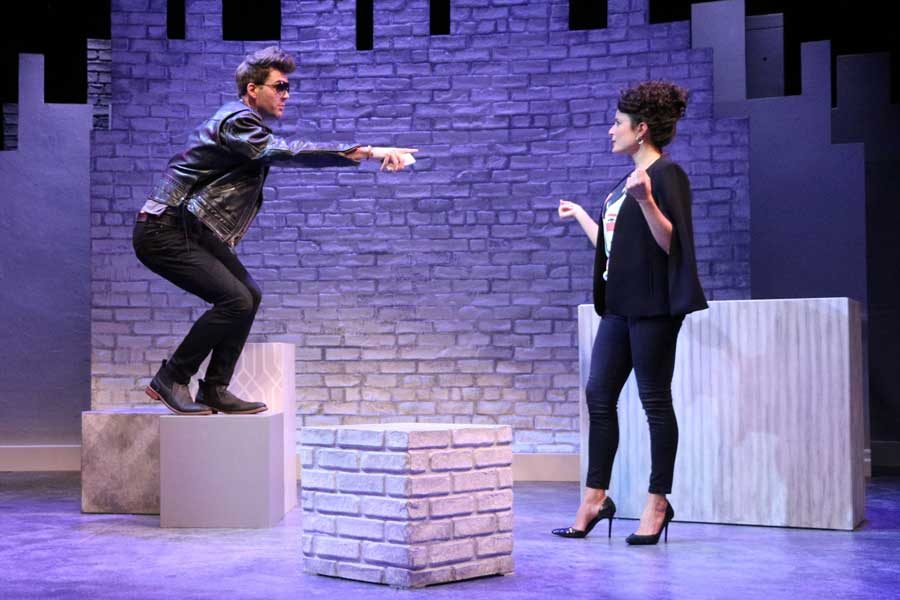 Any budding young artistic directors dreaming of starting a theatre that nurtures and produces new work should be required to meet and hang out with Joe Brancato, founding artistic director of Penguin Rep Theatre to see how it's done. Penguin Rep, a small yet mighty theatre in Stony Point, New York was started in 1977 when a hay barn from the 1880's was converted into a cozy theatre space. Now in its 42nd season, new and noteworthy plays continue to be brought to life with top notch talent and design teams, often with Mr. Brancato directing. And often these plays end up in New York with successful Off Broadway runs; including most recently, Daniel's Husband and After by Michael McKeever and Frederick Stroppel's play Small World.
Gracing Penguin Rep's stage this summer is the world premiere of The Sabbath Girl by Cary Gitter, an up and coming playwright with a sweet comic sensibility and a keen ear for organic dialogue. Set in New York City, two very different worlds collide when hip art gallery owner Angie Mastrantoni (played with sunny urban charm by Madison Micucci) moves into a new apartment on the Upper West Side and on a Friday evening comes to the aid of her divorced Orthodox Jewish neighbor, Seth Konig (a vulnerably adorable Jeremy Rishe) by turning on the air conditioning for him. Angie becomes Seth's "Shabbos Goy", doing tasks that are forbidden for him to do on the Sabbath. Seth runs a family owned knish store on the Lower East Side and spends his free time reading, learning Yiddish and translating forgotten Polish Jewish writers; an erstwhile attempt to distract himself from his broken heart. Angie is busy courting new talent for her gallery and working to make a name for herself in the downtown art scene, but also suffers from loneliness after yet another failed relationship with a self-absorbed artist. Mr. Gitter excels at romantic comedy writing, creating engaging scenes between Angie and Seth. Falling in love is still made up of tender discoveries and Ms. Micucci, with a mixture of wide-eyed innocence and street smarts and Mr. Rishe, who possesses impeccable timing and an appealing geekiness, fill every moment.
Throwing some good obstacles onto the path of these two lonely 30 somethings looking for connection, Mr. Gitter creates conflict through Seth's devout sister Rachel's demands that he adhere to and honor the Jewish traditions that give their lives meaning and Blake, a hot new artist that requires "wooing" from Angie, if she wants him to choose her gallery for his show. Lauren Singerman embodies Rachel with just the right combination of conviction to the Jewish faith and loving concern for the happiness of her brother. She can also fling a good comic zinger. When Seth defends his choice to be interested in a Gentile woman by saying it's 2019, Ms. Singerman dryly reminds him that for Jews it isn't 2019 but 5779. The agile Ty Molbak has fun hiding behind sunglasses as the excessively vain Blake. And dancing on and off stage with a twinkle in her eye, Patricia Mauceri, as Angie's Italian grandmother dispenses wisdom on life and love.
The Sabbath Girl is written in a series of relatively short scenes and Mr. Brancato's direction is one of a master weaver, seamlessly keeping the simple, heartfelt story moving along aided by Matt Otto's strong sound design and Todd O. Wren's adaptive lighting on a neutral yet versatile set designed by Christopher and Justin Swader. Yana Birykova's projections evoke New York, instantly giving us a feeling of place, whether it be a knish shop on Hester Street, a schul in Riverdale or the skyline of Manhattan. Costume designer Gregory Gale gets it just right, especially Angie's party look; a short leather skirt, mini-cape jacket and stiletto heels – all in black, of course.
Uplifting and filled with warmth and humanity, Penguin Rep's production of The Sabbath Girl is like savoring a delicious "sufganiyah" (aka a jelly doughnut) sprinkled with powdered sugar. And during difficult times, who doesn't need a little sweetness and a gentle reminder that love can bridge divides and is always possible.