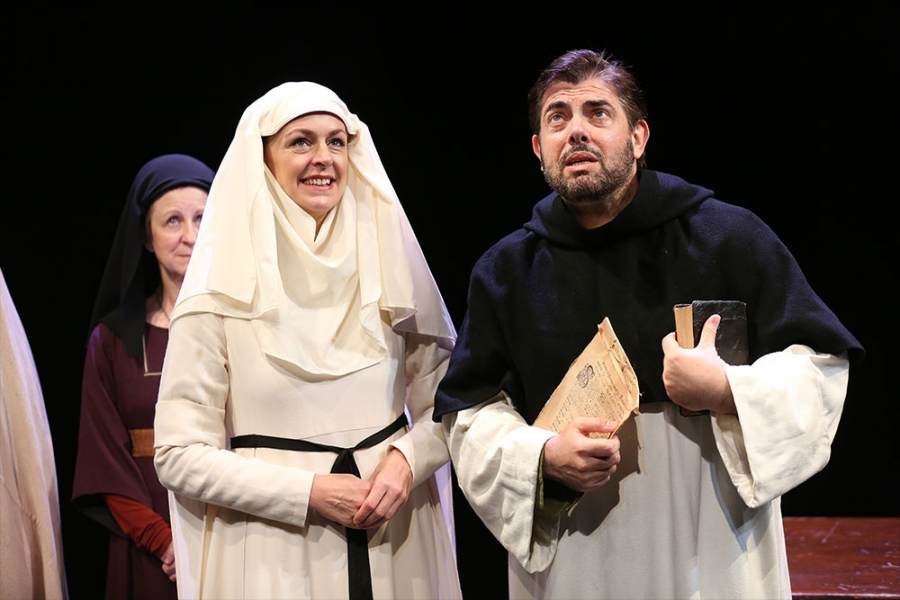 In the opening scene of the revival of John Wulp's The Saintliness of Margery Kempe at The Duke on 42nd Street, Andrus Nichols comes barreling on stage in a red dress as the title character declaring, "Morality! Damn all Morality! Damn! Damn! Damn!" Discontented with the status quo of her station as a woman in the 14th century and ready for adventures, spiritual or otherwise, Margery Kempe, played with spunk and verve by the talented Ms. Nichols (Bedlam's Sense and Sensibility and Saint Joan) is unswerving in her quest for meaning and fulfillment. Known as a Christian mystic, Kempe chronicled the story of her life via dictation (she was illiterate) in what is thought to be the first English language autobiography.
Domestic docility was not a part of this woman's DNA. Bearing children (Kempe had fourteen) and being married did not give her a sense of purpose; neither did running a brewery. It was only in her seeking a deeper intimacy with Christ that Kempe found what she was looking for. Embracing her visions and sensorial hallucinations, she often defied the patriarchal traditions of the church, where women were prohibited from preaching or teaching and commanded to be submissive. But Margery Kempe's personality was big, bold and intransigent; it is this facet of Margery Kempe that Mr. Wulp vigorously latches on to in The Saintliness of Margery Kempe. With wit, sharp wordplay, irreverence and numerous characters (deftly drawn by a cast of nine) Mr. Wulp uses language advantageously; characters speak poetically, imagery abounds and stakes are high. He also creates comedy by setting up situations where Margery is the sand in the oyster — and the oyster is always the male-dominated world. Margery longs to attain sainthood, is besieged with uncontrollable weeping and wailing which she feels compelled to express publicly, causing some to accuse her of possession and heresy. She is also called to a life of ascetic devotion, including abstinence from meat and alcohol. Mr. Wulp mines these situations for comic genius, especially in the second act during Margery's pilgrimage to Jerusalem, where a sacred journey turns into a circus. The play concludes with a simple epiphany about love and contentment.
Although the script could use some pruning, director Austin Pendleton keeps the action moving, incorporating the aisles as exits and entrances, and uses direct address to the audience effectively. Barbara A. Bell's creative costume designs — here a hood or headdress, there a tabard — contribute to the quick changes of character that often happen on stage. This multitude of medieval characters, ranging from the commoner to the bishop, are gamely portrayed by a plucky group of actors, diverse in age, including Broadway veterans Pippa Pearthree and Michael Genet; her vinegary, common sense Mistress Bethany Fribley is delightful, while Mr. Genet is appropriately sonorous and pithy as the poet Virgil Cicero Tubbs. The superb Thomas Sommo is a scene stealer with his portrayal of the horse Pegasus. Vance Quincy Barton, Ginger Grace, LaTonya Borsay and the versatile Timothy Doyle are also part of this excellent ensemble. The cast standout is the gifted Jason O'Connell, another Bedlam veteran, who effortlessly brings humanity and brilliant little comic touches to each of his characters; his Friar Bonadventure deserves his own theatrical vehicle!
Margery Kempe's autobiography was lost for centuries but once discovered, became a fascinating detailed glimpse into medieval life, showing that even back then a woman "behaving badly" makes history. The Saintliness of Margery Kempe underscores the struggles a woman still faces in breaking free of society's constraints and living an authentic life.