Can Austin Pendleton Redeem Tennessee Williams' 'A Lovely Sunday for Creve Couer'?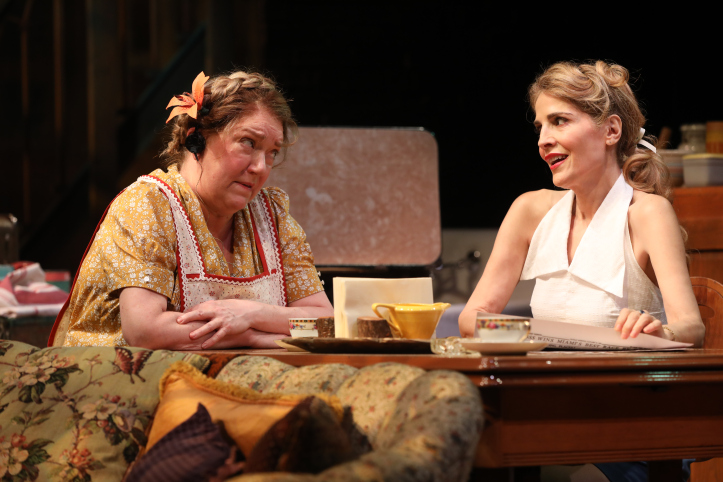 Like his breakthrough 1944 play The Glass Menagerie, Tennessee Williams' A Lovely Sunday for Creve Couer (1979) is set in a humble St. Louis apartment in the 1930s. It's another of the many late-career titles that failed to revive Williams' faded career. But it fared somewhat better with critics than other of his plays from the 1960s and 1970s. There had been a try-out at the Spoleto festival in Charleston, SC, and New York critics who traveled south to check the play out found promise in it. But when it opened in New York, the play received mixed reviews and quickly closed.
Nearly 40 years later, it's been revived by La Femme Theatre Productions at Theatre at St. Clements, under the direction of Austin Pendleton, who has spent a good deal of time and effort in recent years exploring various titles in the Williams canon. While this production won't rehabilitate the play's reputation completely, it certainly deserves to be seen by those interested in all chapters of the Williams career.
It's the story of four women whose lives converge in a kind of tragicomic farce. Central to the plot is Dorothea (Jean Lichty), a nervous, illusion-riddled Memphis belle in the Blanche DuBois mode. She teaches civics at a local school and rooms with the voluble and flouncy Bodey (Kristine Nielsen), who works at a local shoe store. On the morning of the play's titular Sunday, Bodey is planning a picnic outing at nearby Creve Couer, where she hopes to nudge Dorothea into a love match with her twin brother, Buddy. But Dorothea finds Buddy boorish. She has instead set her sights on the reputedly dashing, clove-breathed principal at the school where she teaches. Interrupting Dorothea and Bodey's morning is Helena (Annette O'Toole), a colleague of Dorothea's who teaches art history. Helena has come to convince Dorothea to move in with her in an upscale apartment in a more fashionable part of town. She may have in mind what will amount to a sort of Boston marriage—or maybe she just needs Dorothea's help with rent money. Not long after Helena arrives, we meet the fourth character: Dorothea and Bodey's upstairs neighbor, the uncouth Sophie Gluck (Polly McKie), who is horribly distraught following the recent death of her mother.
Pendleton's direction stresses the play's comedic elements—of which Williams provides many. The juxtaposition of the hifalutin Helena with the unrefined Bodey and, especially, with the coarse "Gluck" is rife with comic potential. But there is also some subtler humor, as when, in a deliciously weird non sequitur, Bodey tells her brother over the phone that he should laugh at Dorothea's witty remarks at the picnic. We don't hear Buddy's answer but, after a pause, Bodey replies: "Well, they are, they're witty! She teaches civics."
The four performers alternate skillfully between fairly broad comedic bits and nuanced moments of seriousness. Nielsen's Bodey scurries about like a goosey-loosey Edith Bunker much of the time, occasionally dropping her voice an octave or so to bark a command. But when the character's scheme to unite "Dotty" with Buddy seems to be failing, she eventually reveals her hidden heartache: she's been hoping fervently that her brother and her roomie will marry and produce the children she knows she'll never give birth to herself. Nielsen is excellent in these moments of pathos.
Williams describes Helena as raptor-like, and O'Toole (with the aid of costume designer Beth Goldenberg) gives the role that aspect. The character is mostly a one-dimensional heavy: arch and contemptuous. But there are beats when Williams shows the cracks in her armor, and O'Toole is able make them believable. As for Gluck, McKie speaks little, and when she does, it's mostly in German. But she gives a pitch-perfect (and often very funny) turn as this downhearted soul.
But it is Lichty's performance that grounds the production. Her Dorothea is a bundle of nervous tics wrapped in Southern gentility: the kind of female role Williams could write in his sleep. Lichty, though, helps imbue the part with something that makes Dorothea different: a hidden knack for self-preservation that trumps all her self-destructive, delusional behavior. It comes through, somehow, in the actor's long, low-voiced vowel sounds. Much happens to Dorothea in the play's final ten minutes or so, and Lichty does what she needs to do to make it all ring true.
All that said, it's hard not to think of A Streetcar Named Desire's Blanche at times, not least because we occasionally hear a St. Louis streetcar rattle by in the distance. Williams even gives Dorothea a speech about a past love that's reminiscent of Blanche's monologue about her late gay boy-husband. Here, however, the man's problem is not repressed homosexuality but premature ejaculation. It was the 1970s, after all, and Williams seemed always willing and able—even in a relatively old-fashioned play like this one—to be frank about matters that had previously been onstage taboos.
One problem Williams hands any director of Creve Coeur is its setting. The small efficiency apartment in which the action unfolds is divided into separate areas, and audiences will need to suspend their disbelief that things said and done in, say, the sleeping area, cannot be heard or observed from the kitchen or living spaces. Scenic/lighting designer Harry Feiner seems to have tried his best to keep the areas discrete, but it's still a real challenge to accept the setup, especially in scenes in which Dorothea tries to make herself scarce. Williams makes a big deal about the bright glare in the room, so isolating various stage areas with shadow and pools of light was likely not a viable remedy.
By the way, there's only one big bed in that sleeping area. Is it shared by Bodie and Dorothea? If so, maybe Dorothea needn't have considered moving across town to Helena's place to find herself in a Boston marriage arrangement.