Review: How Does Keen Company's Revival of A.R. Gurney's 'Later Life' Fare?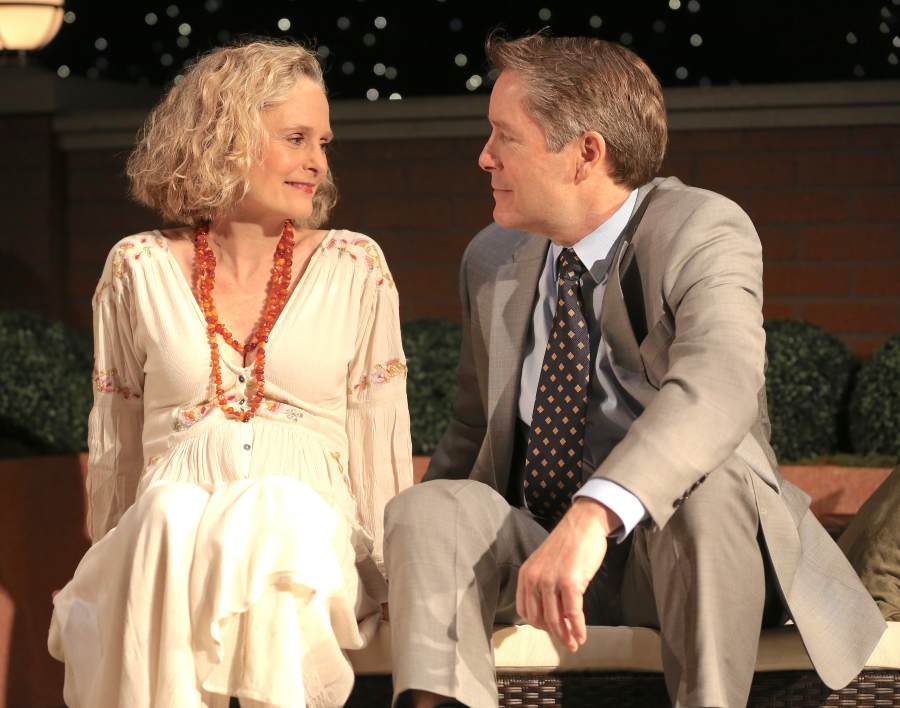 In Henry James' 1903 novella The Beast in the Jungle, a man named John Marcher fails to connect with a woman who cares for him. Marcher has a premonition that something horrible will befall him in life, and when that "beast in the jungle" inevitably pounces, why should he drag another human being down with him? His actions (or inactions) turn out to be a mistake. In fact, the tale's devastating final paragraph resounds with a regret so intense as to suggest the scream-of-terror epiphany in a story by Edgar Allan Poe.
Beast has long been considered one of James' most masterful works—and remember that his literary nickname is "The Master." But now, for some reason or other, the story seems to be taking a particularly prominent place in the zeitgeist. Earlier this year, an English-language film version of the story was released in Holland. Later this spring, Manhattan's Vineyard Theatre will present the premiere of a new musical-theatre adaptation, with book by David Thompson, music by John Kander, and direction and choreography by Susan Stroman.
In the meantime, we have Keen Company's revival of A.R. Gurney's Later Life, which was first presented by Playwrights Horizons 25 years ago. Gurney used the basic premise of James' story to create a scenario in which a late-middle-aged Boston banker named Austin (Laurence Lau) reunites at a party with a woman named Ruth (Barbara Garrick), whom he'd met overseas decades earlier. At the time, Austin had communicated to Ruth his sense of something awful that would be creeping into his life. She recalls the details of this exchange; he doesn't. Now the two have a chance to open themselves to a potentially happy kismet that somehow got short-circuited those many years ago. Will Austin break through, or will he fall into the same Poe-ish pit as John Marcher?
Gurney's short, intermission-free play takes place entirely on the terrace of a posh apartment overlooking Boston Harbor. It's a cool, late-summer evening, and we hear the sounds of a party inside the apartment. We witness the entire encounter between Austin and Ruth, along with a series of interruptions by other partygoers who escape to the terrace for a few minutes or more. Jodie Markell and Liam Craig take on all of the supporting roles.
It's a challenge to play Austin and Ruth in a way that is true to their natures but also makes the audience care about them, even root for them. Can we truly expect these two to learn new tricks at their age? Both of them seem emotionally crippled by life and/or by time, to the extent that the very idea of taking a chance on one another seems paralyzing. Austin appears to be the very emblem of psychic stagnation. Ruth, likewise, is stricken with doubt, in part because she has a cowboy-ish hunk of an estranged husband out in Las Vegas who is clearly bad for her but who seems to continue to keep her in his grip. Lau, projecting a world-weary charm, fares better than Garrick, who plays Ruth in such a skittish and flinty way that you wonder how the character even managed to reach out to Austin when she first recognized him at the party.
Markell and Craig are skilled character actors. Both (but Markell in particular) deliver some smart and lively turns during the course of the play. They're engaging, for instance, as a loving couple from Atlanta who are gamely finding their bearings in Boston. But at some point all I could think about was what sorts of wigs, costumes and dialects would be trotted out next. There's a comic component in their portrayals that doesn't always quite jibe with the tone of Austin and Ruth's story. I wouldn't say Markell and Craig are cartoonish, exactly. but they veer at times in that direction.
I did appreciate the nimble way that, in the play's final moments, Gurney and director Jonathan Silverstein introduced a note of ambiguity about the fate of the main characters. It may be overstating the case to say there's a spark—or even a speck—of hope intruding on the Jamesian landscape. But I at least didn't feel that I wanted to throw myself in front of moving traffic during my walk home from the theater.