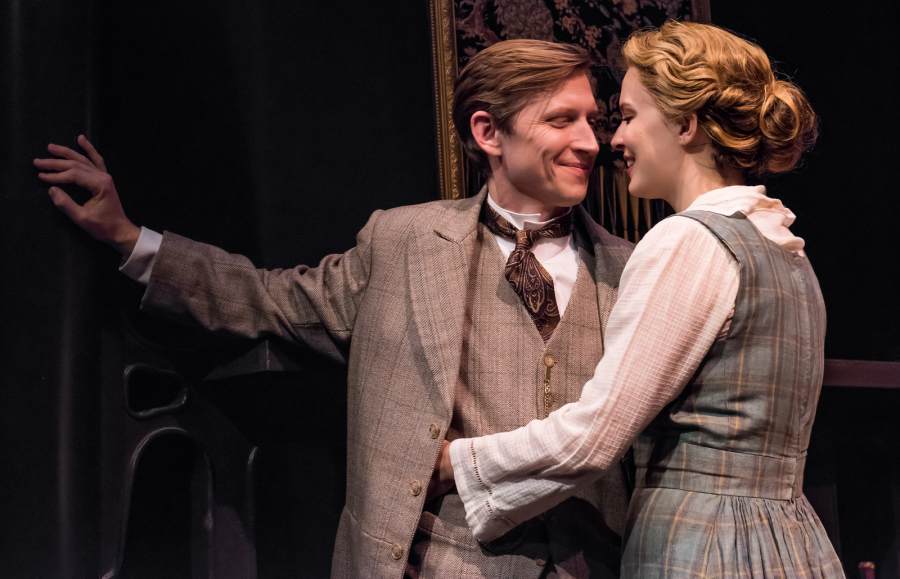 British playwright Stanley Houghton's Hindle Wakes (currently at the Mint Theater Company) was written and first performed in the era when Sigmund Freud's ideas on sexuality were becoming known, and when the question of women's suffrage was on people's minds, both in England and in the States. Now, with the culture again scrutinizing sexual mores and addressing the enduring problem of gender inequality, this 1912 drama is stunningly pertinent and potent.
It centers on a sex scandal that rocks three families in a Lancashire town called Hindle. ("Wakes" in the title refers to a regional holiday, during which this scandal erupts.) Fanny Hawthorn (Rebecca Noelle Brinkley), the daughter of a manager at a local cotton mill, flees with a girlfriend named Mary for a holiday at the seaside resort of Blackpool. There she meets up with Alan Jeffcote (Jeremy Beck), the son of the owner of the mill at which her father is employed. Alan takes Fanny to a hotel for some carnal adventures. The rendezvous would have remained secret had not catastrophe coincidentally befallen Mary after she parted with Fanny.
The drama's central conflict revolves around what measures should be taken in the wake of the revelation. And it's a complex web of competing opinions. Fanny's mother (Sandra Shipley) and father (Ken Marks) castigate their daughter severely—although Mrs. Hawthorn also concedes, approvingly, that Fanny may have cleverly trapped Alan into marriage, something that would be advantageous for the whole Hawthorn clan. For the Jeffcote family, there are significant ramifications, as Alan is engaged to marry a wealthy girl named Beatrice Farrar (Emma Geer). Alan's mother (Jill Tanner) blames the sexual escapade on Fanny, who, she feels, is either opportunistic or depraved. Alan, not surprisingly, takes a similar view, as he desperately wants to marry Beatrice. On the other hand, his father, Nathaniel (Jonathan Hogan), who was a boyhood pal of Fanny's father, takes a hardline moral stance. He lambastes his son for satisfying his urges with a girl from a respectable family instead of hiring a sex worker, and he insists that Alan now has no choice but to break things off with Beatrice and marry Fanny. Beatrice, similarly, instructs Alan to make a "splendid sacrifice" by marrying the other woman. Her bumptious father, Sir Timothy Farrar (Brian Reddy)—himself a sexual adventurer—supports the idea of paying off the Hawthorns so that his daughter's marriage to Alan can proceed. However, when Nathaniel Jeffcote threatens to cut Alan off from the family fortune if he doesn't do right by the wronged Fanny, Sir Timothy alters his tune.
Tellingly, it's a mere afterthought to ask Fanny herself to weigh in on the dilemma. When she does, though, it's as if a cold, bracing wind has blown open all the doors and windows of the Jeffcote home. Fanny is someone who knows her own mind, is pleased to take control of her own affairs, and doesn't give tuppence for conventional morality. It's little wonder that this play raised Britons' hackles when it was first produced more than a century ago. Houghton evokes comparisons with Henrik Ibsen's A Doll's House, but with a difference. While Ibsen concentrated on a woman's right to make her own life choices, Houghton focuses on her right to sexual pleasure. (The notion that women even have libidos seems hideous to everyone but Fanny and—interestingly—the otherwise seemingly prim Beatrice.)
The Mint production is a thoughtful, handsomely mounted, and thoroughly enjoyable production of a play not seen in New York City in almost a century. It's a bit tricky for the director, Gus Kaikkonen, to segue from the extremely dark and heavy opening scenes of the play—which include literal thunder cracks and lightning bolts—to the sort of comedy-of-manners business that comes later in the evening. But I think he was right not to try to remedy this by taking a lighter touch in those opening scenes, which, among other things, include the excruciating sequence in which Fanny learns of her friend Mary's fate.
The cast is solid. All actors seem to be on the same page in terms of playing style (though they have varying levels of success managing the idiosyncratic Lancashire dialect). Especially good are Shipley, Tanner, and Hogan. The steely look that Hogan's Jeffcote shoots toward Fanny when she arrives in his home to sort things out, speaks volumes.
But this production owes a great deal of its success to Brinkley's turn as the radiantly earthy Fanny. She is pitch-perfect in a role that is relatively small but that acts as the glue that holds the whole enterprise together. In the play's last scenes, Brinkley often has a dazed, faraway look in her eyes that suggests Fanny's disgust with and rejection of the fuss others are making about her predicament. She seems to be imagining, impatiently, a future in which women are as free as men to control the ways in which their bodies interact (or don't interact) with those of others. It's a utopia still being imagined in 2018.