Interview: Gus Kaikkonen on Directing Stanley Houghton's 'Hindle Wakes' for the Mint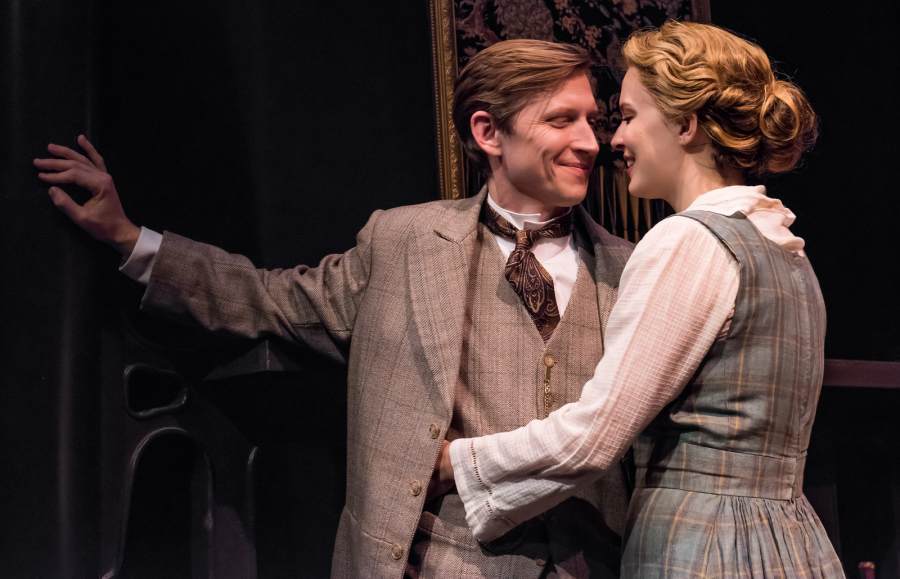 Director Gus Kaikkonon and the Mint Theater's production of Hindle Wakes, written by Stanley Houghton, is both authentic to the 1912 original and speaks to issues of our time -- a perfect work for a company dedicated to remounting and introducing "forgotten" pieces of theater. Well performed and produced, the work is dramatic and engrossing. It opens with the news of an inappropriate romantic getaway between two young people and follows the community dynamics that arise. Gus was kind enough to answer some questions about the piece and his life in the theater.
When the spectators leave the theater at the end of the play, what do you want them to feel and think?
I hope they will appreciate Stanley Houghton's skill in bringing nine very specific people to the stage, each with an individual sense of morality. The play is beautifully and surprisingly plotted, but I think the most fascinating aspect is the different shades of grey that make up the characters belief systems and the family dynamics which are the same now as they were a hundred years ago.
How is Hindle Wakes a feminist play?
It shows that men and women are more similar than different.
Could you tell us about your career in the theater?
I've been working in the theater as an actor, writer, director and you-name-it for 50 years. It's been enormously rewarding. The best part of it is getting to roam around in a great playwright's head for a few weeks, with some very talented companions.
What was it like working on this production, with these artists?
It was a pleasure to put these talented folks from several generations together in a rehearsal room.
The accent work in this production was phenomenal, was that a focus when casting, or did you work on it during rehearsals?
Our excellent dialect coach Amy Stoller was with us in rehearsal every step of the way, working privately with the cast and giving group notes as well.
I thought Nat Jeffcote is a notably ethical character, who lives by an ethical code I found admirable. But [the character] Beatrice, who in performance and reputation is beyond reproach, says his ethics were a "fad," I believe. How do you see Nat's ethical piety?
Nat's not a religious person like Beatrice. He has simply made a promise to an old friend and decides to keep that promise at all costs. His ethics are indeed admirable, but they're not the coded ethics of a devout practicing Christian like Beatrice.
What is your favorite kind of theater?
The theater is a glorious library of all sorts of plays and I have had the good fortune to work in a lot of them. The last few years, I've translated and directed Berlioz's Lelio, directed Company, a one man play about Robert Frost: This Verse Business, The Producers, Shaw's The Doctor's Dilemma, Guys and Dolls and The Winter's Tale -- and I've acted in A Day By the Sea, Arsenic and Old Lace, Annapurna and Red. I am a fan of them all.
How would you characterize the New York City theater scene?
There's a great wealth of talent in New York -- it's unfathomable and preposterous how much. The Broadway scene always seems to be on the edge of becoming a corporate amusement park producing only cartoon musicals. But the great producers and the non-profit world both on and Off Broadway keep pulling at least a part of the Broadway scene back into the world of art, by fostering wonderful new and old work -- the kind of plays actors long to get their teeth into.
Who are your favorite artists?
Other than my current cast? Shakespeare, Goldoni, Moliere, Shaw, Granville-Barker, Eva Le Gallienne, George C. Scott, Ian McKellen, Tyne Daly, James Whitmore, Carmen Cusack.