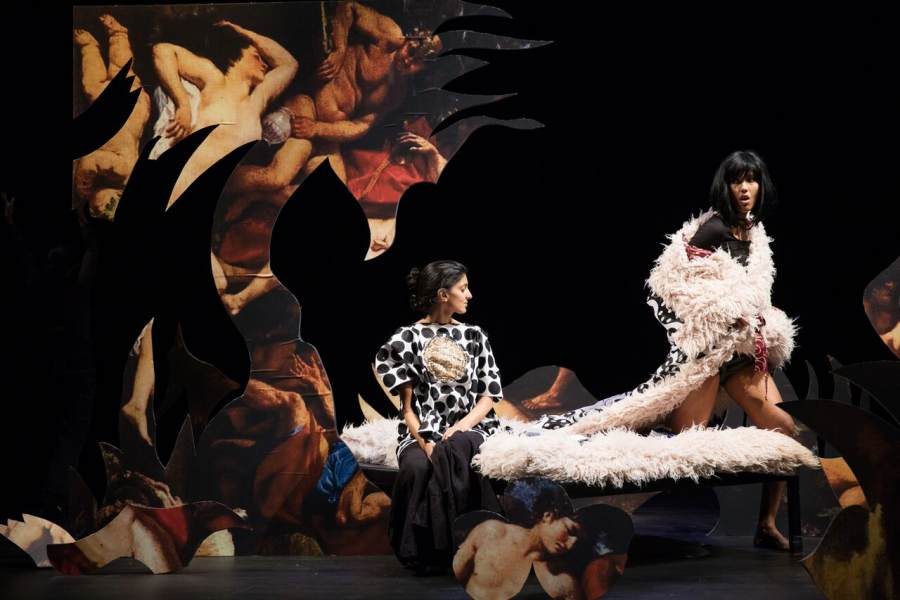 Rainer Werner Fassbinder's The Bitter Tears of Petra von Kant is a tower of a film and one of the Western canon's foremost works concerning both the manipulated, volatile dynamics of power, and the bitter edge — really the tethering point — where desire becomes obsession. The story of a woman and her younger, uncaring lover has haunted and piqued viewers for decades. For this reason, it is ripe as a blueprint for other works to explore such themes, so when I heard downtown doyen Dean Moss was tackling it for this year's Coil Festival, I got very excited. Moss' creative imagination is cultured, intelligent, and textured, and I had no idea what to expect.
The result is a meditation on the power dynamics and odd obsessions and anxieties consuming performers and performance makers. Rather than recreating Fassbinder's vehemently passionate and nonchalantly aggressive atmosphere, Moss constructs one of his own: a bare, unguarded space that slowly lilts at the rate of an emerging idea. The work, again in opposition to the primary source material, is a piece to think with, to examine and consider, because if you just soak it in you may miss the depth and heart of the matter.
The film is a stylized melodrama; Moss' work, titled Petra, is stylized as well, but intellectually declarative, and patient with its emotions. The work consists of the general arc of Fassbinder's story, isolated monologues, a video of a post show interview, and a pastiche of sound and movement, be it from a performer or a video of movement, that emphasized the transition from serene softness to harsh crash. That transition seems to be central to Moss' thinking: that no matter how well things are going, eventually there will be a crash of some sort.
He is able to emphasize that transition by filling the work with silence: with slightly cumbersome set-changes and with moments when the ensemble arrive at stage pictures. The life of a performer is not all footlights and bouquets; in fact, it's a lot of dragging, a lot of lifting. To realize the central thesis of the piece in structure is a testament to Moss' ability, and though I worry some in the house zoned out, I'm certain many were with him.
Moss and his collaborators are exploring the power dynamics and obsession of being a performer and making performances, and that dynamic is often tiresome, often self-reflexive, often resoundingly internal. Three of the performers speak directly to the audience about their life as a performer with the intention of giving us a real sense of their experience. Near the end of the play, one performer and three spectators read marketing material pedantically describing how to attract diverse audiences to the theater; I can't imagine a clearer insight into the laborious life of a theater maker. Often, the ensemble created tableaux that seem to cast the performers in a moment of bright light, but those moments are never referred to or returned to again, which suggested the fleeting moments of elevation. Though disparate, each element of the work points to the theme at hand.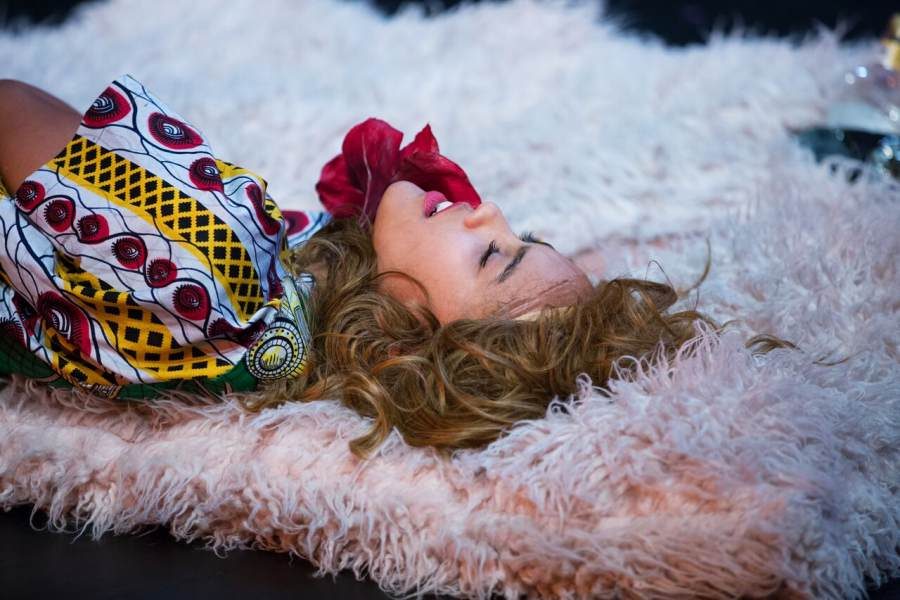 Because there is such breath and air in the piece, it lightly touches many subjects, including the intersection of cultures, race, depression, family relations, etc. This is both kinetic in space and time and somewhat unfulfilling, as these issues are just pointed to, not woven into what the piece is doing. In a very real way, despite utilizing the Fassbinder work explicitly, because Moss makes it his own he is not able to recreate the all encompassing force latent in the original. Fassbinder's severity and available universe allow his work to comment upon everything; the intellectual specificity of what Moss is doing, despite the meandering quality, forces it into a more pointed sphere of meaning.
Kaneza Schaal, as the eponymous Petra, brings all the suspicious, alluring elegance to the work that has made her such a downtown success. Here, a deep, ringing authority cuts against an absent, haughty, anxiety-ridden performance presence. She realizes the legendary character in a very Moss, very downtown, and very fulfilled way. If you ever get the chance to see Schaal perform, observe her eye level: it may be inadvertent, it may be an aspect of her performance style, but it speaks volumes to the character she is creating, and it's always magnetic and effective.
The Fassbinder story is interesting subject matter for Moss' collage-like, abstract intelligence to contend with; rather than realizing Fassbinder's grotesque alienation, he creates one of his own, which comments upon performance process itself. Moss is displaying the challenging life of a performer and a performance maker, but unlike Fassbinder's characters, agentless and marching towards destruction, his subjects simply deal with their task at hand and continue to do what they do: keep performing, keep making art.
For more information on the Coil Festival visit: https://performancespacenewyork.org/coil-2018/