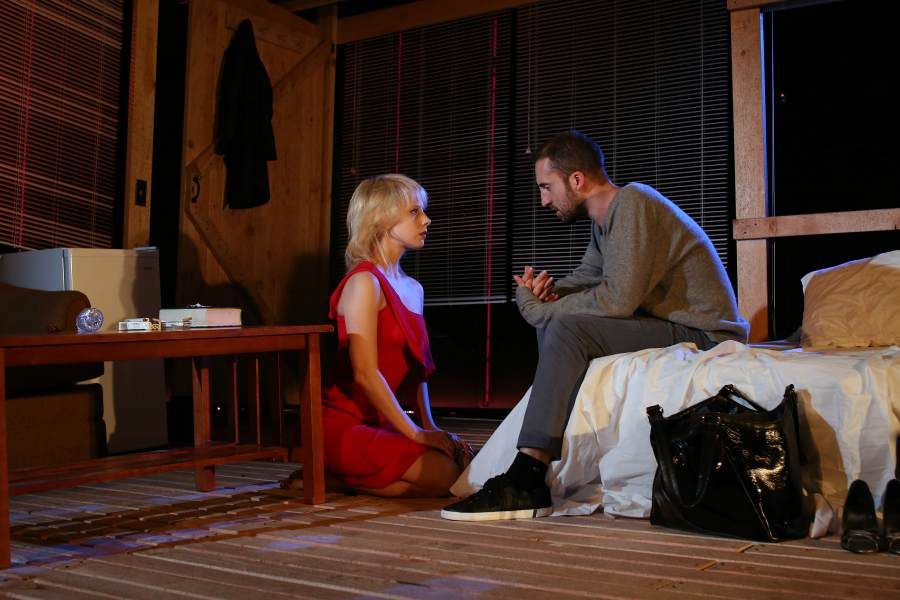 The chasm between our varied lives and theater's capacity to reflect it is nothing to get down on; in fact, it's a beautiful opportunity, and in many ways, is what this art form does do best. Red Light Winter, an excellent play by Adam Rapp, getting a remount in a very fine production by The Bridge Production Group directed by Claire Edmonds, genuinely speaks to the nuances of our experiences, the volume of what we encompass, the peculiar range of our true feelings. The alternative and abstract theater world has always implicitly dealt with this, but that Rapp has found this in a rather straightforward structure is a significant accomplishment.
The play finds old college roommates Matt and Davis in an apartment in Amsterdam, in the Red Light District. At curtain up Matt begins to attempt suicide, but Davis, who, played by Connor Bond, is certainly charismatic but unquestionably fiercely unlikable, arrives with a girl, Christina, who they later confirm is from a window. Then comes the trappings of the American Theater: we get everything one could hope for, from desire to history to revelations to power.
The first act feels very much like a satisfying one-act, though lacking a completely satisfying narrative conclusion. In it, Davis and Christina, according to her, make beautiful love; the act concludes with a bold series of silent events, culminating with Matt and Christina having sex for a few moments and Christina silently leaving the apartment. Act Two takes place one-year later in Matt's shitty east village apartment. (By the way, Matt, played with at times ferocious patience and clarity by company Artistic Director Max Hunter, is a playwright, hint, hint.) Who shows up at Matt's door but Christina, who was looking for Davis.
Act Two of Red Light Winter is an investigation of what a classic two-hander can, or really cannot, accomplish insofar as reflecting humanity, and despite that, what beauty the form can capture, what aspects of humanity it can speak to. As Matt and Christina talk, they go deep about each of their lives, which in fact is a query into what a well written play can do, and the doing of it is a major part of the beauty. Rapp's writing has excellent characterization and creativity and is at times moving as it touches the heart of his characters. Christina Toth, as Christina, accesses the sharp corners of her character with depth and grace.
It is exciting and dynamic to be with these two characters, both performed remarkably well, both written remarkably well, implicitly debating what the well written play can accomplish. A dynamic, sharp characterization of a person; the turmoil or charisma of how they may feel; the secrets they keep. And many more, as many of these lessons are told via the co-presence of a live performance. So, if you can, see this show, see it as a thoughtful spectator.
The final, perhaps lasting, lesson is that the two-hander is doomed to bad endings, and the production accomplishes that with a steady and beautiful ending of its own. A feat, I'd say, just as the play is a feat itself.