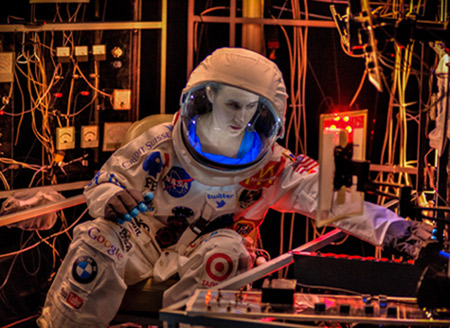 The final frontier of outer space gets a wonderful stage production in Loading Dock Theatre's Spaceman, an engrossing and very fine piece of theater written and directed by Leegrid Stevens and Jacob Titus. On the one hand, this is a solo show that takes place in the cockpit of a ship sailing towards Mars, isolated and hyper-focused on the trials and details of its one occupant, Commander Molly Jennis. On the other hand, this is a play about god in the age of science, culture run amok, the mental health of high-achieving Americans, hope in our epoch, and a whole lot more. People, this is a good play.
Commander Molly Jennis, played by Erin Treadway, has been selected to begin a colony on Mars. We meet her in the ship — the entire performance space is her small cockpit — and are slowly introduced to the varying details of her venture. The daunting task of spending 100 minutes with one performer is never exhausting, endlessly alluring, and hits all the marks of a play with nice movement. Though contemplative, Spaceman has activity, a great deal of highs and lows, and does not leave one wanting for structure or shaping. Commander Jennis' fears and motivations are revealed over the course of the play, and we get a real sense of what moves this person.
But she's not exactly alone: along for the ride is a robot she can speak with. And she has regular, if not delayed, communication with mission control in Houston. Playwright Leegrid Stevens displayed his deftness in creating larger worlds with just a few choice details in his recently produced Mesquite, NV, but that talent is realized to much greater detail and significance here. He finds ways into the world, to seamlessly expand his universe, without imposing upon the story. In a meaningful way, much of the drama of the play is created by the slow release of the details of the play's circumstances, so Stevens' timing is delicate and essential.
Stevens is also behind the work's impressive sound design, which takes us through space and into the cockpit. 100 minutes of continuous sound design is quite the feat, and to give it enough vibrato, and to balance it with Treadway's performance, is another impressive aspect of the play. Spaceman is successful in doing what plays often are not good at — transporting us into an entirely new place, in this case a ship in outer space — and they did it with the sound design, not to mention a 2001-esque light show and some basic and charming stage tricks.
The most impressive aspect of this impressive piece, though, is how we are right there with Commander Stevens. We hear the very sounds she hears, and when she looks out through her small window into the abyss, we glance up to that space, as if we could see something there as well. It's an impressive manipulation of the performance co-presence, and a testament to a good play.