Interview: Obie Winner Tom Nelis on Talking Band's 'Fusiform Gyrus' and the Main Difference Between Nonprofit and Commercial Theater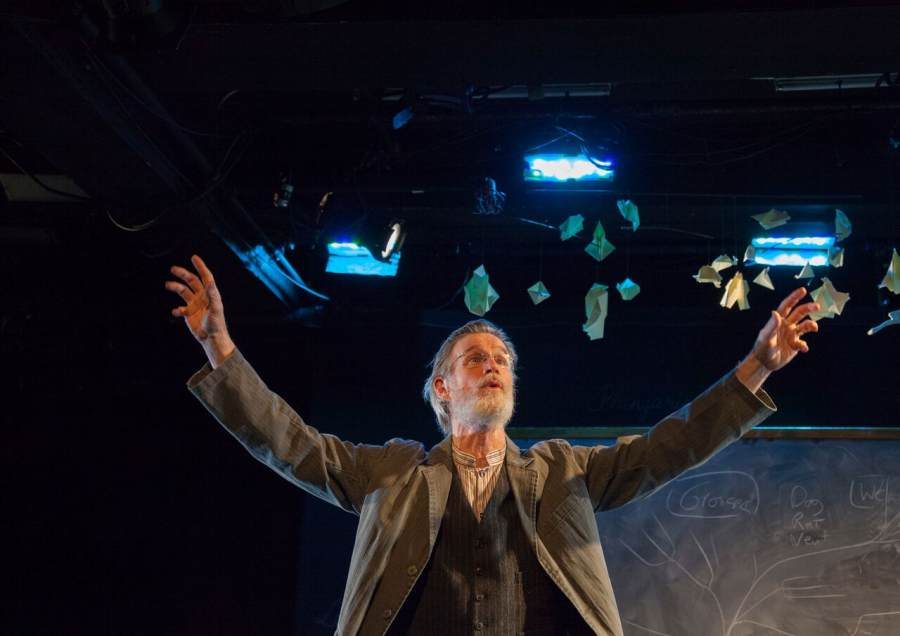 Tom Nelis is a longtime New York theater vet that has worked seemingly everywhere and with everyone, from Indecent and The Visit on Broadway to performances with the Royal Shakespeare Company, Richard Foreman, and the Public. He is currently in downtown doyen Talking Band's new abstract work Fusiform Gyrus - A Septet for Two Scientists and Five Horns, a lovely piece about humanity, curiosity, and friendship. Tom is remarkably articulate about theater making, the business of the industry, and his own history. He speaks with great authority and heart and had many good things to say in a meaty interview.
I just saw your delightful Fusiform Gyrus at the HERE Arts Center, can you talk about working with Talking Band and talk about being in this production?
Tom Nelis: Yeah, Talking Band, you probably know, and your readers know, have their roots in Joe Chaiken's theater, so they go all the way back to the '60s, mid '60s. When I knew nothing of theater, my first exposure to it was to a class in college, '75, about theater makers in '70s, specifically Joe Chaiken, Peter Brook, and Jerzy Grotowski, and I started reading about Paul [Zimet] and Ellen [Maddow] then, and that was my first toe into the theater.
25 years ago, in '93, I got my first opportunity to work with Paul and Ellen in the Talking Band. So Chaiken's Open Theater began the Winter Project and then the Talking Band grew out of some of the folks that were working on the Winter Project. So in '93 we worked together on The Blue Sky, and we simply had friends in common, that had seen my work, so we got together, and this is the first time we've done a full show since then.
First time in 25 years, how cool.
Yeah, that is cool, and the interesting thing is, for me, is that Paul and Ellen, like any genuine artist that you meet, they're always working on the same thing. Like many different shows, many different canvases, they're always painting the same picture. It's great to be back with them in their very particular sensibility. You never know where they're going to go with these projects but they're always very personal, they always come from a particular sensibility - they aren't the sort of artists who are trying to figure out what an audience wants to see -- you know, what's going to sell -- and I like that.
They make things about subjects that bear interest to them, and theater, the possibilities to theater that interest them, so the intersections between music and words, and visual elements, and you've seen--?
I saw it last night, I was in the house last night.
You know, there's a kind of surrealistic element to it, where dream logic and reality all get mixed up, and I think that's unique to their work, and they've kept that frame going all these years. So it's been a delight to be back with them.
Do they employ some of rehearsal tactics the Open Theater is renowned for? Do you still feel the legacy of that?
Only in the sense of their lengthy experience with that, and their exposure to those techniques, it's not like, work with them and train in the techniques - like when I was in college we did their training techniques. But no, they are now about making their work, you know, they know who they are as performers. We don't have a lot of discussions about technique, although occasionally Paul and I will throw back some ideas about 'what're you doing there' or 'how do you approach this sort of thing' - no I wouldn't say it's a fresher course, it's not like that.
Years ago, Paul brought me into audition for Joe Chaiken when they were remounting Terminal, one of their very famous pieces, and while I didn't do that show, it was a thrill for me, and wonderful that Paul and that sort of confidence to say 'Joe I want you to take a look at this guy.'
Clearly your background and interests are in the downtown theater, but you also have this career uptown, working in the commercial space. Do you feel like a different sort of performer downtown? What's that dynamic like?
I don't. I really don't feel any difference. I do like to play many different types of houses and types of styles of theaters and play to different audience, but no, I prefer eclecticism. You know, I love the collaborative nature of theater form wherever you find it. I recently finished working on a workshop for the upcoming King Kong, which is going to be a Broadway show, and I don't know if I'll be involved with it, but the workshop was fascinating because of the abilities, and the standards of excellence that people bring into the room. There is a wonderful director/choreographer working on that show, Drew McOnie, and he's an English fellow, he's 32 or something, and I met him and thought 'wow! This man is brilliant,' he's fresh and he's about today, his sensibility is really focused on this moment, and I love being around people like that.
So whether it's downtown, if it's avant-garde, or something in Europe, or something on Broadway, I find things that appeal to me, who have standards.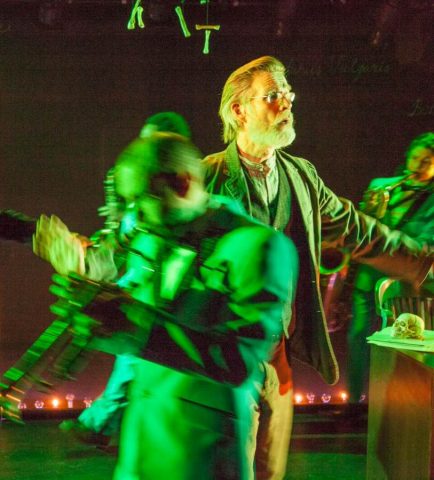 Do you feel like there are any expectations uptown that are different than downtown?
Yeah, I mean the whole idea of the commercial world vs. the nonprofit world is that people are trying to figure out what an audience wants, as opposed to people who are trying to insulate the work from that. Which they do to a certain extent - now you see more and more crossover, trying to put together stuff that they can put on Broadway, because the institution has to survive, so they're looking for ways to sell tickets.
But when you get to the downtown folks, the folks working at the very edges of what's new, folks like SITI Co (I was a founder of Anne Bogart's SITI Company), those folks, or when you get to Richard Foreman, and wish he was still making his work, then you get to who primarily are invested in making work that interests them, as opposed to what will sell tickets. The driving force is 'I've got to make a piece about this' and those people have faith, Chuck Mee, the great playwright, often says that 'if I write something that is of interest to me, then there will be people out there that it appeals to,' rather than trying to write something that appeals to those people. So I think that's the big divide.
You always find that when money is the paramount issue you will write to the taste of the audience, and when art is the paramount issue it's going to swing back the other way, and there's always work in the middle ground, people are always trying to balance those two things. Art and commerce will always exist, in a sort of wrestling match.
Let's talk about Fusiform Gyrus. If you were to give an elevator pitch about the piece, how would you talk about it.
Well I'd hope we were in a very tall building! (Laughs) I would say, again, it's a very personal piece that reflects Ellen Maddow's interest in science, where dreams and reality collide. And she looks at that through the lens of two rather ordinary people, in the sense that they're quotidian, they're not facing a life crisis, they're just two guys who like to hang out together. And they happen to be scientists. And the whole dream element is that they get together and they conjure up an audience who likes them, so they can talk with one another in the gaze of this adoring audience.
And they also conjure up musicians! And they're not sure why the musicians are even in the room, but the musicians stimulate them, and they stimulate the musicians, and you enter into a world that is beyond just the verbal, beyond just the ideas.
But at the same time, Ellen is throwing out all sorts of ideas about science and about nature that are interesting to her. So I think she asks of the audience what you think of these ideas. It's a juxtaposition of unusual elements which hopefully adds up to something very stimulating, something that wakes up an audience. A different way to look at the world.
In a real way, the play asks, isn't it great to be alive? And it relates to the project of theater itself.
I think that's very true. You have two guys, Paul's character, Dr. Decker, at the beginning is almost frozen and the beginning, almost inanimate, and another fellow comes in, [Tom's character Aiden] who believes in him, and just by seeing each other, by looking at one another, they are able to come alive to the moment, and live in the moment, and talk about the things that stimulate them. And yes, I think it's about waking up the present moment. Everything is a surprise that happens to these guys, when they're together.
And there is a long, well not long, but there is a bit where I'm about to talk about, when I was a child and had a garden in which I could imagine myself to be anything I wanted to be, so the freedom of a child, which gets shut down when the child is viewed by other people, that he's not free - 'you're not free, you're just a skinny kid' - so, again, our lives get constricted by the visions of other people. These two guys yearn for someone who will gaze at them and see the possibilities of them, and then they start seeing the possibilities in the room, in the moment, and everything starts to take on a life of its own. And it's not without its dangers, it's a much more lively world, then the one tend to.
You sang beautifully, your execution is perfect I can tell why you're uptown, your storytelling is on point - do you have anything to say about your career?
You know, I was one of these people that had no idea what the heck I wanted to do. Theater, which really offers you, with every show, with every training you go through, an opportunity to grow, exposed to new things. So, in a way, it solved my problem, I didn't know what to choose, but in the theater world, without being a dilettante, I found that I could study this, I could study that. Each new show provided a new territory, a new subject matter that I didn't know anything about.
I've just done a workshop and a reading of new plays, both about the French Revolution - I didn't know much about the French Revolution, and they were fabulous takes on it, one musical and one not, and one that had incredible contemporary resonances. So I found that the theater has allowed me to be a citizen of my times, allowed me to grapple with the issues around me, and the history of things I had no idea about.
So it's been an amazing ride for me, and I feel very fortunate to be in the theater, the people that you meet in the theater, and also the stakes that you sometimes come up against can be challenging. The artists' stakes are a world of their own, but then you go to the Broadway world, and it's a whole other thing. Can you hit this mark, can you sing this number or land this scene. And those challenges keep you alive. So it's fantastic.
And I've been also thrilled to see the moments when art and commerce actually come together to create something that everybody sees, that becomes a really singular event. Last year I was fortunate enough to be part of Indecent on Broadway, which was one of those instances, where commerce did not constrict art, and art didn't turn its nose up at commerce, they were together. People who saw that show on Broadway and off-Broadway, it was important for many people, and it was a great thing to be a part of. On occasion these things flow together, but not often.
Do you have any favorite artist you'd like to acknowledge, or who have inspired you?
Anne has been my guiding light for 25-years, for more than that. The guy who I miss is Richard Foreman, I found myself wondering all the time 'where is Richard.' Because he decided he was going to stop making theater I don't know how many years ago now, and I feel his absence, I mean he was extremely singular in a radical way, you can see everything else in contrast to his work, and I miss it. And Paul and Ellen, they continue to fly that flag, but they're also much more, they're genteel, they are very affectionate to their characters, they're very sympathetic, they care about the human condition. Richard was edgy, darker, stranger in a way that I don't see many people doing nowadays, and I miss Richard's work.