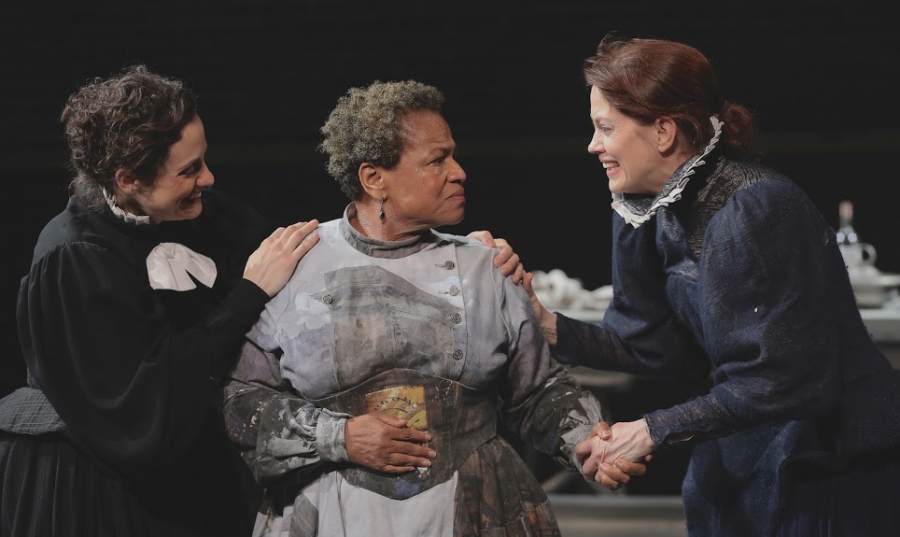 International theater director Karin Coonrod has a fierce commitment to whatever text she is working with, whether it is the drama of Shakespeare, the stories of Flannery O'Connor or the poetry of Walt Whitman. Her work has been seen at The Public Theater, New York Theater Workshop, Theater for a New Audience, BAM/Next Wave Festival, American Repertory Theater among others. She is founder/director of two theater companies. Downtown Theater Ensemble Arden Party from 1987-1997 focused on re-imagining the classics and the Compagnia de' Colombari, an international collective of performing artists, generating theater in surprising places since 2004. Their acclaimed production of The Merchant of Venice produced for the 500th anniversary of Venice's Jewish ghetto in 2016 had its US premiere last year for Peak Performances at Montclair State University. She is currently on the faculty of the Yale School of Drama.
Now Ms. Coonrod has taken on another narrative, Isak Dinesen's short story "Babette's Feast," mainly known as a beloved 1987 Academy Award winning film. Her theatrical rendering of "Babette's Feast" is a sumptuous production that engages the imagination, hearts and souls of audiences each night at St. Clement's Theater. Ms. Coonrod possesses a unique ability to turn a play on its head, refract an old story through a new prism or crack open a familiar chestnut to expose a hidden gem; and she always does so with intelligence and accessibility. Her answers to my emailed questions were insightful and thought provoking, giving me an inkling of what it must be like to be a part of her rehearsal process.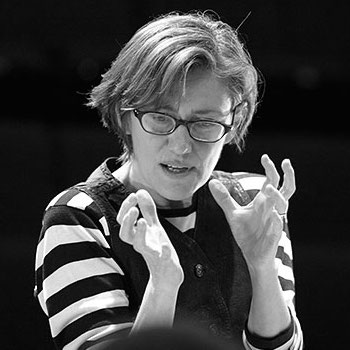 What drew you to want to tell theatrically the Isak Dinesen/Karen Blixen short story "Babette's Feast"?
I was deeply compelled to take on the task of telling the story of a wild extravagant giving. I had loved the film, but found the story and Rose [Courtney]'s play even more engaging for the possibilities of the theater.
I am always curious how collaborations develop. How did you, the playwright Rose Courtney and Abigail Killeen, who conceived and developed the piece, connect and decide to work together on Babette's Feast?
Abbie Killeen had the idea to make "Babette's Feast" into a play. She then invited Rose Courtney to write it and they remained a team for five years. Together with other friends they accomplished a preliminary workshop of the play. Then the project went on the shelf for a while until Abbie and Rose met with Mako Fujimura and he suggested I direct. They -- Abbie, Rose and Mako -- invited me into the project in early 2013. It was then I read Rose's play and subsequently the story for the first time. I realized that the story and the play are set in Norway, the most northern outpost of the European continent, not Denmark as in the film. So, for starters, I suggested we make the journey there. I wanted to witness and carry all that visceral experience into the making of the performance. (Also I have wanderlust!) So, in July 2013 the three of us went to Paris and Copenhagen, then Abbie and I continued to Berlevåg, Norway. In the subsequent five years we did a lot of readings in many different spaces...always in my mind was the thought of developing a company of core actors...and to this end I invited Juliana Francis Kelly (who plays Philippa), Steven Skybell (who plays Papin) and of course, Abbie (who plays Martine).
What was the process with which the three of you approached the shaping of this story before rehearsals started and during the rehearsal process? How did you work with the balance between narration and dialogue?
We did many readings and kept sculpting the text. On this sculpting process Rose and I worked very closely. We met before and after each reading, taking suggestions and sometimes, not taking them. Regarding the question of narration and dialogue...I urged Rose to bring in more narration and she was very game for this. We both wanted to directly hear Isak Dinesen's voice throughout the piece. (I had worked very closely with the text of Flannery O'Connor for many years, so brought this experience with me to the table.) Inside the narration I love the contradictions that occur inside the narration of a lively story teller....So when the narration is fleshed out by different actors, it is as if together with all our varied opinions we arrive at some unspoken realization of what is far beyond all of us.
Babette's Feast is very much an ensemble piece, with all the actors on stage most of the time and participating in various ways in the action. What do you need or look for in actors you work with? And what was the audition process like for this piece?
I love ensemble. Individualism has smashed itself against the wall and the smithereens now must find a collective voice in a dark world. Actors who are smart, wicked, funny, confident, humble catch my heart. Four actors were invited into the piece. My dear friend Reg E Cathey was slated to play Actor 4, the General at the table; he had done all the readings, yet it was not to be.....he was diagnosed with lung cancer less than a year ago and died suddenly. I think he would be very pleased, however, seeing how Jeorge (Jeorge Bennett Watson) is playing the role. Our auditions took place in the fall. It took time, but we found our people. Rose was mostly involved with me in the process, but Abbie, Julia (off-Broadway Producer) Anita (Artistic Director at Portland Stage where we launched the world premiere) all had a voice in it too.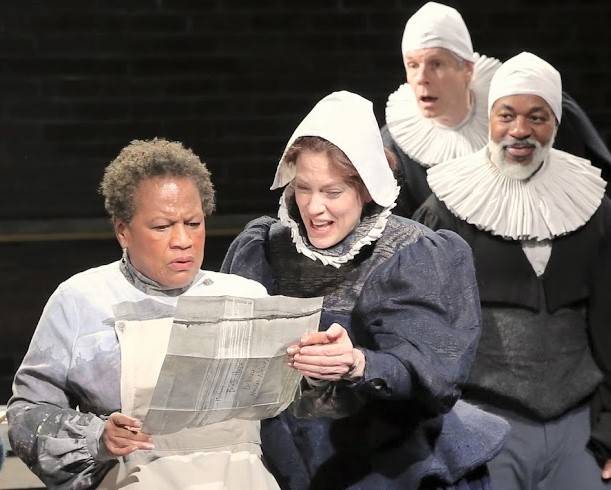 I am great admirer of your work (I saw many of Arden Party's productions here in New York in the 1980's and 1990's), is there an underlying thread or threads to the material you choose to bring to life on the stage?
Thank you, Navida! I have fierce respect for the text. It all starts there for me. I read it again and again, excavate it deeply and organize it for telling a story in space. The work is visual and physical and three-dimensional. Constructing a world--visible and invisible-- for an audience to enter into is what my theater-making is all about. For me it is always about festive time--the sharing of time, the bringing together of the company and all the layers of work into communion with an audience.
In your director's notes in the Playbill you mention the essence of theater. What is that essence to you?
What is absolutely necessary for telling the story in the space. It starts with text and actors. Whether inside a proscenium theater or outside in alternate spaces, I want to use only what is essential to surprisingly engage our audience. In a five-way intersection in Orvieto, Italy (when performing the medieval mystery plays) we just occupy that space (radically cleared of all cars) with actors and masks on tall poles and bring into confrontation heaven and hell; in texts&beheadings/ElizabethR four throne chairs inside a box delineated by red tape accommodate the four actresses playing Elizabeth I at different moments of her life; in Victor or Children Take Over the furniture of "the suburban home" surrounded the action in a tight rectangle and the audience sat all around this rectangle seeing themselves across the action of the actors; in Tempest Ariel catapults a pendulum constellated ball which swings across the entire theater to bring all of us viscerally into the nightmarish storm; in Babette's Feast there is a long upstage counter where Babette works and one glass table with glass accoutrements and candles with fire for the festive dinner. I work with designers who are architectural and powerful and witty. I like danger in the theater. I like to be able to see the gleam in the actor's eye.
When you aren't directing, developing material and teaching what do you do for inspiration and to stay centered?
Hiking in the mountains, visiting family, language study.....will resume playing the piano.