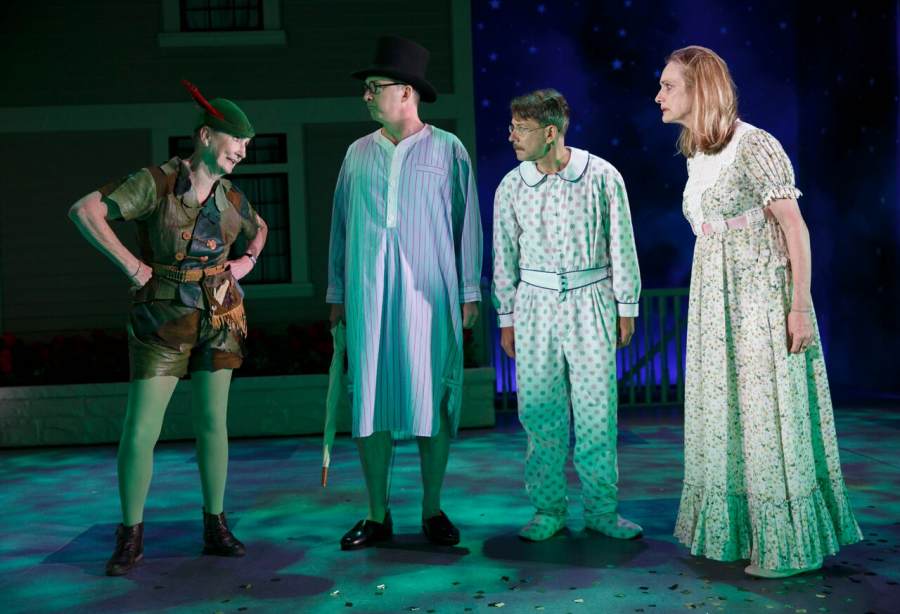 Take a new play by two-time Pulitzer Prize finalist and Tony Award nominee Sarah Ruhl, add a cast of seasoned New York actors including the great Kathleen Chalfant, let innovative theater director and Obie Award winner Les Waters mix it all up, and you have a triple whammy of terrific theater at Playwrights Horizons in their 2017-2018 season opener, For Peter Pan on her 70th birthday.  According to Ms. Ruhl, who used her own family experiences in the creation of this play, writing from a place of love was of utmost importance influencing her to choose the three part dramatic structure of Japanese Noh drama (with modifications) rather than a play that pivots around a secret being revealed -- what she calls contemporary Midwestern Noh drama.
For Peter Pan on her 70th birthday is set in Davenport, Iowa in the 1990s.  Ms. Ruhl's mother actually played Peter Pan as a teenager in Davenport and Ms. Ruhl bookends the play with sweet recollections of that event with Ms. Chalfant as Ann, a composite stand-in for Ms. Ruhl's mother.  In the first main scene, five aging siblings camp out in a hospital room as they grapple with their elderly father's death and ultimately their own mortality.  Ms. Ruhl captures both the profound and mundane in family conversations as they talk football, figure out a crossword puzzle or stand in vigil around the hospital bed where monitors beep and their father rasps out his last breaths.
The middle scene is a whiskey infused wake at the childhood home filled with telling bad jokes, reminiscing about growing up Catholic, and some intense political arguments, some of the brothers spouting conservative views juxtaposed against the sisters' liberal leanings.  Ultimately the banter turns towards growing up, growing old and dying with each person holding wildly different views.  Ann quips, "Of course I'm afraid of dying.  It's organized my entire life," to which youngest sister Wendy, an achingly vulnerable Lisa Emery, replies, "I think it's like changing clothes.  I think the moment will be beautiful.  Liberating." Brother Michael pipes in with his mantra: "Immortality through immaturity." Throughout this scene, the amiable ghost of their father, played with sweet simplicity by Ron Crawford, wanders in and out living little moments of life.
And then in the third scene, Ms. Ruhl transports the audience to the nursery of J.M. Barrie's Peter Pan and ultimately on to Neverland!  Each of the siblings embodies one of the characters in Peter Pan: Wendy, Peter, John, Michael, Captain Hook and even Nana the dog. (Yes, there is a dog in this show.) Ms. Ruhl has woven the beloved fairytale and the searching for meaning of five grown-up brothers and sisters into a marvelous conclusion, which includes fights and flying and infuses the audience with happiness.
Giving us a gift with her rendition of Peter Pan/Ann, Ms. Chalfant is captivating; her hopeful performance sprinkles of fairy dust to all.  In addition to Ms. Chalfant, Ms. Emery and Mr. Crawford, the cast includes Keith Reddin, a delightful Michael and adorable in his pajamas in the third scene, the charming Daniel Jenkins as John/Jim, the outspoken conservative in the family, and the wonderful David Chandler as a scene stealing hammy Captain Hook.  Watching this exquisite ensemble of older actors at work, I longed for more playwrights to write roles for each of them.
With poignancy and touches of alchemy, Mr. Waters' direction stretched theatrical boundaries beautifully, shaping moments of grief, tenderness and joy along with a skillful use of music.  A longtime collaborator with Ms. Ruhl, Mr. Waters, who is the Artistic Director at Actors Theater of Louisville, commissioned For Peter Pan on her 70th birthday for the 2016 Humana Festival.  His direction, Ms. Ruhl's play and a phenomenal cast make us want to "stay in the theater a little longer/where you don't have to grow up."