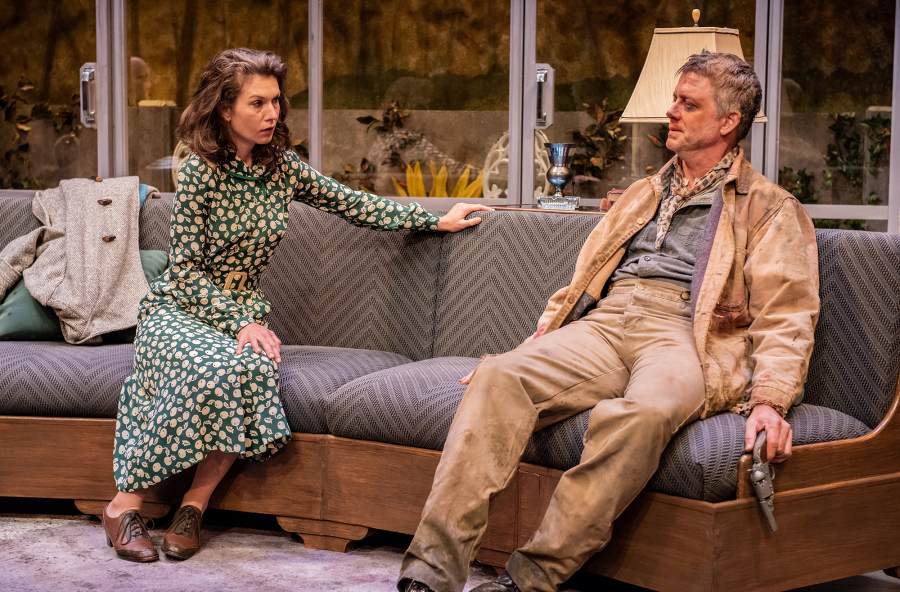 Lillian Hellman's Days to Come (now at the Mint Theater Company) was not a success when it premiered in New York in 1936. In fact, this second play of the Hellman canon (after The Children's Hour) was a full-tilt disaster. The three-act drama (played briskly here in two hours, with a single intermission) presents the tale of a prominent though struggling family, the Rodmans, who own a factory in a small Ohio town called Callom. They manufacture brushes of some sort—whether paintbrushes, hairbrushes or some other sort is never made clear. Andrew Rodman (Larry Bull) has always had familial feelings about the people who work for him. Nevertheless, he and his friend and attorney, Henry Ellicott (Ted Deasy), enlist a squad of strikebreakers to help install scabs following a walk-out by the regular employees. A union organizer, Leo Whalen (Roderick Hill), urges the striking workers to behave peaceably, but the strikebreakers goad them to violence.
Much of the play is focused on the Rodman family dynamic. The personal failings of the family members wind up impacting all of Collum. Andrew, though kindhearted, is passive and indecisive. His sister, Cora (Mary Bacon), is flighty, self-absorbed and bilious, while his wife, Julie (Jamie Brookshire), is unhappy in her marriage. Early on we learn that Julie and Ellicott have been having an affair, but as the action unfolds, she finds herself drawn to Leo Whalen.
As dramaturgical adviser Maya Cantu explains in her illuminating program notes, Hellman revised Days to Come after its abbreviated Broadway run, and it was subsequently staged in New York—quite successfully—in 1978. It's this later script that the Mint uses. Whether or not Hellman's alterations made all the difference in the revival's strong showing is hard to say. The original production had arrived during the Great Depression, and the issues it raised were both timely and hackle-raising. Some pro-labor viewers felt Hellman had failed to take a sufficiently strong stand in favor of the striking workers. But some on the side of industry apparently didn't like the play much either (on opening night, William Randolph Hearst exited the theater grumpily and noisily during the second act). By 1978, though, much was different on the socio-economic front, and Days to Come could be viewed as a period piece.
The Mint's production, directed by J.R. Sullivan, presents a sharp and smart little play—originally under-esteemed but, unfortunately, no long-dormant masterwork. After The Children's Hour (but before Days to Come), Hellman had worked in Hollywood, and she may have picked up some new dramaturgical tricks out west. There's something appealingly noir-ish in Days—especially in one sexually charged scene between Julie Rodman and Leo Whalen.
The cast is uneven. On the plus side, Brookshire's Julie has a kind of glamor that brings to mind Gene Tierney. Hill is centered, believable, and charismatic. And Dan Daily is just right as the imposing strikebreaker boss, Sam Wilkie.
But some of the others in the cast of eleven don't fare so well. Bull portrays Andrew not as a weak-yet-sympathetic character but as a sad sack of the first rank. Bacon seems not to play Cora but, rather, Cora's unpleasantness. And Deasy's Ellicott tends to blend into the scenery. So it's hard to care deeply about any of the Rodman lot except for chic adulteress Julie.
The technical ingredients seem in order for the most part. One section of the well-appointed Rodman living room (designed by Harry Feiner) flips away handily to enable a scene set in Whalen's shabby office.
One minor puzzlement: some jazz music played at the top of the show suggested to me the 1950s or 1960s, not the 1930s.