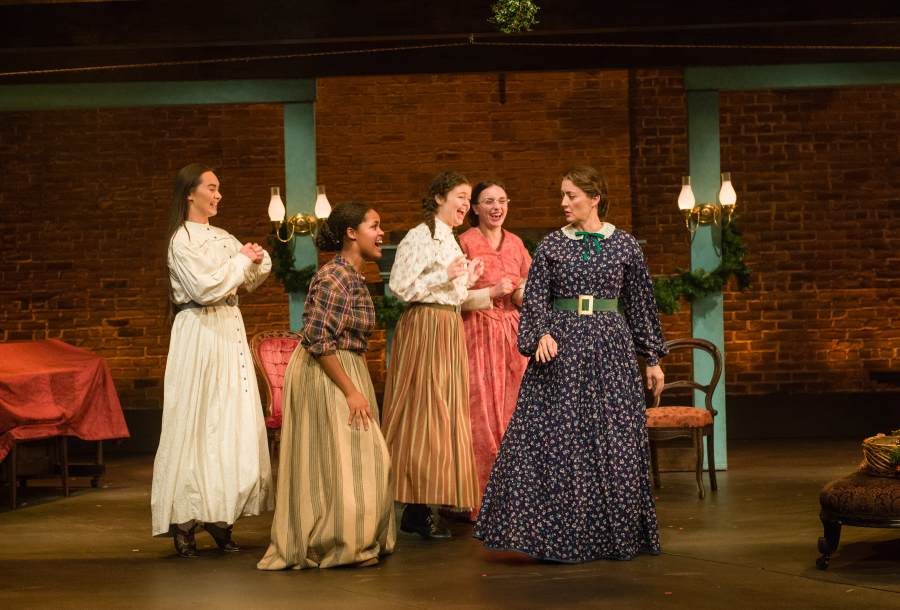 Playwright -actress Kate Hamill did such a creative job with her campy adaptation of "Pride and Prejudice" using men to play women's roles that I eagerly anticipated her version of "Little Women." Unfortunately, she goes beyond author Louisa May Alcott's characterizations and, in some cases, distorts them. She has taken some liberties, fleshing out the four sisters while omitting significant events.
A classic novel for young female readers, the book tells of four teenaged sisters growing up during Civil War times. While their father is serving as a chaplain, their gentle kind Marmee guides them and serves as a role model. They live a life of genteel poverty and the first act shows their first Christmas while their father is away.
Hamill plays Meg, the eldest, who in the original book is a docile, compliant figure. The playwright has written herself two scenes when her character gets to 'lose it." In the first, she gets hysterical trying to convince Jo to go with her to a party. Later as a young wife and mother, Meg suffers a meltdown, and has a postpartum-like episode. Hamill is shrill and overacts to create comic relief.
The second oldest is Jo who yearns to be a writer. Jo always takes the male roles in the plays she writes for her sisters. She wears pants to play the parts and Alcott refers to her as a tomboy. Yet Hamill's Jo is rarely out of pants. In the second act, she even dons a top hat to visit a publisher. (If you watch the HBO show "Gentleman Jack," you'll note the resemblance to Miss Ann Lister, a barely- closeted lesbian.) Hamill distorts Jo's sexuality. Although the girl yearns for independence and wishes to make her own decisions, she isn't a homosexual. However, Hamill purposely conveys that impression by omitting the part of the story where Jo falls in love and marries Professor Baer (a man!) At the end of the show, Jo, still clad in her pants and vest, is writing a story about Beth, but the audience's last impression of her is of a girl who is quite manly.
Amy (Carmen Zilles) is the young spoiled sister, and Hamill creates extra animosity between her and Jo who taunts her sister by keeping a journal of her malapropisms. Beth (Paola Sanchez Abreu) is the the gentle 'conscience of the family" but, sadly, a one-note character.
Presented by Primary Stages at The Cherry Lane Theater, the show feels amateurish, despite the talents of some of the actors, particularly (Kristolyn Lloyd) as Jo. Although Jo is the main focal point of the book and the play, Hamill gets first acting billing. Directed by Sarna Lapine, the first act covers a lot but the second one feels hurried. The sparse setting shows the interior of the March household whose main piece of furniture is a piano; the second story consists of a small bedroom and a small room with a writing desk.
If you are a purist and loved Little Women, you will not be happy with the play. This is unlike other shows which improve the story with deeper exploration of the characters. Instead Hamill has distorted the beloved main character. Jo isn't happy being relegated to the typical women's roles; she wants more. Maybe Hamill should have shown her as more as a feminist instead of making innuendos about her sexual orientation. The book depicts the bonds of family and the struggles of growing up. It's a classic for a reason-why mess with a good thing?