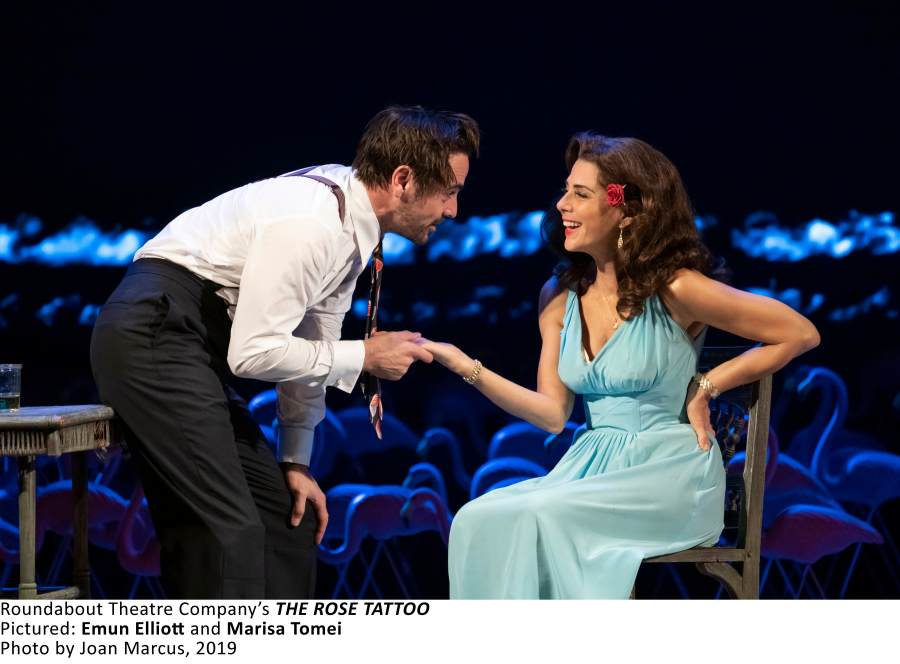 Ironically, Tennessee Williams, a gay playwright, wrote some of the most iconic roles for women in theater. He created parts such as Blanche in A Streetcar Named Desire, Maggie in A Cat on A Hot Tin Roof and Amanda in Glass Menagerie. These are serious and somber plays featuring unhappy or intense women. Williams' play, The Rose Tattoo, is different in that it has several light moments and a happy ending, but like the others, it has a meaty role for a talented actress.
The Roundabout Theatre Company revival directed by Trip Cullman stars the wonderful Marisa Tomei as Serafina, the fiery Sicilian seamstress who finds love again after her husband dies in a car crash. Tomei imbues the character with a heightened feeling of passion and energy.
The Rose Tattoo feels like two plays because each act has a distinctly different tone. Act One begins with the sensual Serafina eagerly awaiting the return of her husband and bragging about their romantic relationship. He drives a truck carting bananas and maybe "something underneath." However, the presence of a group of darkly-clad women who sing, similar to a Greek chorus, suggests tragedy ahead. Shortly afterwards, Serafina learns that her husband's been killed, and she goes into an emotional tailspin.
Three years pass and Serafina is still in mourning, rarely getting dressed or leaving her house. (The main feature of the wall-less home is a candlelit shrine with a statue of Our Lady.) he scenic design is by Mark Wendland. The only physical difference apparent to the audience in Tomei's appearance is her hair in disarray and her wearing only a full-length slip. (The full slip is reminiscent of Elizabeth Taylor as Maggie the Cat.)
Serafina becomes overly-protective of her daughter, now 15, who has met Jack, a young sailor on leave. Ultimately, she learns what everyone else in the small Sicilian community knew; her husband had a yearlong affair before his death. It is upon meeting Alvaro Mangiacavallo, another trucker hauling bananas, that the widow is able to love again.
The role is a juicy one for an actress, and Tomei is glorious in the part. She gets to go through a gamut of emotions, often speaking in Italian or English with a distinct Italian accent. She is emotional, sensual, overwrought, angry and even funny. In one scene she struggles taking off a girdle. She also is comic and angry as the passionate wife, overprotective mother, flirtatious lover, and mourning widow. Serafina is a blend of contrasts as a Sicilian woman living in the American South.
Act One is uneven, and although the play won the Tony for Best Play when it premiered in 1951, the secondary plot with Serafina's daughter falling in love doesn't add much to the overall play. The play becomes exciting when Mangiacavallo (Emun Elliott ) enters in Act Two. Together Elliott and Tomei have wonderful chemistry. Serafina reacts immediately to his body which reminds her of her husband, though his face isn't as attractive.
Mangiacavallo is funny and self- effacing and Elliott is a winning and charming character. Despite being younger, he makes no pretense about courting Serafina. He notes "I am hoping to meet some sensible older lady. Maybe a lady a little bit older than me." He even gets a rose tattoo on his chest like her husband's. Elliott matches Tomei's intensity and is overly - emotional. When he first enters, he begins to cry and immediately the two connect as she begins to weep as well." I always cry—when somebody else is crying."
By the end, the lovers have a passionate night together and as in the first act, Serafina 'sees' a rose tattoo on her breast,convincing her that she has conceived. The audience shares her joy because Tomei has completely won us over. She is a joy to watch and the main reason to see this revival.