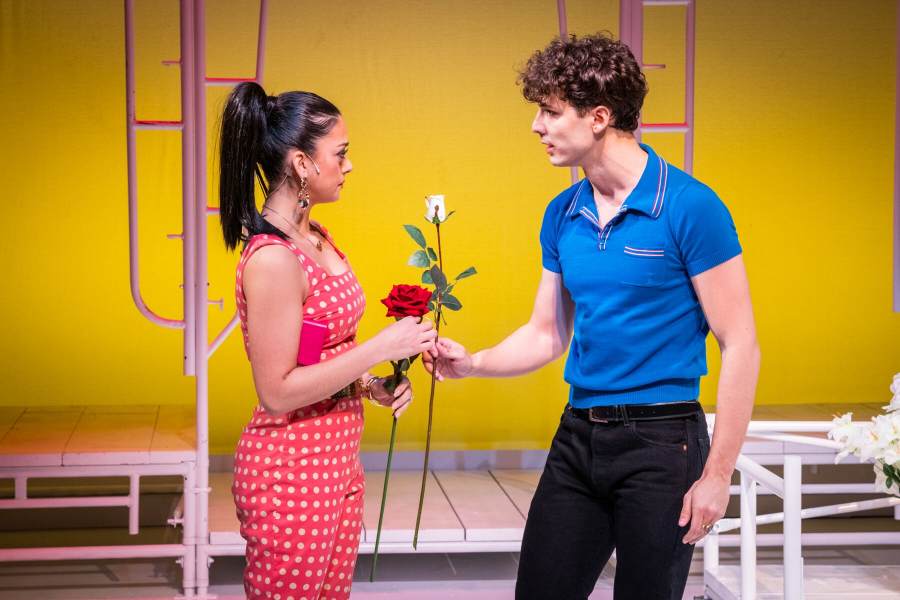 Romeo lives! At the end of the famous tragedy by Shakespeare, the young hero drinks poison and dies, but in "Romeo and Bernadette," the original Off-Broadway musical, an Amas Musical Theatre production, presented at the A.R.T. / NY Theaters, Romeo actually consumes Friar Laurence's sleeping potion, causing him to sleep for years. When he awakens 500 years later, he is still in Verona and still seeking his beloved Juliet. However, times have changed and it's now 1960.
Instead of Juliet, Romeo (an appealing Nikita Burshteyn) finds Bernadette, the tough daughter of an American mobster. Played by attractive Anna Kostatis, she is visiting from the US with her parents, days before her impending wedding at home. Her mother Camille (Judy McLane) has brought the family to Verona to share her family's ancestry and culture with her daughter and her thuggish husband Sal Penza (Carlos Lopez.)
Surprise of surprises, it turns out that Bernadette is actually a relative of the original Juliet, and Romeo instantly recognizes her. Despite her protests and rebuffs, he follows her, professing his love for her, even threatening to jump off a bridge and kill himself if she won't be with him. There's no way that Bernadette's fiancé, Tito, can compare to Romeo. (But can any man?)
The parody continues as Romeo follows her to Brooklyn. Later when Tito attacks Dino Del Canto (a talented Michael Notardonato) in the street, Romeo comes to his aid and Dino brings him home to stay with him. Ironically, the Del Cantos and the Penzas are feuding families. Sound familiar?
The show plays off a common theme, a person struggling in a different bewildering time period. The language and customs are confusing and can become a source of humor. More interestingly, often people don't even seem to notice that the stranger has come from another era. Asked his name, our hero announces "Romeo" and Dino comments that it must be his street name.
In "Romeo and Bernadette," the humor stems more from language than from customs. Dino tries to help Romeo assimilate so he can find his girl. So Dino loans Romeo clothing, and then later in song, briefly gives him lessons on language. ("Why don'chuh/ Lose that fancy English?/Just put the "thee's" and "thou's" away.") The best jokes in the show are when Romeo's florid Elizabethan speech mixes with gangster Brooklynese. When Bernadette talks of her fiancé, Romeo responds, "Thy husband? I say unto thee-Fuh-GED-abboutit"
The show, with book and lyrics by Mark Saltzman, is subtitled "a musical tale of Verona and Brooklyn," and uses the gangster motif through some of the music as well as the book. When Dino courts Bernadette's best friend Donna, he sings, "Love is like a bullet propelled by a kiss."
There are a few clever nods to the bard. The florist is named Arden, the dancing teacher Viola and another character is Roz. All are played by the same actor, Troy Valjean Rucker who is the hardest working performer in the cast.
The show runs two hours which is too long. Several minor storylines are overdone. Camille's obsession with Verona ("Hail the Contessa") doesn't add much to the show. Saltzman overuses stereotypes of Italian mobsters. Sometimes it works well, as in the song where Bernadette's father Sal and his henchman Lips (Viet Vo) instruct Tito on the importance of family in "Non La Famigl." The writer loves mocking the accents of Italian-Americans in Brooklyn, but, after a while, the joke grows stale.
Most of the music is by lesser- known Italian composers, such as Sir Francesco Paolo Tosti, Tommaso Giordani, and Enrico Cannio. Saltzman, winner of 7 Emmys for Sesame Street, wrote the lyrics. Some of the songs are forgettable and a few songs, like Tito's dream of being of bigshot, "To Be Tito Titone",) are unnecessary. However, Romeo's love song and reprise, "O, for a Song" with music by G.B. De Curtis, is a lovely number.
The setting by Walt Spangler is a series white pvc-like poles that encompass three sides of the stage. They serve as Bernadette's balcony as well as front of Donna's house.
"Romeo and Bernadette" is a silly take-off on the beloved classic play, one which every high school student is required to read. The young performers, most of whom are making their Off-Broadways debuts, are talented and hardworking. You will smile and even laugh a bit. Most important, the musical has a happy ending. "All's well that ends well"-no, wait-that's a different play.