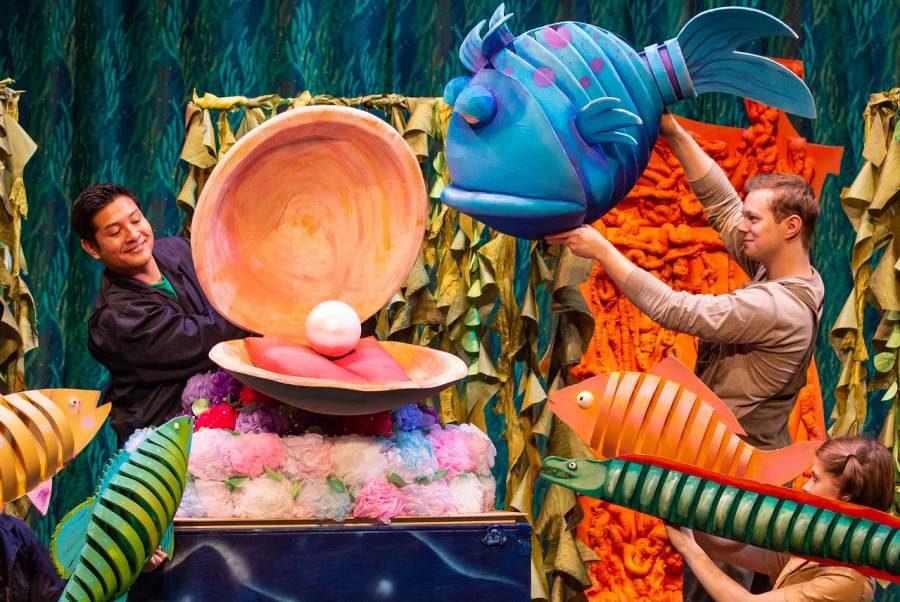 Want to keep your kids away from screens?  Take them to the theater; it's never too early! Often the best introduction the theater is something familiar, a show based upon a favorite book. The New Victory Theater offers a variety of children's programs, plays and performances and is a wonderful way to introduce youngsters to theater. The Pout-Pout Fish is a brand new musical produced by TheaterWorksUSA (featuring designs by the puppeteers of AchesonWalsh Studios.
Based on the series by Deborah Diesen and illustrated by Dan Hanna, the musical tells the story of a dour, grumpy fish, whose pouty expression determines his personality. When he sees himself in a pearl, he sees a glimmer of hope to be happy. But then he and the pearl are caught in the undertow and wind up on the other side of the Big, Big Dark, a place Mr. Pout-Pout Fish has never had the courage to cross over to, for fear of the unknown. The pearl belongs to Ms. Clam so he needs to return it to her, despite the obstacles he faces.
What he encounters in the colorful seascape is a cast of characters who are not what they seem - tricky but trustworthy worms, an octopus with seven tentacles, and a friendly shark who teaches Mr. Pout-Pout that there are high tides and low tides, but you have to stay afloat. This is a great lesson for all ages about how to overcome adversity and realize your true potential, whether it's taking a long painful journey into the unknown or outsmarting a septapod.
With large puppets and human puppet-masters, the story of self-awareness unfolds. The book, music and lyrics for the show are by Christopher Anselma and Jared Corak. Kelly Grago, who plays the central character was in fine voice as the Pout Pout Fish. The staging and effects are simple yet even youngsters who've seen some of the larger Broadway shows will be charmed by the simplicity and message of the story.
The Pout-Pout Fish has a running time of 55 minutes with no intermission and is recommended for audiences ages 4 - 7. The theater offers crafts and activities before the show as well as in the Playbill.
Despite having seen all the lavish Disney productions, our six-year-old critic enjoyed the production, noting that "the pearl was funny when it kept going away." Her favorite part was when the Pout-Pout fish outsmarted the octopus who played the shell game. The show is very entertaining for children. There are puppets, music, colorful characters and, of course, a moral. "Never Trust An Octopus."