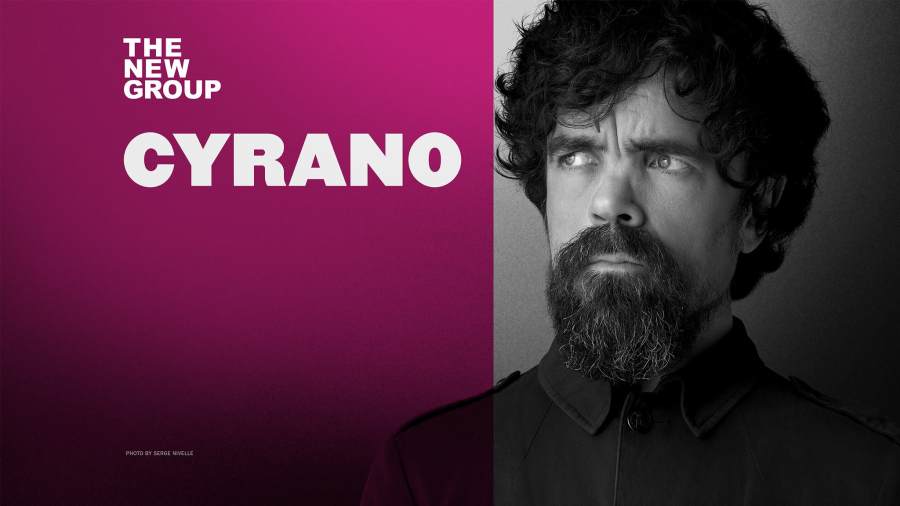 Is there life after Game of Thrones?  At the end of the popular long-running HBO mega-series, Tyrion (Peter Dinklage) was named the Hand of the King to Bran.  Then the show ended, so where has Tyrion gone? Dinklage, easily one of the most talented performers on the show, has taken on a new challenge, performing and singing as Cyrano de Bergerac in a new musical version of the Edmond Rostand classic. "Cyrano," adapted and directed by Erica Schmidt, tells the story of the brilliant poet-swordsman and his unrequited love for the beautiful Roxanne who loves another. It is the ultimate love story, one of self-sacrifice for love.
In Rostand's original play, Cyrano considers himself unlovable because of his extremely large nose.  (In the comic movie "Roxanne," Steve Martin does an incredibly funny riff about noses.) Schmidt's version is more modern in language and jargon and more accessible than the original. Although this adaptation makes a brief mention of noses, we are acutely aware of Dinklage's diminutive stature, although it's not mentioned or even alluded to.  The distinction is particularly relevant when Roxanne (Jasmine Cephas Jones ) falls in love with Christian, portrayed by the tall good-looking Blake Jenner (Glee.)
Cyrano is brave, fearless and impetuous but extremely loyal. When he is about to reveal his love to Roxanne, she interrupts to ask for a favor. She has fallen in love with Christian who is about to join the guards and she wants Cyrano to watch over Christian. Cyrano winds up protecting and helping the young man who is actually his rival. Roxanne wants to be wooed with words and although he is quite good-looking, Christian has little to say. So Cyrano writes all the letters for him. Later when Christian stands beneath Roxanne's window and gets tongue-tied, Cyrano actually speaks for him.
Sadly, a major weakness of the musical is the music by Aaron Dessner (The National) and Bryce Dessner (The National.) The tunes are mostly forgettable, often mournful and atonal. It is usual for the audience to applaud at the end of a song; yet little of that happened during the performance I attended. The lyrics by Matt Berninger and Carin Besser are sometimes mundane and pedestrian. As Cyrano is dying, Roxanne sings, "No Cyrano, I won't let you go."
Dinklage can carry a tune but is not really a singer. Perhaps he would have been better adopting the Rex Harrison style and 'talking' through his songs.  His acting is fine, often expressive and feisty but he's best when being funny or sarcastic.
The most creative scenes center on movement rather than song or dialogue. (Choreography by Jeff and Rick Kuperman) In one of the opening numbers, Cyrano is singing as he 'composes' a letter to Roxanne professing his love for her.  He is meeting her at Ragueneau's bake shop and behind a glass window, we see some of the cast members as 'bakers" preparing pastries. Their synchronized movements are entertaining to watch.
Later in the second act, Cyrano's regiment is involved in a losing battle.  As three of the cast members sing of their family members left behind, the small cast uses a ramp to simulate troops going to war. Some fall, wounded in battle while others die and are carried off by their comrades.
Cyrano de Bergerac is a classic love story, one of sacrifice as the soldier helps his rival win the heart of the woman he, himself, loves. He is noble, brave and filled with poetry, and when he dies, the viewer is left with a sense of remorse and sadness. The play opens with Cyrano forcing an actor off the stage, noting that he is murdering the beauty of this theater, and, in fact, Cyrano pays to close down the show
When Cyrano dies in Schmidt's adaptation, the stage goes dark and the play is over. Yet our audience sat, awaiting the next scene. I wonder how Rostand's hero would have reacted. Would he have closed this show down too?