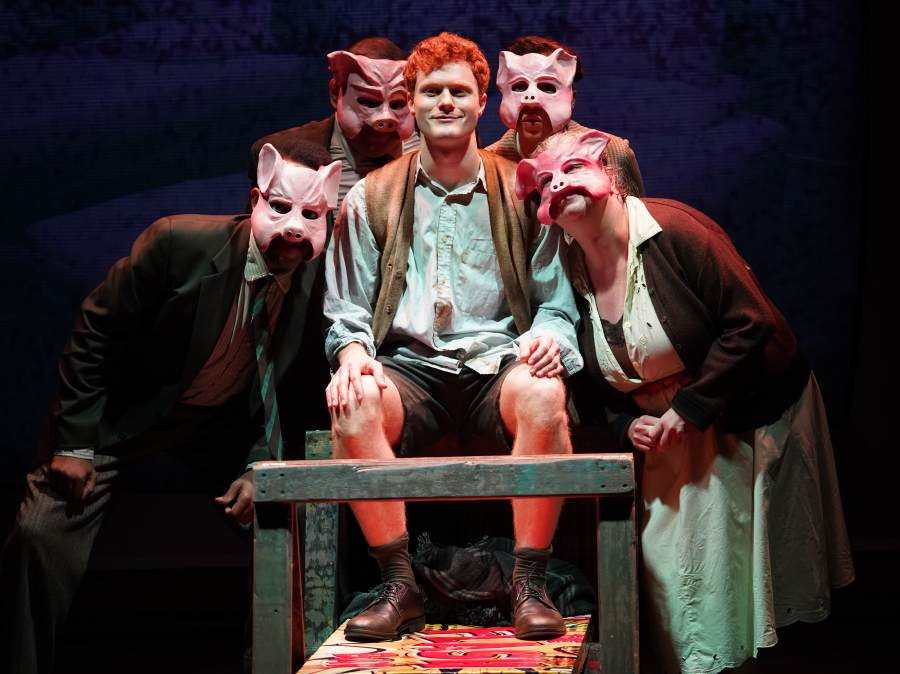 Often a visit to the theater can be an opportunity for discovery. That's what happened when I attended a performance of The Butcher Boy at the Irish Repertory Theatre. The musical, based upon the novel by Patrick McCabe features two exciting young talents.
Nicholas Barasch is wonderful as Francie Brady, the young boy losing his sense of reality as the world around him becomes more hostile. The story is set in the 1960's in Clones, Ireland, where Francie finds escape in TV westerns and sci-fi shows like The Twilight Zone.
He must learn to fend for himself when his clinically depressed mother kills herself and his alcoholic father neglects him. When Francie and his friend Joe steal from a new boy, Phillip Nugent, the mother, verbally attacks Francie calling him and his family 'pigs." Later as Francie retreats more into fantasy, his demons, the 'pigs, become real to him, constantly chiding and taunting him.
What makes the story more disturbing is Francie's perpetual smile. The indifference, cruelty and disapproval of the outside world is epitomized by Mrs. Nugent who ultimately suffers from Francie's wrath.
Tall and good looking, Barasch sparkles with boyish charm. He commands the audience's attention and is a talented singer. Fortunately for the show, he is onstage most of the time.
The show boasts other excellent voices, especially with Michele Ragusa who plays a double role of Mrs. Nugent and Kathleen, a kind shopkeeper who takes Francie in when he runs away and Kerry Conte who plays three roles, all named Mary.
In an interesting sidebar, Act 2 began with an abbreviated version of the famous Twilight Zone episode "The Eye of the Beholder" in which a patient with her face bandaged yearns to fit in and look like everyone else. However the surgery is a failure. The patient (played by beautiful Donna Douglas) is repulsive in a world of porcine-faced people.
The other discovery is Princeton college senior Asher Muldoon who wrote the book, music and lyrics for the show. Some of the music is wonderful and haunting, like "Don't Forget About Me," the love song sung by Francie's uncle Alo and his former girlfriend Mary. Muldoon has made some changes in the story. In the book, Francie is sent to a reform school where he is abused; in the musical, like his mother, he is sent to a hospital where he is strapped down and undergoes shock treatment.
Four masked performers play the pigs but sometimes it is difficult to understand them, perhaps because of the masks. Two other male singers, Alo (Joe Cassidy) and Da (Scott Stangland) are adequate but their songs detract us from Francie.
The musical is disturbing and I was taken aback by the final series of events. It offers exciting new talent to offer and, for that reason only, I am glad to have seen it. However, I was left a bit shaken. Although unique, The Butcher Boy is not a show for everyone.