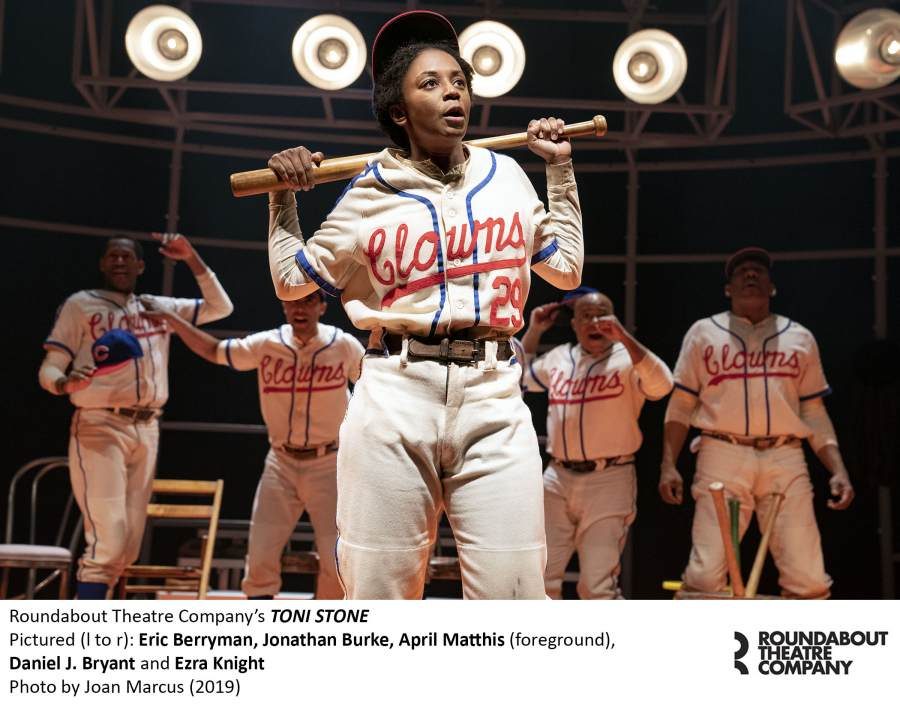 Times have changed. Or have they? Yesterday was a day filled with special events featuring female sports figures. On TV Wimbledon featured the women's semi-finals from London. In New York, the city honored the US women's soccer team with a parade and keys to the city. At the theater, "Toni Stone," the exciting new work at Laura Pels written by Lydia R. Diamond, deals with another female sports hero. Stone was the first woman professional ball player.  Her accomplishment is more remarkable given that she was a black woman playing on a men's team. Not only did she deal with gender discrimination, she also had to endure racial prejudice and Jim Crow laws during the 1940's and '50s.
With Stone (April Mathis) as narrator, the story skips around, never going in a straight line. She explains in her introduction. "I am prone to ramblin'. Never could tell a story from beginning to end all nice and neat."
She played for the Indianapolis Clowns, a team that can be compared to basketball's Harlem Globetrotters. Despite their obvious skills, the players were seen as more entertainment than competition and were expected to entertain the crowds by ''clowning" around and doing tricks. Stone was put in for publicity and the white owner got the other team owners to have their pitchers throw differently to her.
Stone faces the same prejudices as do the men on her team, including verbal abuse from white fans, especially when they beat the white teams. Often The Clowns were not able to get lodging in the towns in which they played, so Stone was put up in places like Madam Mamie's Gentleman's Club. The players make several references to Jackie Robinson and how he has to behave to be accepted by the white public.
Yet Toni has it doubly hard. She must deal with gender discrimination from her own teammates as well as other players. In salary negotiations, her boss reduces her salary after she gets married, since she might get pregnant and leave him looking for a replacement. In what would seem familiar to our US soccer team, Stone was also not paid what the male players were, even though she did the same job and in some instance did it better.
In a particularly disturbing scene, Stone sits with Woody, a gruff 'macho' teammate, who notes how many people attended their game and how many saw her play better than he did. Then threateningly he warns her to imagine, " so all one thousand eight-hundred-and-thirty-seven people in that stadium watch while I bend you over." When Stone gets stressed or uncomfortable, she begins to rattle off baseball player's stats almost like as a coping mechanism, and that's what she does as Woody walks away.
Her characterization is well-crafted, and Mathis gives an excellent portrayal as a woman who is totally focused on the game. She is a bit naive and doesn't even realize that Alberga (Harvy Blanks) is courting her. She is a totally literal, honest and straight talker. "So don't think I'm bragging when I tell you that I do the things I do well, bettern' anybody." She says whatever she feels. Mathis speaks extremely quickly with a bit of a Southern accent which requires intent concentration from the audience.
The rest of the cast, the eight men who play her teammates, also play the others characters in her life- Syd, the white team owner, her parents, Alberga, the older man who she eventually marries and Millie, the prostitute who takes care of her and tries to teach her the ways of the world. The women like Millie (Kenn E. Head) are played sincerely and straight.
Directed by Pam MacKinnon, the play has a simple setting with some low bleachers and the night lights often used in stadiums. Yet we don't need much more. The play works better if you like baseball but it won't matter. There's a lot of humor in "Toni Stone" despite the darkness and prejudice. There were groups from a local summer program at the performance I attended. The young people were attentive and laughed harder than others in the audience whenever the conversation got sexual. There's a lot of camaraderie and joking between the team members, often at the expense of Jimmy, a young player (Toney Goins.) At one point, the players begin a string of "your mother is so fat" jokes. Later when Jimmy is hitting poorly, another player suggests that his problem is that he's using one the defective bats that the white teams rejected but by holding it between his legs and rubbing it a certain way, he could fix it. The sexual joke is visual and the kids in the audience "got it" way before Jimmy.
Stone broke barriers, yet she did it for the love of the game, not to prove anything. "Don't know why it was me and not someone else. Don't know even if history will think it matters." At the parade in NYC today, the women on the soccer team were cheered and applauded for their achievements. They were victorious but underneath it all, they reminded their fans of the discrepancy in women's sports-pay, esteem and opportunities, as they chanted urging 'equal pay.' Toni Stone was a ground breaker, and women keep achieving . We've progressed a long way since Stone played but just haven't gone far enough yet.