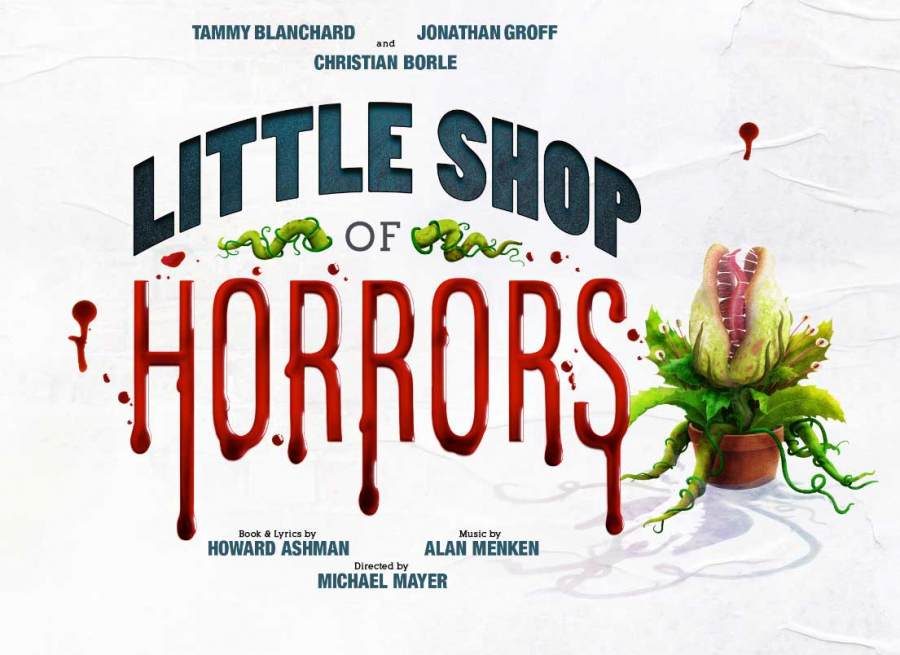 Long before puppets became common in Broadway and Off-Broadway shows, ("Avenue Q," "Hand of God," "King Kong") there was Audrey II, the star of "Little Shop of Horrors." In a league of its own, not only does it have a huge personality, it feeds on blood as well!
Jonathan Groff plays the hapless nerdy Seymour who cultivates a unique carnivorous plant which he names Audrey II after Audrey, the young woman he secretly loves. The human Audrey (Tammy Blanchard) is being abused by her boyfriend, Orin Scrivello, D.D.S., a sadist who revels in others' pain. The motorcycle-riding dentist is played by Christian Borle who milks every word and musical note. At the end of Act One, when the dentist becomes plant food, it seems like a loss of great comic talent, until Borle shows up in several smaller roles which he hams up.
The play opens with the Urchins (aptly named Ronnette, Crystal and Chiffon,) a trio of girls on the street corner who act as observers and commentators. Like muses or a Greek chorus, the three (Ari Groover, Joy Woods, and Salome Smith) add power and humor to the musical. Songs such as "Da-Doo" are reminiscent of the girl groups of the '60s like The Crystals and Ronnettes and audience members of a certain age will recognize familiar musical strains.
The cast is superb. Despite his good looks and charm, Groff manages to be a credible nebbish, hunching over and acting insecure. Add 'hat hair,' goofy spectacles and nondescript clothing and Groff becomes the perfect nerd.
As the 'bad guy,' Borle manages to be hysterically cruel. One of the biggest jokes of the musical is Scrivello's occupation as a dentist, a sadist who enjoys hurting his patients and when Orin gives himself the laughing gas instead of his patients.
Tammy Blanchard as the ditzy sexy Audrey projects innocence as well as sexuality. She has a powerful voice and an almost Marilyn Monroe vulnerability. And of course, there's Audrey II, the plant. The voice is a playful, albeit, menacing sound provided by Kingsley Leggs and the plant's movement is directed by a team of manipulators.
With music by Alan Menken and lyrics and a book by Howard Ashman, the revival of "Little Shop of Horrors," a staple for many high school drama groups, is delightful and playful. Under the skilled direction of Tony winner Michael Mayer, the musical feels as vibrant and enjoyable as it did when it first opened in 1982.
Groff, an award nominated performer, has a big following from his Broadway and TV roles ("Hamilton," "Spring Awakening," "Mind Hunters," "Glee"). Borle has developed his own following from TV from "Smash" and "Sound of Music" as well as Broadway "Something Rotten," Charlie and the Chocolate Factory." Together the two of them have easily filled larger Broadway houses, so it's a bit bewildering as to why the producers didn't get a larger venue for the revival. Westside is already sold-out for many performances. In answer to the overwhelmingly positive response to the revival, the run has already been extended another eight weeks. Go see "Little Shop of Horrors" if you can get tickets.
They say you should talk to your plants. It's when they start answering you that you better be wary, especially when they implore you to "feed me."