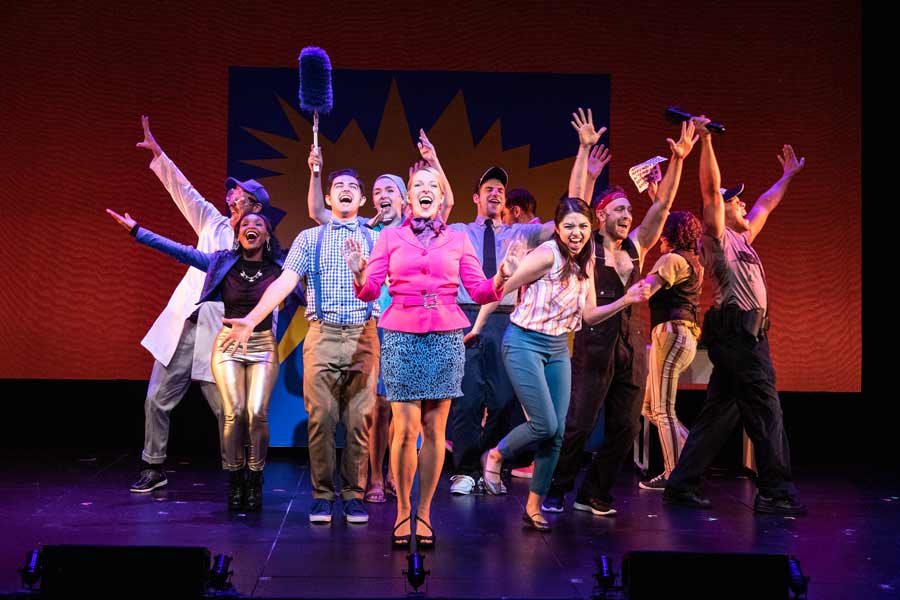 Usually it takes a lot of money, time and practice to present a new full-length musical, yet between July 8 and August 30, New York Musical Festival will offer 30 new full-length musicals. Some will be wonderful-others probably not so much. They all have short runs, so a theatergoer must read the menu, pick what is appealing and get tickets quickly or the shows will be gone.
"Black Hole Wedding," part of the NYMF Next Link Project," pits the little guy against the establishment. First Mr. Dean, the diabolical oil baron, tricks the brilliant Raymond (Jonathan Miller) into giving up the patent to his invention, a removable energy source.
To get his patent back, he promises to create another remarkable invention and so he invents a black hole trash compactor. Nerdy Raymond is given the courage to succeed when he meets Summer (Mimi Robinson,) the in-house masseuse, who eventually quits her job over Dean's evil business practices. Dean (Sean McDermott) compares life to a golf course and cares more about his game than the environment. In fact, his ideal invention would guarantee a hole in one. He's the villain the audience loves to hate and I was surprised no one booed him at the curtain call.
The show is humorous and clever and done within a modest budget. An example is the black hole itself, which consists of a black box and a performer clad in black who outstretches an arm to grab the items to be disposed of. Another funny scene is when Raymond gives Summer a strong magnet ring as an engagement ring and she keeps sticking to metallic items, including the keys in his pants.
The performers are talented and the show is generally good fun. With words by Katherine Brann Fredricks and music by Paul E. Nelson, the songs between Raymond and Summer are romantic and melodic while Dean's songs shift in style becoming more atonal. It is inevitable that the audience would note the political implications of the show. Businessmen make decisions and deals on the golf course and will quash anything that keeps them from making money. There's little concern about the environment. There's also a plot line on immigration. In order to keep an invention created by a young immigrant, Dean reports him to immigration and locks him up. (The young man names himself John Wayne in honor of his new country.)
There's some absurdity as well, especially when Dean decides that if he marries Summer, she can't testify against him. So he has her kidnapped and the wedding begins, despite her being bound and her mouth covered with tape.
The show goes on too long and could easily be trimmed by shaving off John Wayne's storyline. With some work, "Black Hole Wedding" has the makings of a delightful Off-Broadway musical. Unfortunately, it only ran for four performances unless someone in the audience has the connections and the clout to get it a new home.