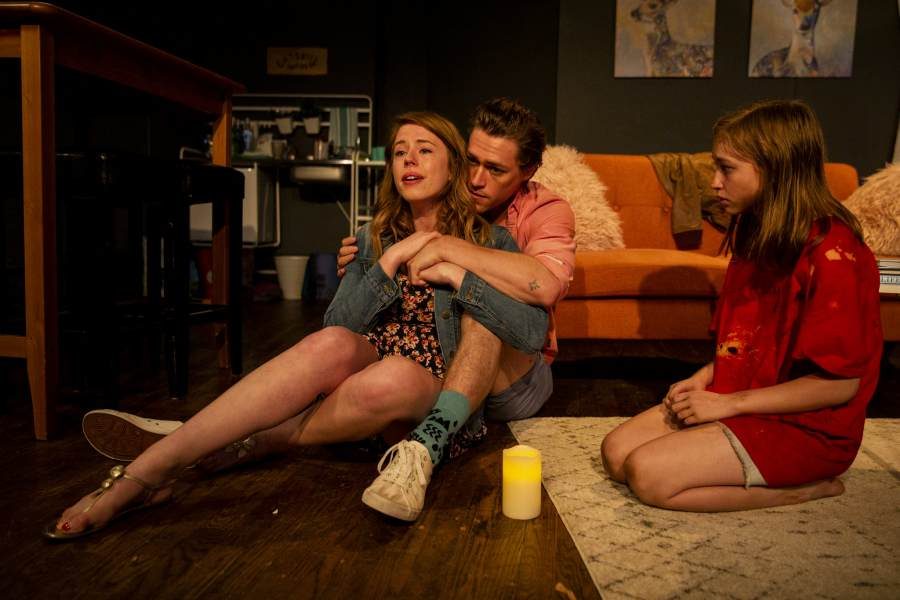 After seeing "Not Even the Good Things," we left Theatre Row's Studio Theatre filled with questions. Who was the little girl? Why was Bill the only one who could see her? Why did Bill tolerate his toxic girlfriend Grace?
However, the biggest question was posed as we walked from the theater to the train and were stopped by two other women who had been in the theater. What was the play about? A group of six 20 year olds rent a cabin together for a much-needed holiday. The six are never onstage at the same time. Playwright Joseph Scott Ford groups his actors in pairs or threesomes.
Grace and Bill arrive first and she is very drunk. As Grace, Victoria Janicki is exuberant and emotional but much too expressive for the very small space that comprises the Studio Theatre. I found myself almost instinctively backing away. Director Kelsey Claire should have toned the performer down, seeing that it was too compact a space for such overt gestures and such a booming voice. In contrast, Bill (Sea McHale) who eventually becomes the focal character of the play, is too tepid when confronted by his girlfriend.
The best part of the show is the enigmatic figure of The Girl (Serena Parish.) With a dirty face, torn shabby clothes and a forlorn expression, she is a pathetic figure who remains onstage throughout the play, clutching her candle. She is there before the other characters even arrive, and only Bill can see her.
She witnesses Donald (Mickey Roberts) attempting to seduce Grace and Grace's retaliation. She sees when the lights go out, and Jackie has an hysterical panic attack. She is sensed by Gina (Colette Astle,) a recovering alcoholic who is like a flower child. According to the original stage directions, Terrence, Gina's hulking shaman boyfriend, must have seen her because he and Bill use her candle to light a cigarette. Those directions are ignored and instead the characters vape.
These are all characters with issues, and Grace is the most vicious, alienating and verbally attacking the others. There's a lot of drinking and many references to sex.
Playwright Ford throws several things into the play but never explains them or makes it clear why they are there. His characters are two dimensional and it's hard to care about any one of them, even Bill who begins to cry hysterically.
Is the title supposed to provide a clue? These 20 somethings have a lot in their lives but don't seem happy. In fact, they generally are quite unhappy but yet remain in harmful relationships. Although "Not Even The Good Things" is billed as a dark comedy, there is little humorous about the play.
And then we come back to it. Who is The Girl? The 75-minute work never clarifies her presence. The two women on the street decided that she was Bill's sister. Or does she represent Bill's depression? Or his shame?
I had no answers for the two women. Except that we shouldn't have had to work so hard to figure it out.