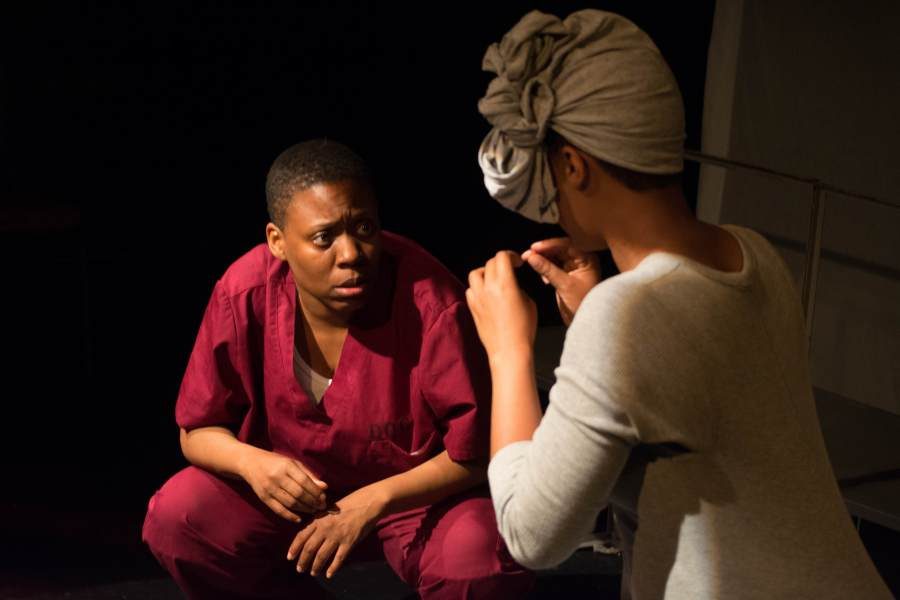 The United States leads the world in incarceration by a hefty margin, according to the International Centre for Prison Studies; there are over 2.2 million people imprisoned and it is not necessarily because of higher crime rates, but because of laws and policies enacted over the past few decades. During these decades, there has also been a 700% increase in women being incarcerated, often for first-time offenses involving drugs. And incarceration is not an equal opportunist; POC are more likely to be imprisoned.
Helping to call attention to this vital issue on a human level is Catherine Filloux's new play whatdoesfreemean?, having its world premiere at The Tank. Ms. Filloux is an award-winning playwright, librettist and activist, writing about human rights and social issues for the past 25 years. whatdoesfreemean? takes the audience into the world of a women's prison and deep into the life of Mary, an African-American woman convicted of a non-violent drug offense. Under the merciless federal sentencing policies that began in the 1980s with the war on drugs, Mary is serving a long sentence.
Not only is Ms. Filloux's play gut-wrenching theater, it is also rooted in several years of research, including interviews with formerly incarcerated women, corrections personnel and psychiatrists. Commissioned by Nora's Playhouse, a theater collective dedicated to telling women's stories and tautly directed by Amy S. Green (Associate Artistic Director of Nora's Playhouse), whatdoesfreemean? examines the incarceration of women in our society, the racial and socioeconomic bias that exists in the prison system, the inhumanity of solitary confinement and the resilience of the human spirit, all under the umbrella of compelling storytelling.
The meat of the play comes when Mary is put into solitary confinement for angrily attacking a prison guard; she is frustrated with her inability to advocate for medical treatment for her friend Ann (beautifully rendered by Brenda Crawley, who doubles sweetly as Mary's mother in a flashback). Isolated for 23 hours a day, voices, memories, feelings and hallucinations occupy space in Mary's head; she's haunted by her demons including her manipulative boyfriend's cooing voice and reliving witnessing a little boy's murder. She is traumatized in many ways (including a sexual assault by a prison guard played with chilling conviction by Galway McCullough), but reaches deep into herself for grounding — even conjuring up a mouse who spouts information about PTSD and altered brain chemistry. She passionately educates herself, reading Thomas Merton's Seven Story Mountain, and accesses her creativity by drawing; she draws in black and white pencil, but visualizes the gorgeous colors that occupy her landscape. And Mary reminds herself to breathe.
In a tour de force performance, Lisa Strum fully inhabits Mary's psyche. With wide eyes that refuse to turn away from life's pain, Ms. Strum's Mary is emotionally and physically complex, vulnerable and brimming with truth. Ms. Filloux's anguished and at times poetic dialogue flows effortlessly in Ms. Strum's interpretation. Rounding out the superb and versatile six-member cast are Justin Jorrell, James Edward Becton and Liz Morgan, who plays several roles with chameleon-like skill.
Enhanced by Phoebe Mauro's spare set, Ms. Green makes great use of The Tank's small stage. Her excellent staging made audience members flies on the prison walls, but would not allow us to observe passively. Sadah Espii Proctor contributed an evocative sound design; the prison background noise was subtly menacing.
whatdoesfreemean? is at times uncomfortable viewing and Ms. Filloux is to be commended for stunningly weaving together unsparing scenes and theatrically fantastical elements with Mary's straightforward story. The play educates us about women's incarceration never veering into sentimentality or a movie of the week mentality. Through the beautiful, multi-facted character of Mary, Ms. Filloux's whatdoesfreemean? offers a road map to finding freedom and hope even in the most despairing of circumstances